Before our day trip to Disneyland, I did lots of research and asked around for lunch venue recommendations. The general consensus was that the fast food was only so-so, and for the better restaurants one had to queue for a very long time. Almost everyone's immeidate suggestion was Plaza Inn - the only dim sum restaurant within the park and run by Maxim's - so we decided to give it a try. Some also recommended going to the two Disney hotels for lunch, but it would take 15 min to get there from the park and we decided to save the hassle.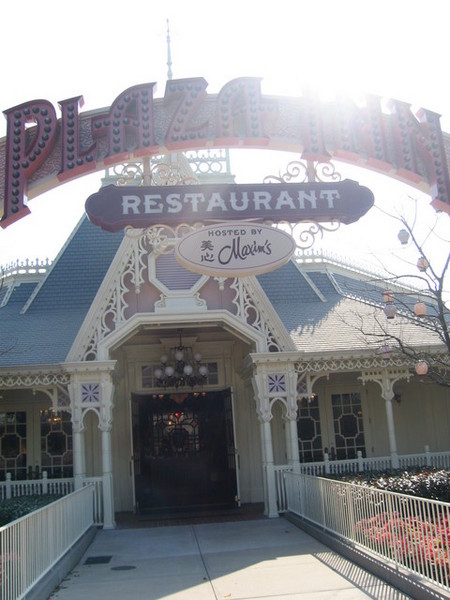 We got to the park at around 10 in the morning, and in addition to hurrying to get fast passes, we also made our way to Plaza Inn to make a booking for lunch, as everyone told us that the queues would be long. It seemed that it was our lucky day. You see, Disneyland Hong Kong experienced its first ever full house only two days before our visit (because of the WTO Ministerial Conference a lot of the schools were on holiday that day), and this was widely reported by the media. I guess people decided to avoid the park that whole week, which meant that we only had to queue for a very short time for most of the rides. When we arrived at Plaza Inn at 12:30 there were still a large number of empty tables for walk-ins too. While the outside of Plaza Inn, located at the corner between Main Street and Fantasyland, looked very Western and fairytale like, the inside was totally Chinese inspired. There were no Disney memorabilia at all.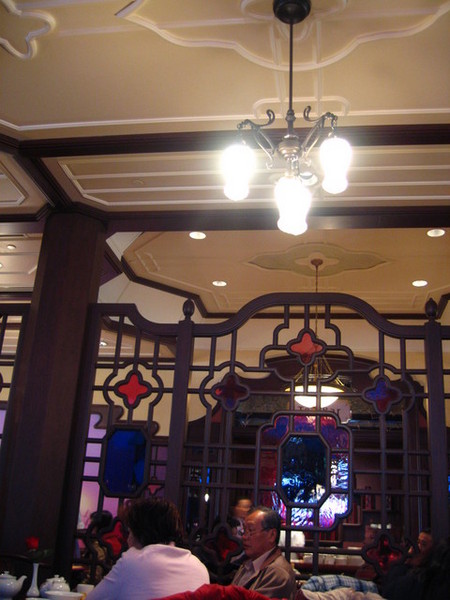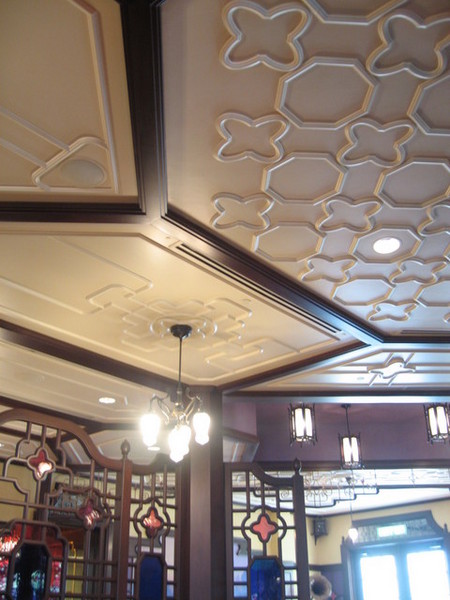 We noticed the only Disney connection when our first dish was served, which was pan fried pork fun. The little frying pan was covered by a golden lid that had the shape of Mickey Mouse as the lid handle. All of us immediately started taking pictures of this cute little decoration.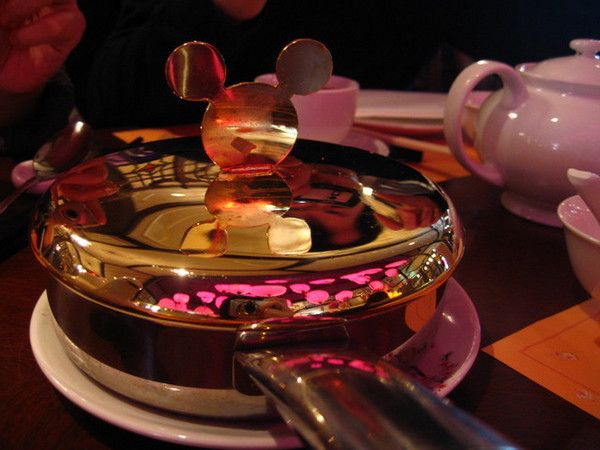 The pork buns were big and juicy, probably one of the best dim sum dishes we had here. We also ordered prawn cheung fun, which instead of the normal three rolls, was one long roll served on a long porcelain dish, probably customised for this purpose. This was well made albeit I think the portions are a little bit less than normal.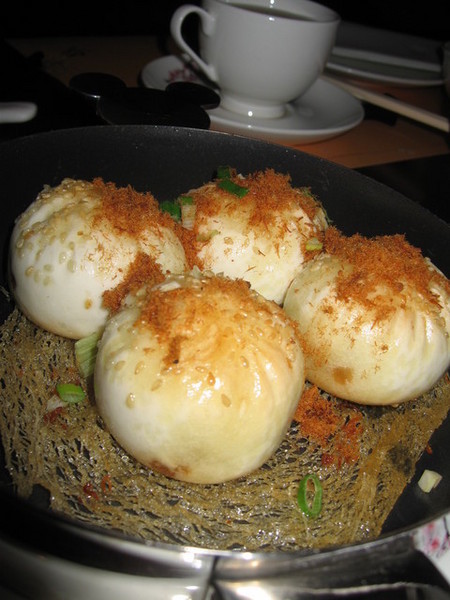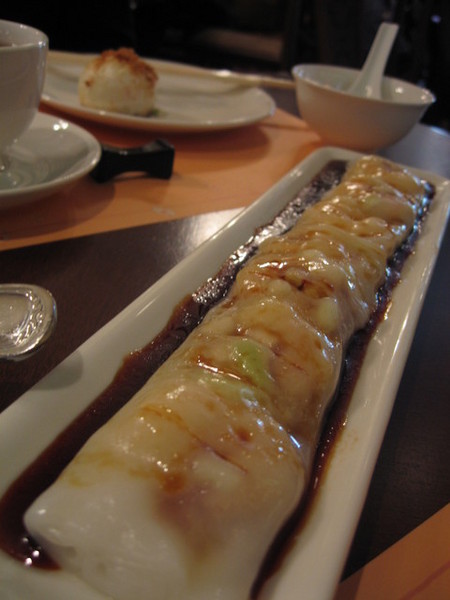 We ordered the normal dim sum fare of dumplings and siu mai, plus an egg white fried rice and also mixed mushrooms with chinese cabbage as our veggie dish. It's pretty standard stuff, similar to what one would get at a Maxim's restaurant elsewhere.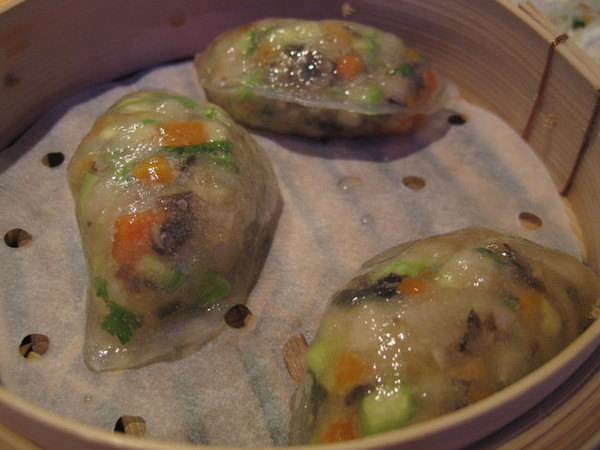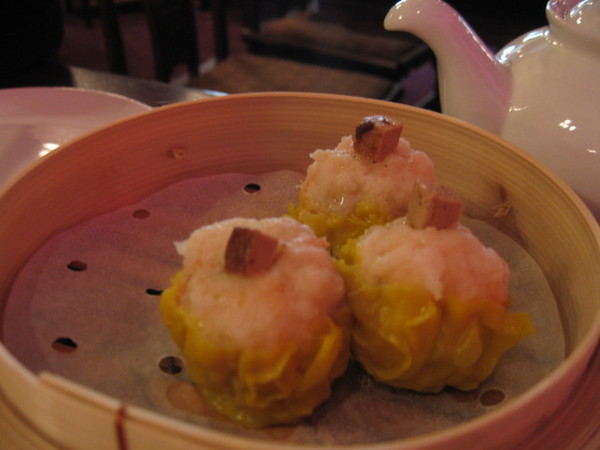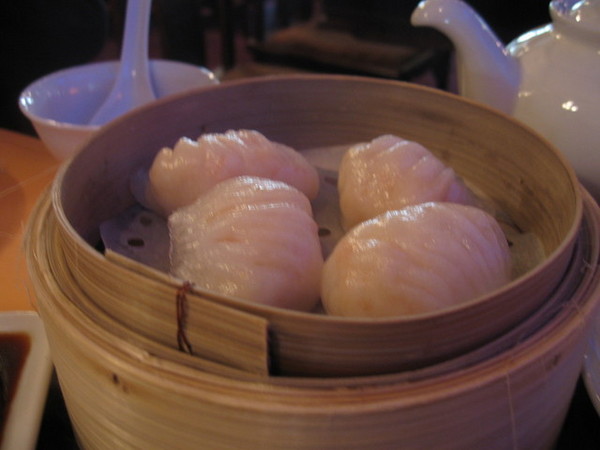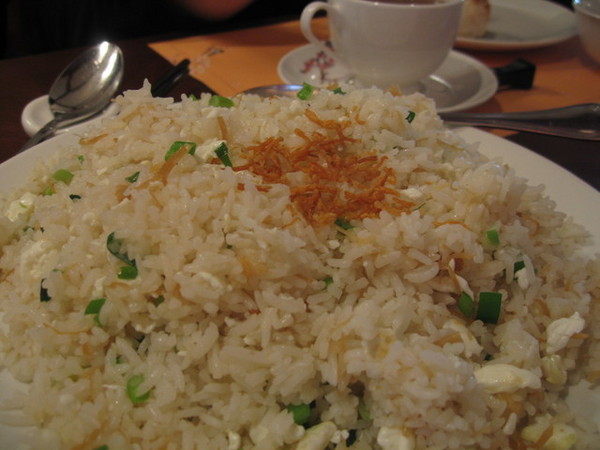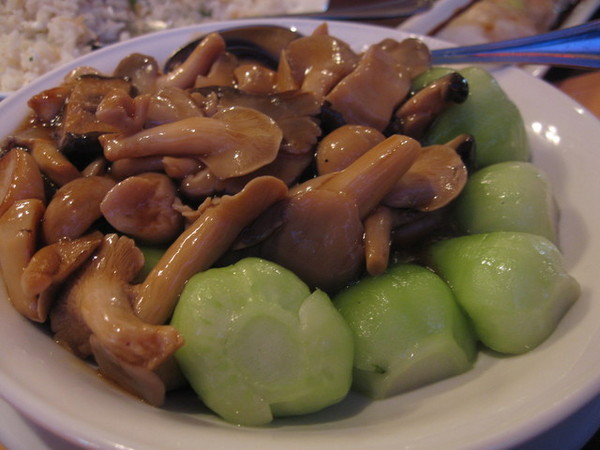 Not sure about the pricing differential between this place and other Maxim's Cantonese restaurants, as I did not have a chance to look at the menu - think it is slightly higher than normal. There really wasn't anything special about this restaurant, except that it is nice and comfy and the food is not half bad. For me this is sufficient as I think the attraction of Disney is more the rides and not the food. If you are a Disney fanatic, a better restaurant recommendation is the Enchanted Garden Restaurant in the Hong Kong Disneyland Hotel. It serves a buffet and there the key highlight is that there will be Disney characters making the rounds during your meal to take pictures with you. This saves time from having to queue for no less than 30 min to take picture with the characters when within the park. Having said that, I heard the buffet costs in excess of HK$250 per head, so it is not cheap.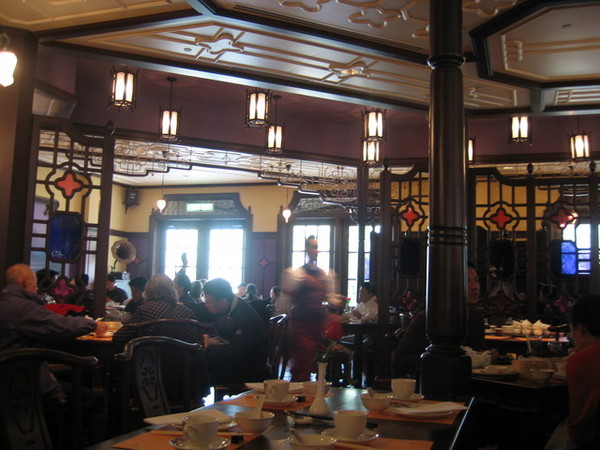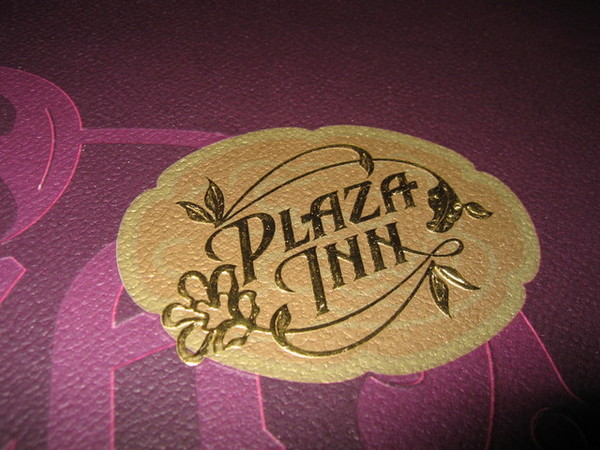 There are many other choices at Disney - do let us know if you like/ detest any one in particular!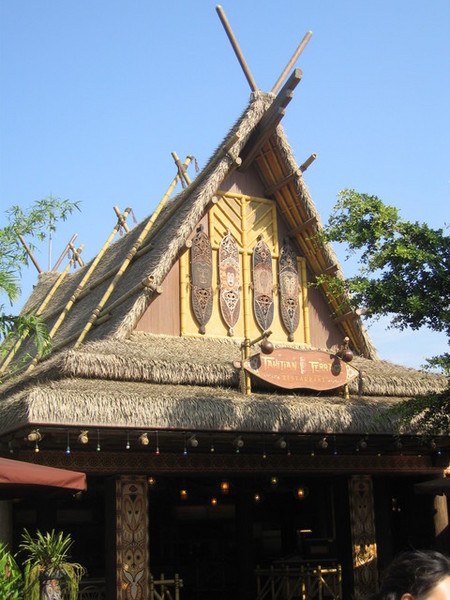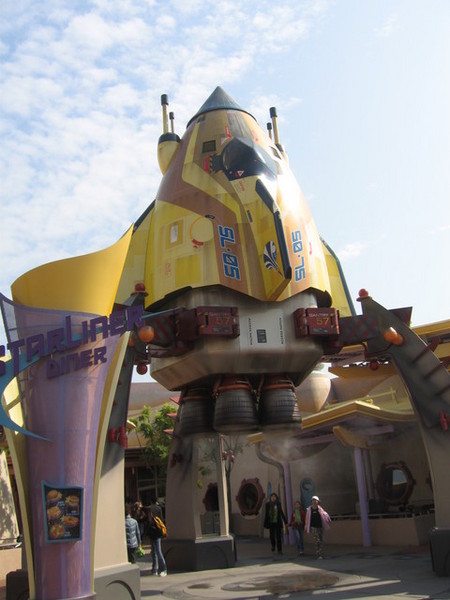 Late afternoon, we were tempted by the delicious waft of popcorn smell and headed for the nearest popcorn stall. Couldn't decide between the caramel flavour or the banana flavour, so we settled on getting both, even though we were just about to get onto the teacup ride (bad move). )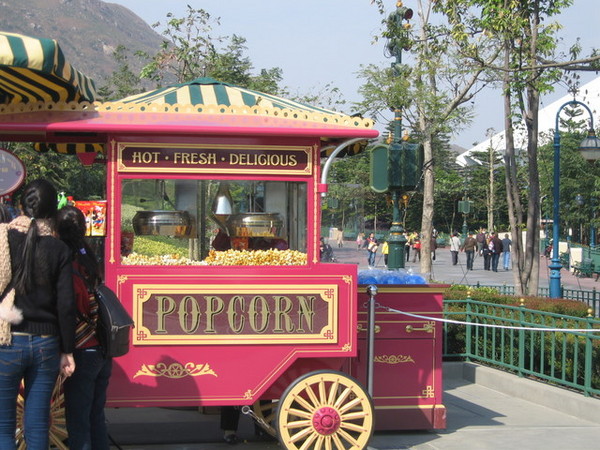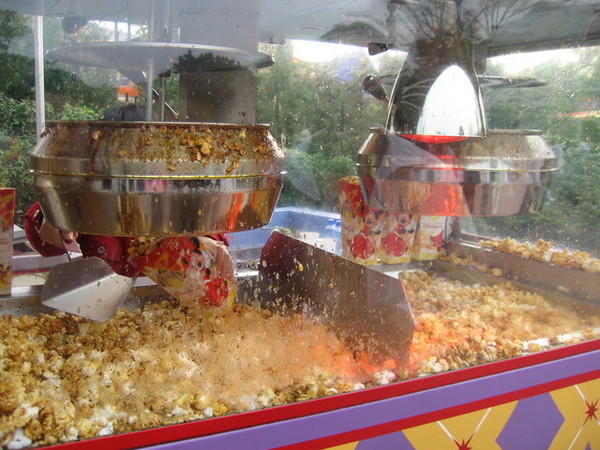 The one on the left (more orange-y in color) is the banana flavoured popcorn. Both were deliciously good and not too sweet. We finished both cups within minutes - and I think the contents were churning in my stomach as we twirl around in the teacup (this was obviously not helped by M's efforts to ensure our cup goes round and round and round)!!! The worst combination ever, but I would highly recommend getting the popcorn if you were to visit Disney.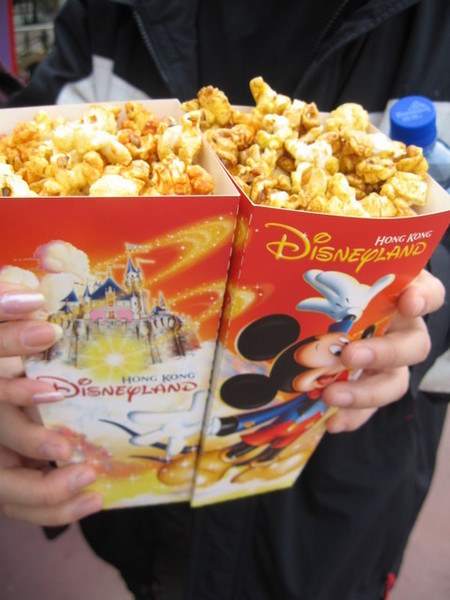 Am not a fan of Disney resorts in general (having only been to the ones in Japan, Paris and Anaheim), I like this particular one because 1. the rides are tame (if even I coudl get onto the Space Mountain, anyone can), 2. the whole park is miniscule, you can walk from one "land" to the other "land" in less than 10 min, 3. the fireworks at night totally bomb!!! Try going on a weekday ~ the tics are cheaper and the queues are shorter!
Hong Kong Disneyland
, Lantau Island