After the last hairy crab outing, been eagerly planning for the next one. With such mouthwatering memories of my yellow crab extravaganza last time, I decided to try Fu Shing's hairy crab set this time round. We walked into a rather quiet restaurant on a Wednesday evening, - there were fewer than four tables seated but saw that all the function rooms were in use. Seeing how empty the place was, K began to worry about the freshness of their hairy crab. When asked, the waitress immediately brought the live crabs out for us to examine, and we were comforted to see that the crabs were live and kickin'.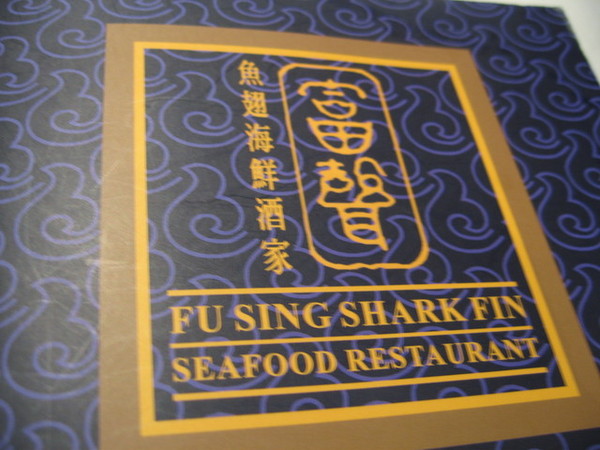 There were two sets available, one for HK$328, and the other one for HK$638, the courses were pretty similar, apart from the hairy crab itself. For the cheaper set, one gets two small crabs each weighing 4 taels. For the more expensive set, these are replaced by heavier ones weighing 8 taels. Seeing that there are so many dishes in the set, we opted for the cheaper set.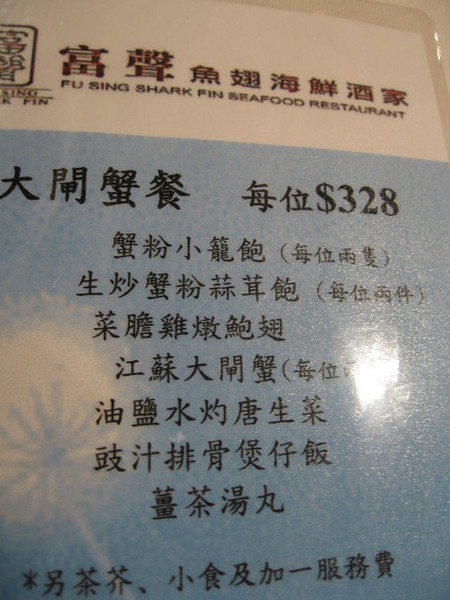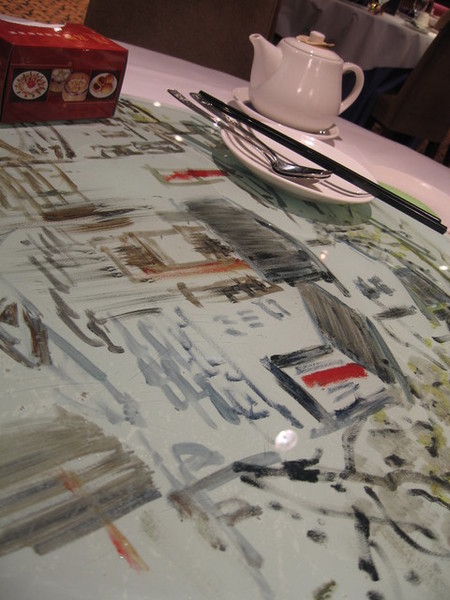 First to arrive were the steaming crab meat/roe dumplings (xiao long bao) – unlike the ones at Luk lu, these had perfect thin skin that verged on being translucent holding the golden yellow crab roe and meat filling inside. These were delicious with the home-mixed Zhenjiang vinegar, which was sweetened using malt syrup. If the mix of crab meat and roe tips more towards the latter it would have been perfect.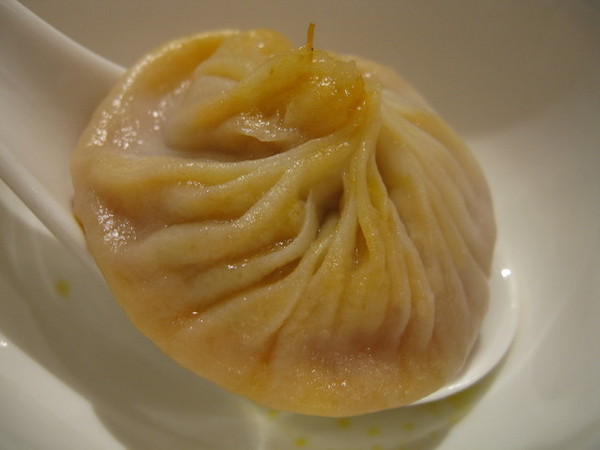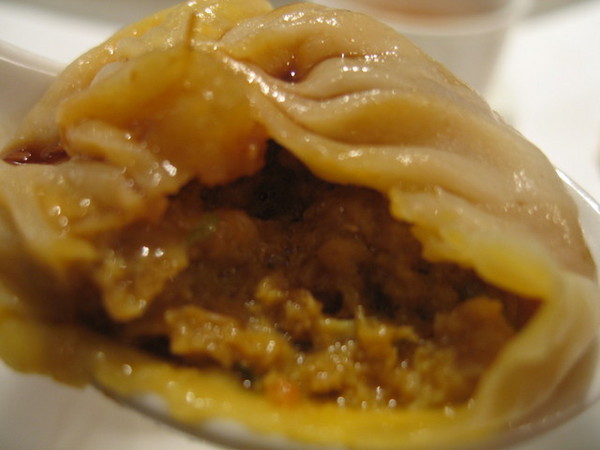 Next to arrive is the obligatory shark's fin soup. This has never been a dish that I am fond of, and I couldn't  understand why it is considered such delicacy except that shark's fin is expensive. This particular one was good because the broth clear and light with strong aromatic flavors.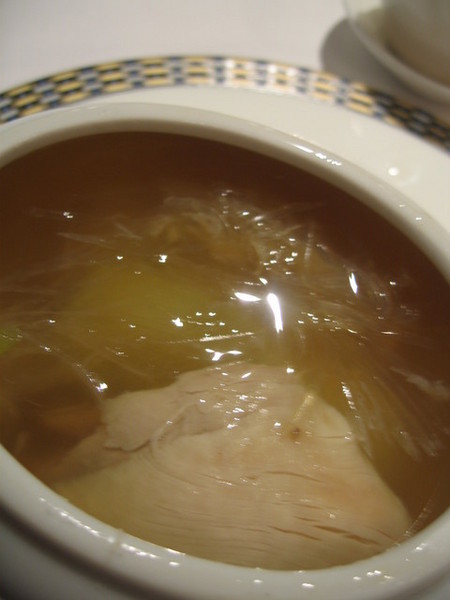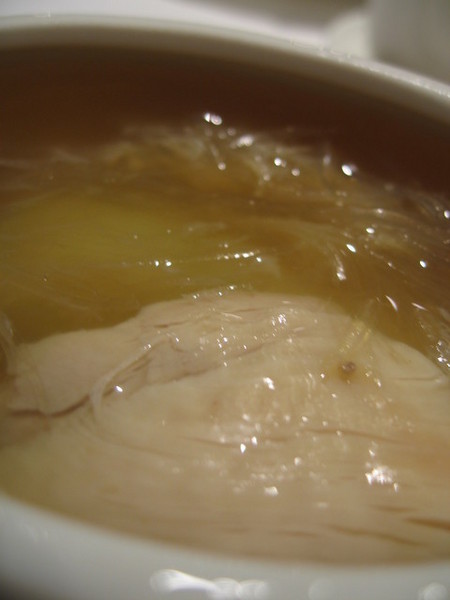 Our first crab arrived promptly, which as anticipated, were of mini-size. We immediately started working on them. Everyone deservedly has his or her own way of attacking this delicacy – mine is to first take off all the legs and claws, and then devour the shell first, which is normally predominantly of roe.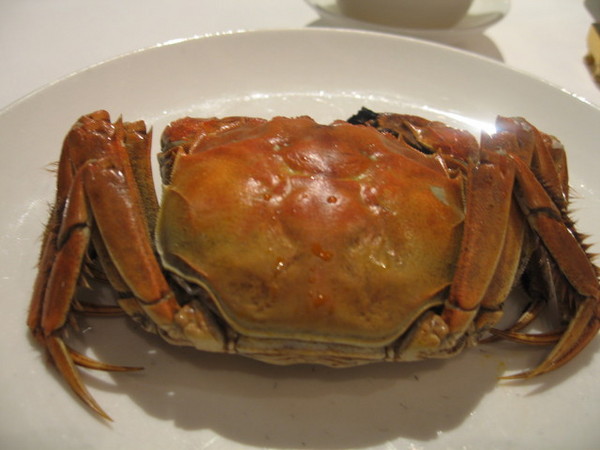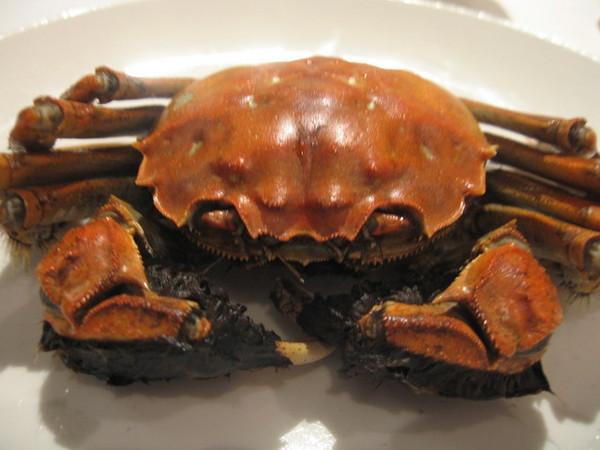 Was pleasantly surprised to find the crab shell and also body were full of roe in both the white and yellow form. I have a peculiar liking for the white roe, for its sticky texture and interesting taste and so was extremely happy to find that such abundant quantities in such a miniscule crab. With the crab being so small we had to make a lot of efforts in scrapping out the sweet crab meat from the body. By the time we finished one, my hands were sore and tired, although my stomach was deeply satisfied!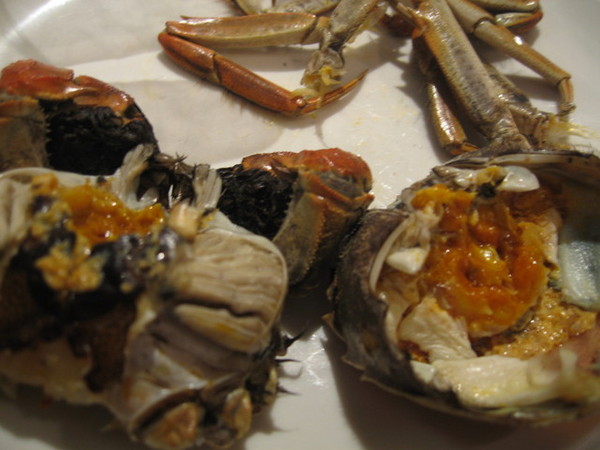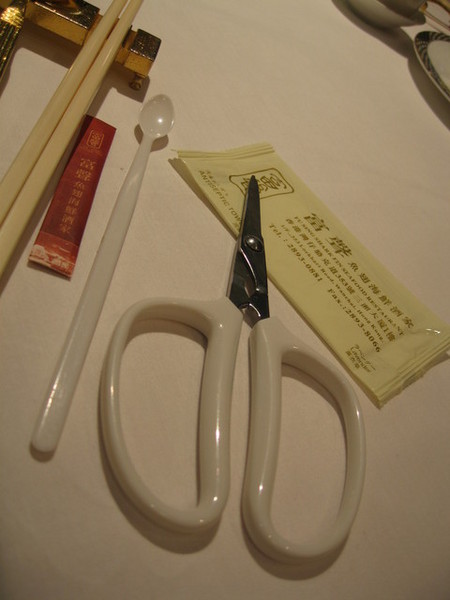 Before bringing on the next crab, they served us the garlic bread with crab roe first. This was a new concept introduced by the East Lake/ Victoria City group a couple years back that has gain popularity. The bread was crispy and garlicy and the crab roe was very tasty, making an extremely yummy snack. This was even better than the one I had at Victoria City last year, as their, the crab roe were too greasy from the frying in oil. In fact, we liked this crab roe best better than the one we had recently at Shanghai Association, which is meant to be one of the best Shanghainese restaurant in Hong Kong!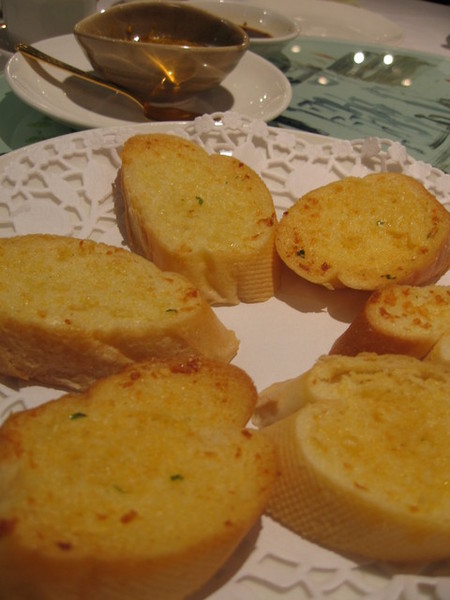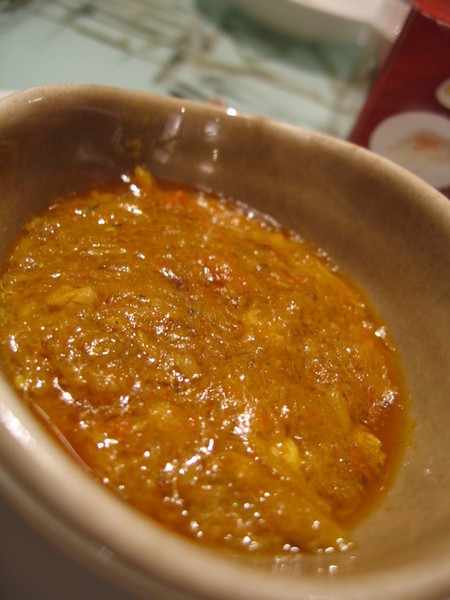 After the small lull, we started assaulting our next serving of the yellow crab. Was delighted to find that the standard was of similar quality to the first. After devouring every single last bit of crab meat and roe I headed to the washroom to rid my hands of that crab smell. I found a bottle of toothpaste placed next to the sink, with the label "please wash with toothpaste to rid your hands of the hairy crab smell". How interesting. It is a concept that I have never heard of before and was put to test immediately. How true it was. Not only was there no hairy crab taste, but also there wasn't any of the strong toothpaste smell either! Is it because of some chemical reaction taking place?!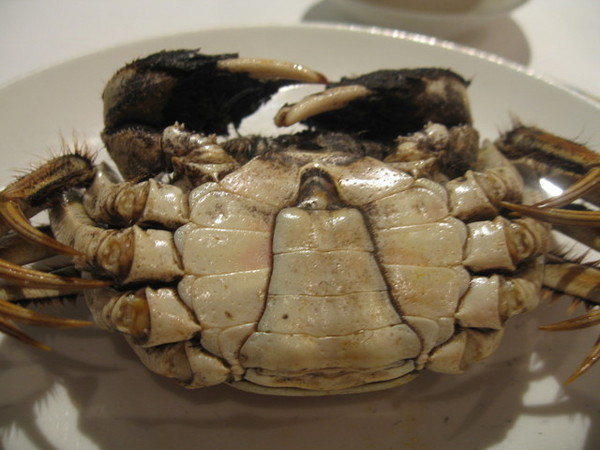 The ginger tea arrived next in a pot was well-received as it was not too sweet and we were each able to drink two cups in one go. While our hands were ready to call it a day, our bellies were telling us otherwise, and luckily next came the veg and the pork rib rice served in a claypot. This was another highlight of the evening, as the rice was cooked right in the pot and so there were the crunchy bits on the side. Served with the seasoned soy sauce, this was ultra-good. K2 who was stuffed already, couldn't let the yummy claypot rice go and asked for her portion to be brought home!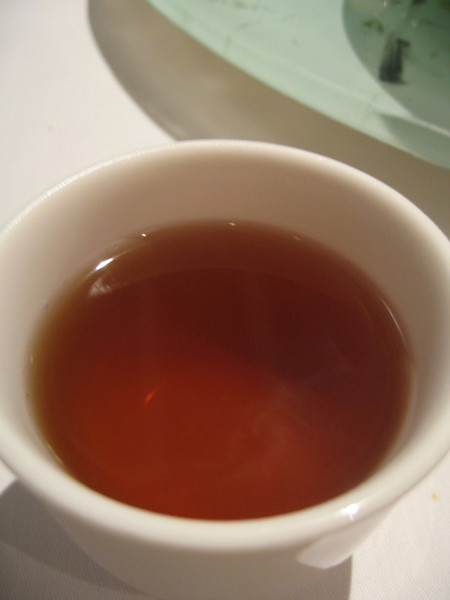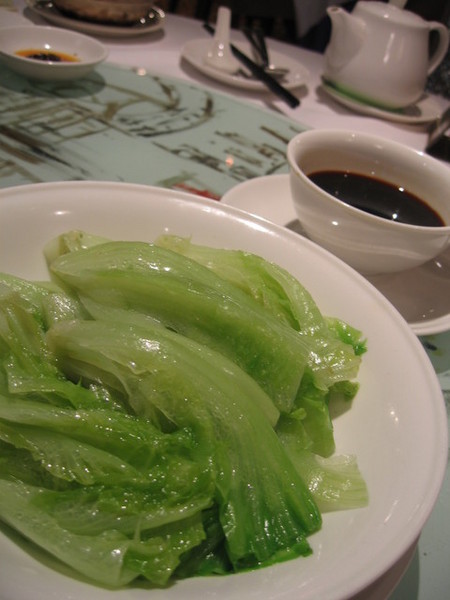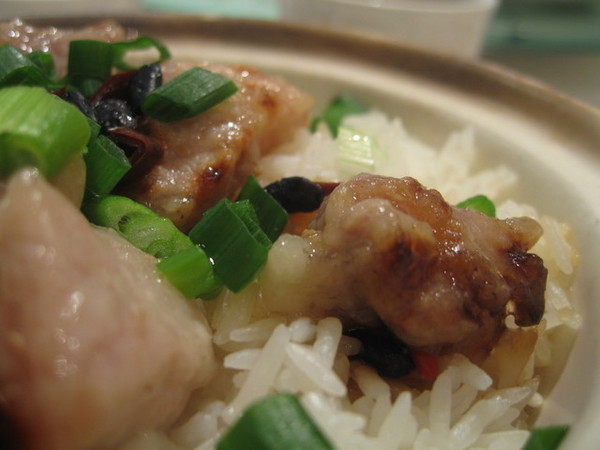 The dumplings served in ginger syrup was decent but nothing special. I was satisfied with the meal, which was definitely much better than Luk lu. Prime difference is that at Luk lu, apart from the whole crab itself, all the other dishes were average to poor, while here, they actually cared about maintaining a high standard throughout. What would have been more perfect is if they serve us one hairy crab only but of a much larger size of 7-8 taels, instead of having two.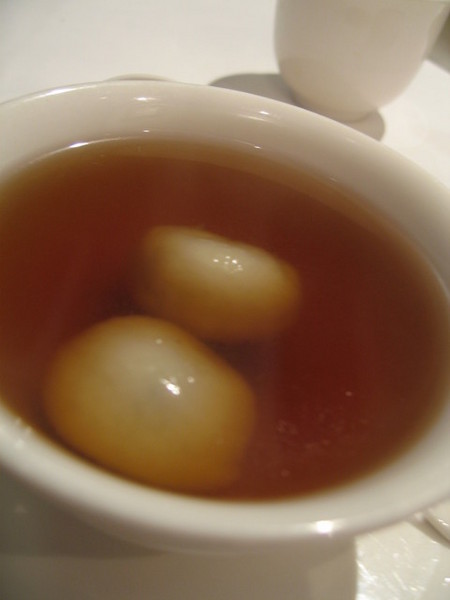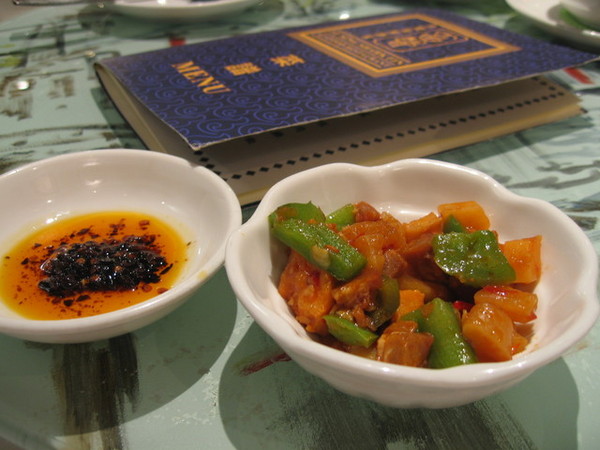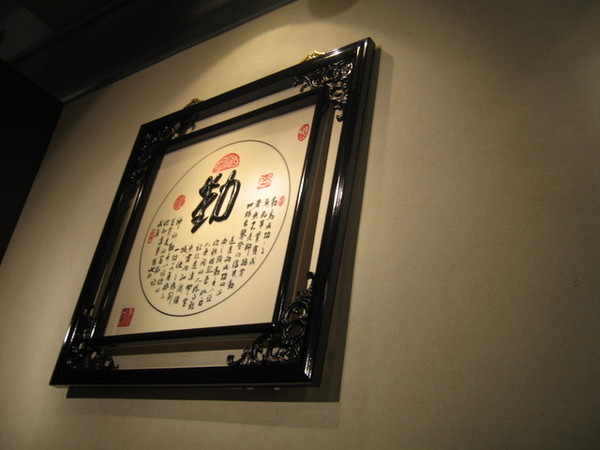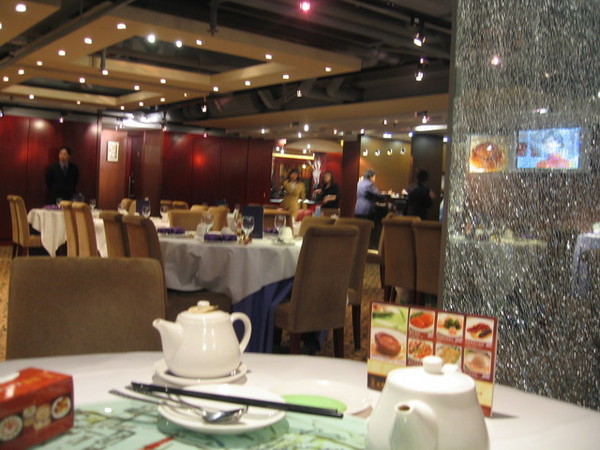 dedicated to E

富聲 灣仔駱克道353號三湘大廈1樓 Fu Sing, 1F, 3535 Lockhart Road, Wan Chai