Remember my lament about the
lack of reasonably priced scrub
in the IFC area? Well it just got better (!)recently. As HKFoodie gently reminded me, my current diet is severely unhealthy, with almost no vegetable intake and lacking in vitamins and minerals. So the other day, I decided to start afresh and opted for the healthy dinner set at Canteen. This is the "health and beauty" alternative, containing a soup (borscht), a caesar salad,  and some garlic bread.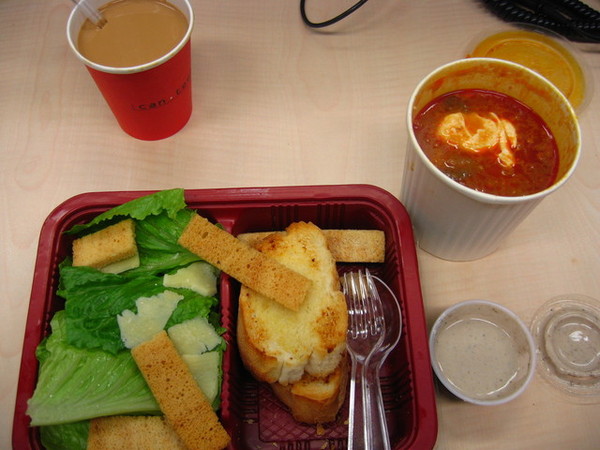 When I unwrapped the plastic bag at the office, I realised how pathetically small the portions were. Guess how much this is priced at - HK$48! And the milk tea is an additional HK$9, so my eat-in cost HK$57 - a total rip-off in my view, considering a normal lunchbox at Canteen of BBQ pork and chicken with rice would have cost HK$29 only, and HK$32 including a milk tea... this had better be good, I thought.
I first tried out the Borscht, which frankly tasted no different to the normal "soup of the day" on offer at Canteen. The biggest difference between the two is that the latter costs only HK$5 when you are ordering a lunchbox set. The soup was oily and heavy, and was very similar in taste to the canned variety - not an appetizing choice. Perhaps I should have opted for the cream of mushroom instead.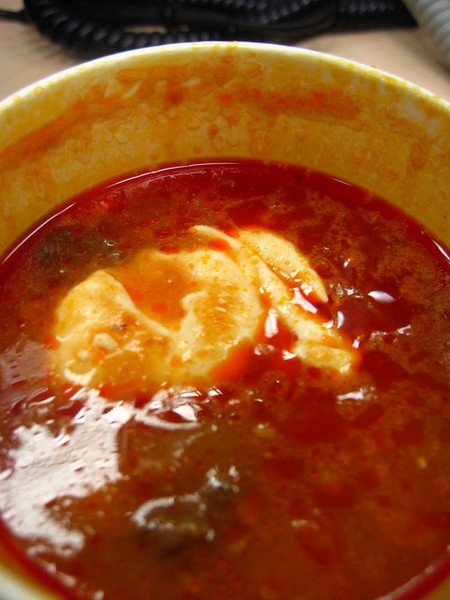 The garlic bread was probably pre-toasted to cater for the mass market, as it was hard and not crunchy, and there was pitifully little garlic or butter on it. I still finished this nonetheless, because as you can see, there was a total of five or six pathetic pieces of cos lettuce in the caesar salad.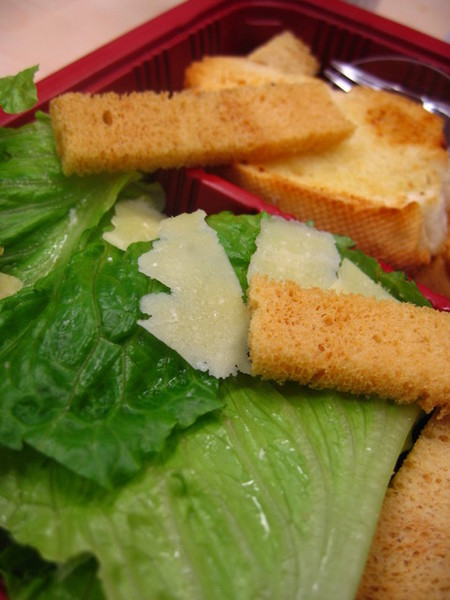 Needless to say, I finished the whole set out of hunger rather than appreciation. Of course I know this is fastfood so quality doesn't necessary get prioritised. I just felt the pricing should reflect the standard as well. If this set were priced at HK$25-30, I'd definitely be a lot happier to fork out the money for this - at nearly HK$60?! I could have two big Mac meals!!!
No wonder I never manage to lose any weight... =(
Canteen, IFC Mall, Central, Hong Kong