It doesnt feel like autumn is here at all, with the temperature still up there at 26 degrees C and no sign of any breeze when walking on the street~ has HK become Singapore with its permanent hot weather? Even though it is still not quite the right time for hotpot, we decided to go ahead anyway and made a booking at Spring Autumn.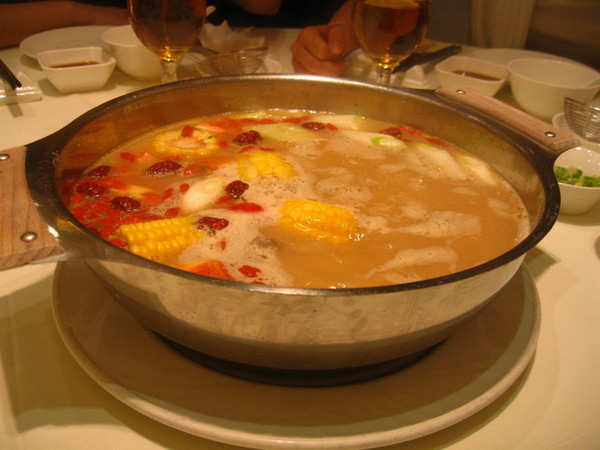 Reviews from friends and mags in general tip towards the bad side, and people complain about what a rip-off it is and how poor the service is at Spring Autumn. According to my friend who is from Canada, Spring Autumn originated in Vancouver where it has become so popular and successful that the owners decided to migrate the formula back to HK and chose Causeway Bay as the location. Prepared for the worse, we walked into a brightly lid ground floor dining room that was quite spacious and clean, giving us a good first impression.

Our pork rib soup base arrived in a huge pot, and was placed unto a plate. My fellow diners were all enthralled by the lack of any actual visible flame used in cooking the hotpot. As it turns out, the restaurant has cunningly integrated the hotplate into the table, which has an area that is heated in the middle when there is conducting material, like the pot. Think this is a great idea that every hotpot place should adopt, as it is not only cleaner this way, but it also avoids the risk of the stock overspilling and catching fire (believe me, have witnessed that before).
While we waited patiently for the stock to boil, we began mixing our tailor-made sauce. I normally like adding a raw egg, chopped up spring onions and chilli pieces into my soy sauce mix. Here at Spring Autumn, apart from the staple ingredients you see in the picture below, every additional ingredient for the sauce costs extra - for example, chilli oil is another HK$12... this differs from the vast majority of hotpot places here, where they bring you a huge tray of different kinds of sauces to mix and match however way and whatever quantity one desires.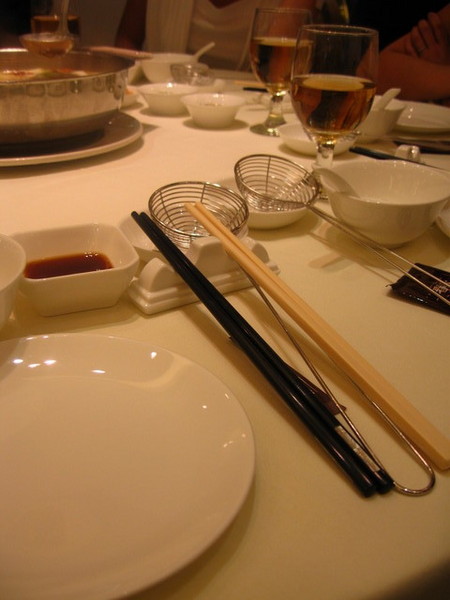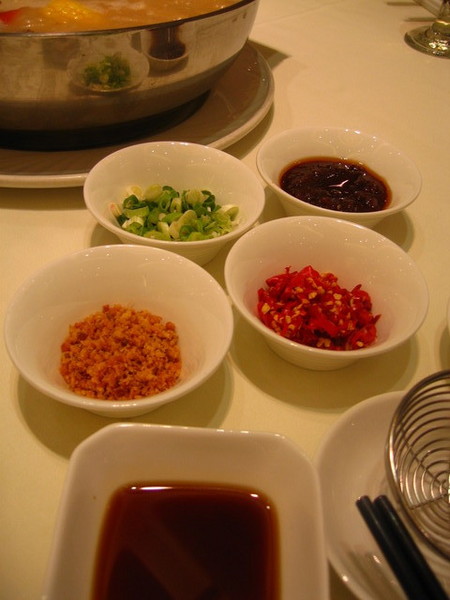 First to arrive was our small portion of Kobe-like beef, which was good value for money, considering it was only HK$80. The meat was tender without being too fatty, and the pieces were sliced thin enough~ we finished the tray within minutes. Next came the "balls" - including fishball, meatball, and shrimpball, which all tasted delicious and fresh. One tiny snag - J discovered a hair stuck onto a fishball and was totally grossed out by it. We called the manageress over, who promptly replaced this fishball with five additional ones without hair, apologised profusely for the hiccup and told us that dessert and fruit platter would be on the house for us. Extremely impressed by the service especially given all the negative remarks we heard beforehand of the place~ having said that, we were not sure if the good manners were because I was snapping pictures non-stop. It was the first time that I have pork's cheek for hotpot, and discovered it did go rather well, as long as one makes sure the meat is cooked thoroughly.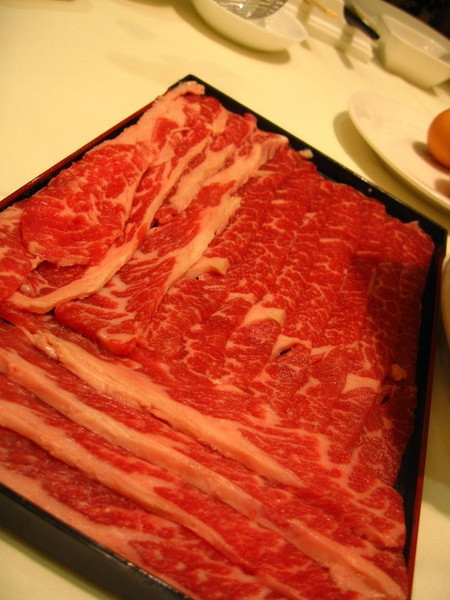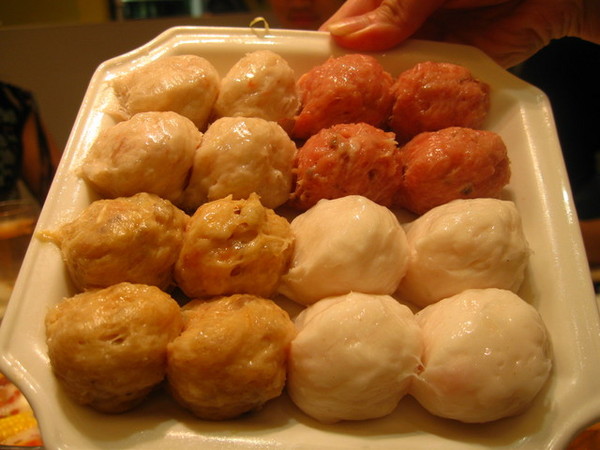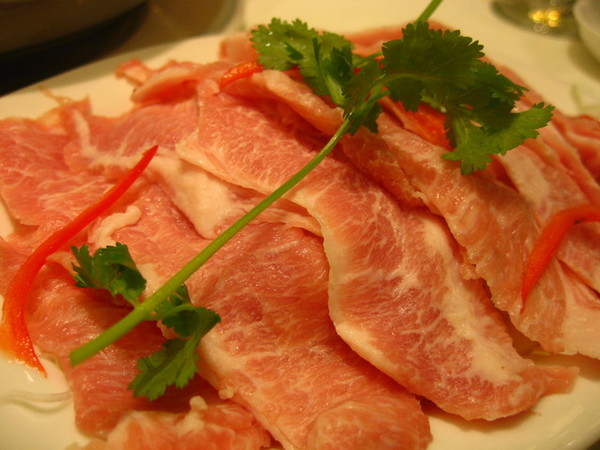 We ordered a lot of the regular faves - the fish dumplings, the fishball with fillings, tofu, vermicelli, udon, vegetables, mushrooms, and the ball-like deepfried beancurd you can see in the picture below. These are put into the hotpot and allowed to shrink into a tiny ball, which soaks up all the juices and essence of the hotpot~ extremely tasty but also enormously fattening, I think.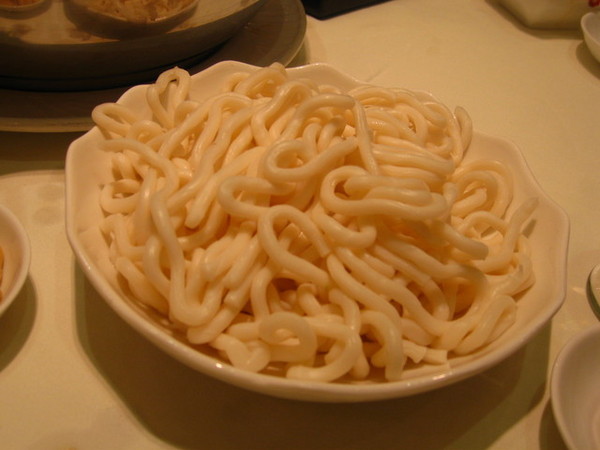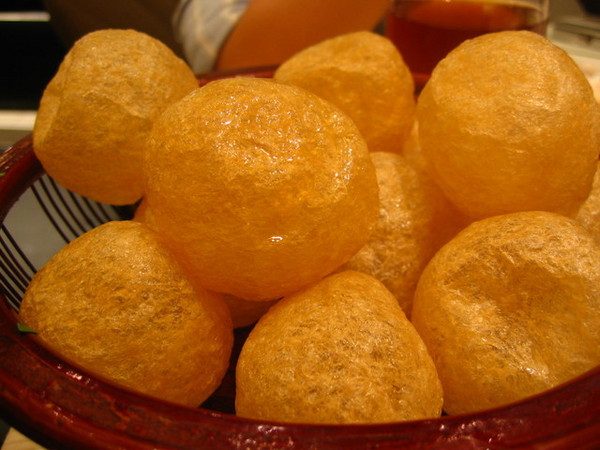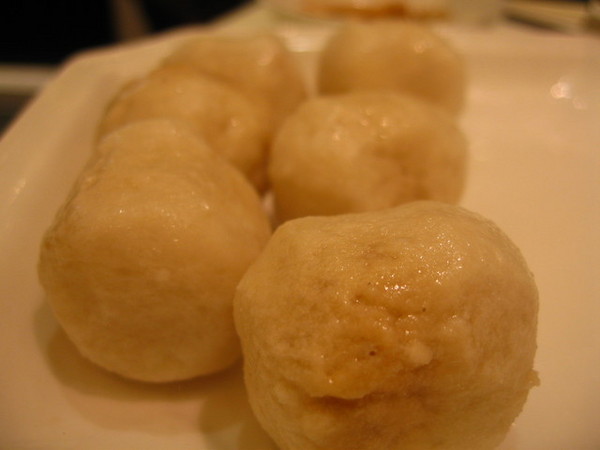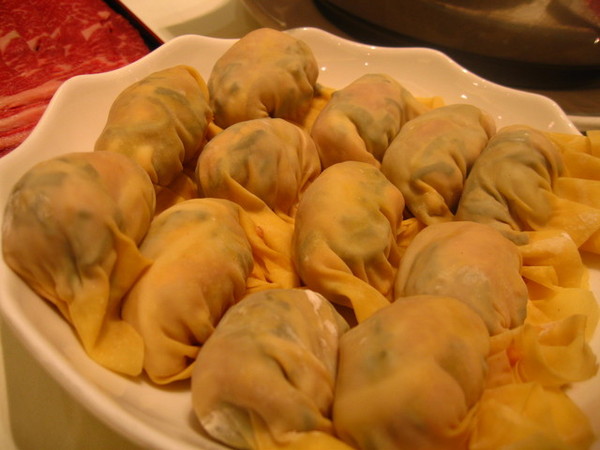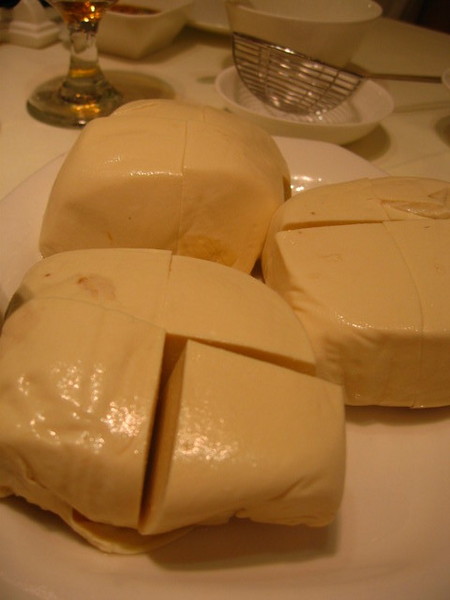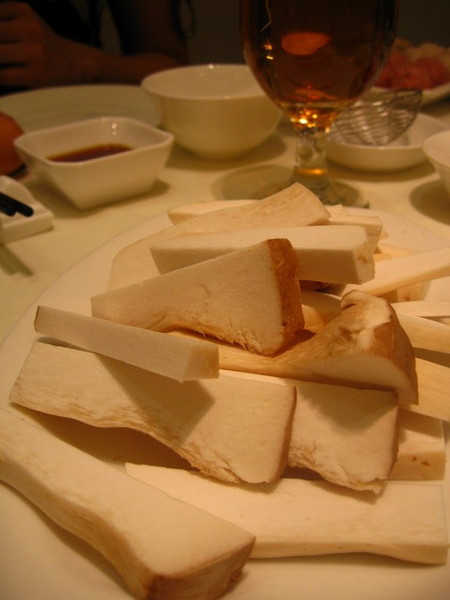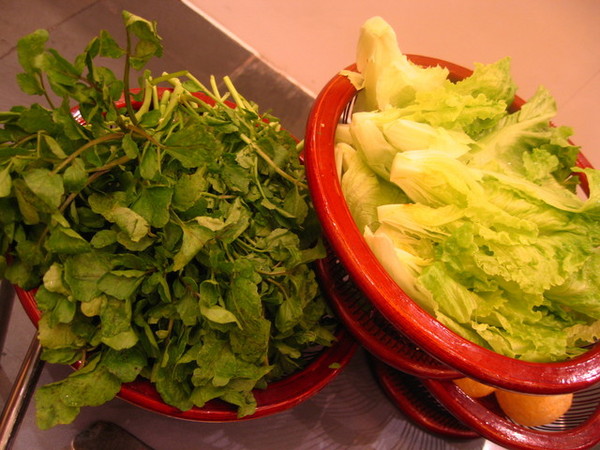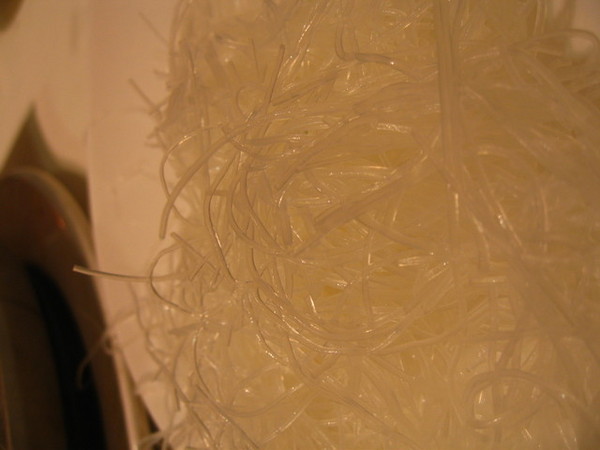 I could see why my friends keep trashing the place for its expensiveness, as when we were ordering, the waiter kept trying to steer us into ordering the geoduck clams, which would have cost over HK$200-300 per plate. When we did not succumb, he started talking about the lobster... Instead I ordered the coral clams, which was only HK$80 and to me, tasted very similar to geoduck clams. Apart from a stringy bit in the middle, the coral clams were succulent and chewy (in a good way). So a helpful hint, unless you really crave seafood for your hotpot, try and steer away from those ingredients at Spring Autumn. Some of the seafood dishes listed on the menu did not even have prices, listed there so you would be at the restaurant's mercy as to how much it would cost...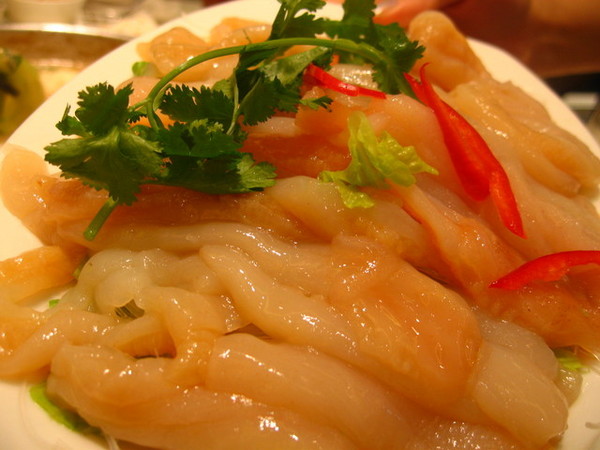 K really enjoyed this fishball with filling instead - she even suggested ordering another plate of 12 after finishing the one dish we ordered! It was very tasty, but I could sense a lot of MSG in the filling.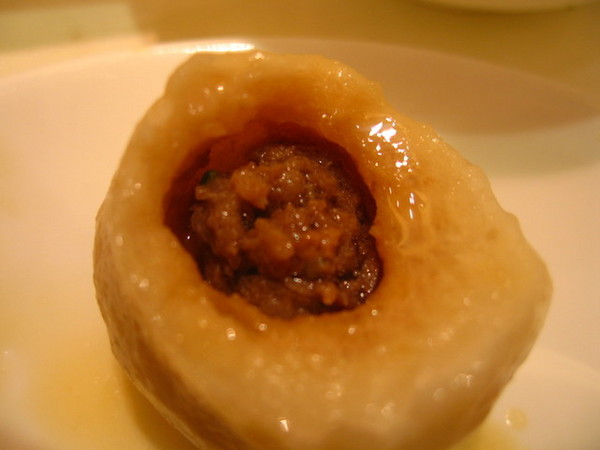 We all had a very satisfactory meal at Spring Autumn - the total cost for each was only HK$170, which is cheap apparently (my friend said to budget for HK$400 per head). Even a friend that didn't want to come with us because of a previous bad experience was pleasantly surprised. The service and the environment were topnotch and it was cleaner than your average joint. So I'd highly recommend coming to Spring Autumn~ but only if you stick to our ordering way and avoid the exorbitantly priced seafood!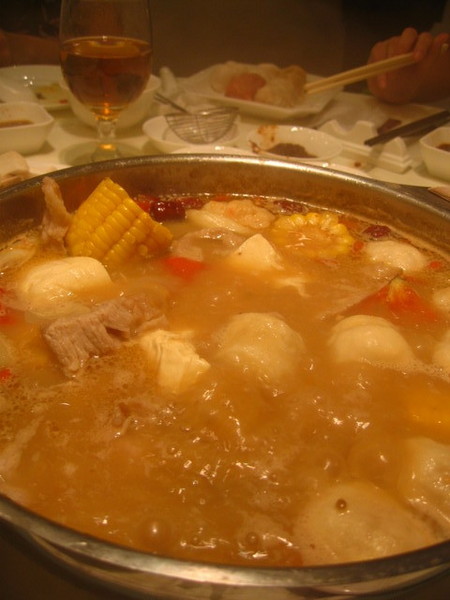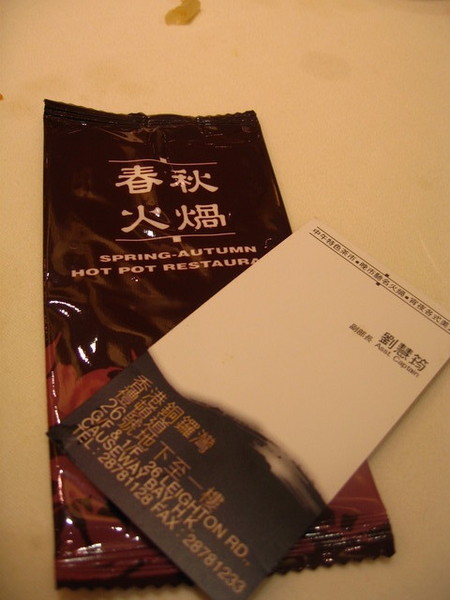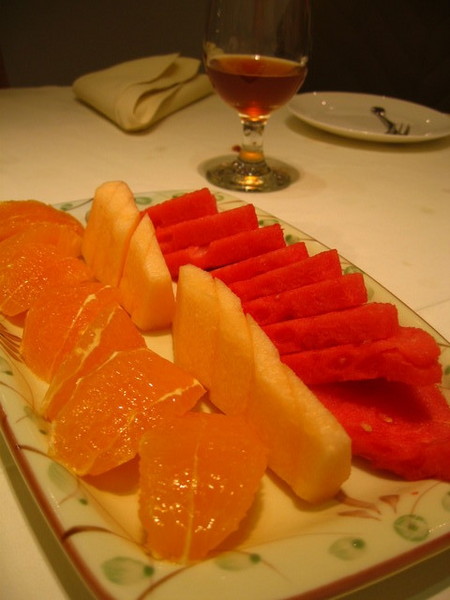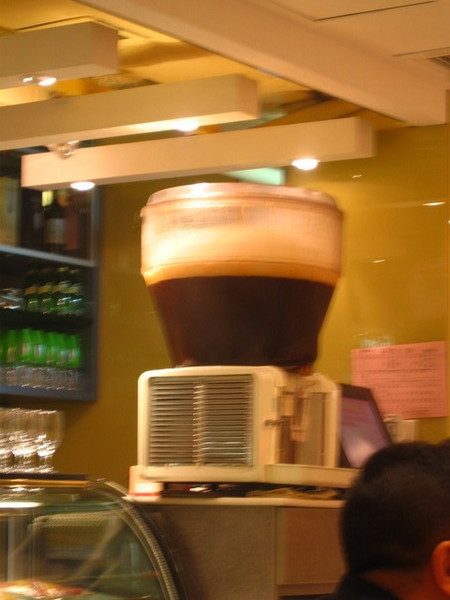 Notice the big red maple leaf on the wall - depicting Spring Autumn Hotpot's Canadian origin.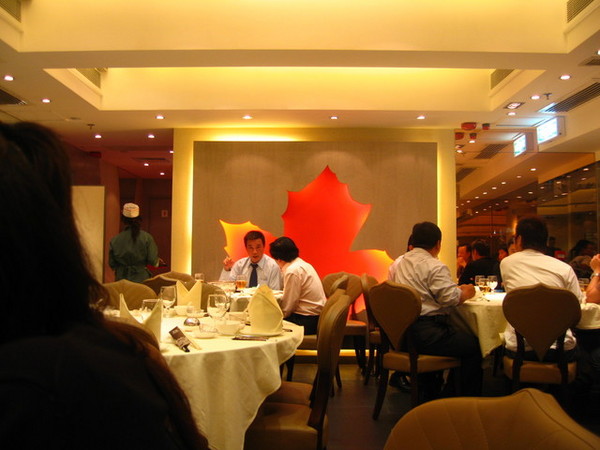 Spring Autumn Hotpot, 26 Leighton Road, Causeway Bay
春秋火鍋銅鑼灣禮頓道 26 號