Samwon Garden @ Decadent livin'

Our kind hosts, the newly wedded couple, brought us to a traditional Korean BBQ restaurant,
Samwon Garden
, famous for its Kalbi dishes (barbequed short ribs), on the last day of our Seoul trip~ this was probably the most unforgettable meal of our trip.
As it was Parents' day in Korea (the convenient combination of Mother's Day & Father's Day), there was a 25-minute wait before we were seated, in spite of the restaurant being one of the largest of its kind in Korea, with seating capacity of 1,200. Oh an interesting tidbit - the owners of
Samwon Garden
are parents of Grace Park, the renowned Korean golfer. Whenever she wins a championship, the Parks would give a generous 50% discount for all customers~ so make sure you time your visit right to enjoy this great bargain.

Samwon Garden @ Decadent livin'

The obligatory side dishes, raw garlic & chili cubes, kimchi soup and radish salad were served swiftly once we sat down.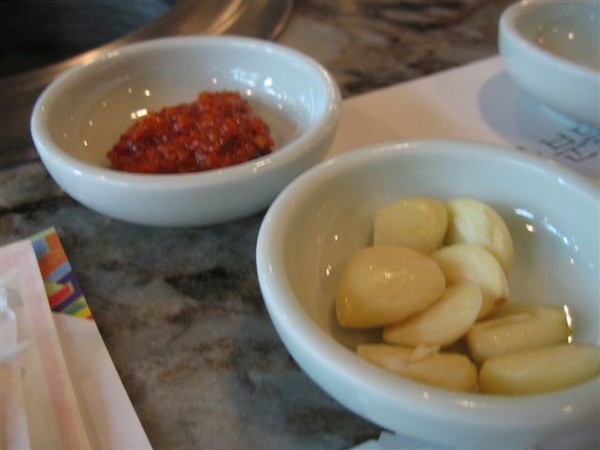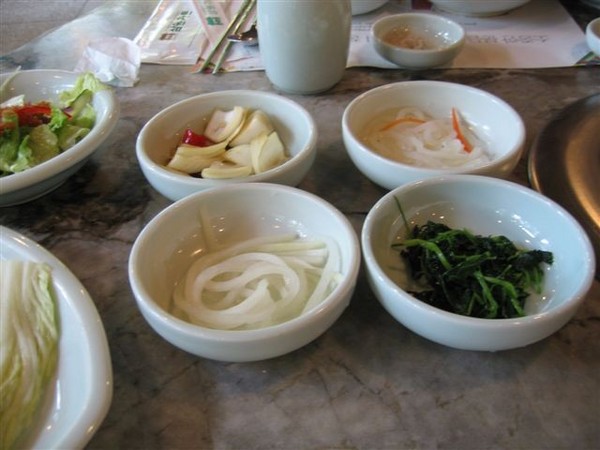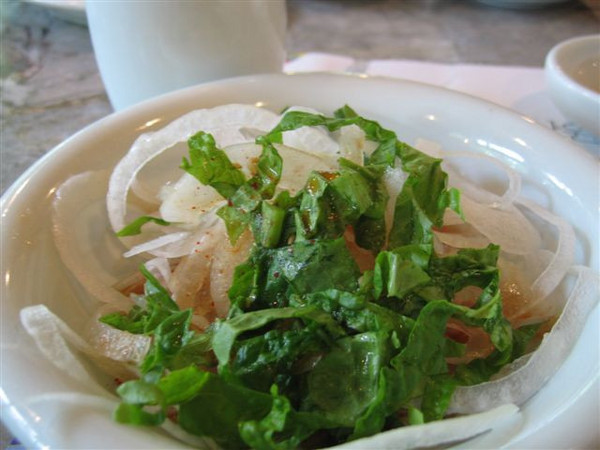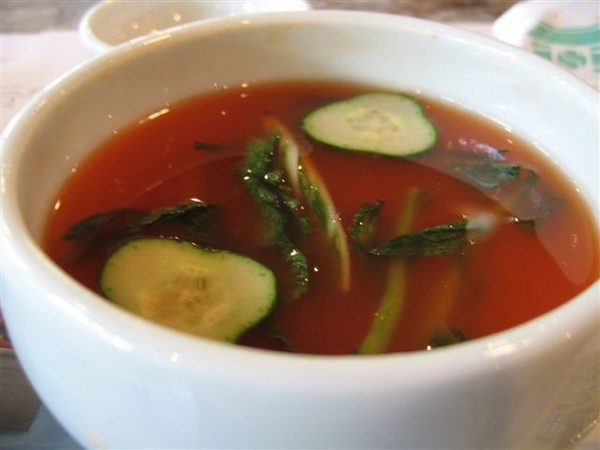 Samwon Garden @ Decadent livin'

Instead of using gas or electric, huge pots of red hot charcoal fire were brought to the table, and the star of the meal - Kalbi - arrived. We first tried the Saeng Kalbi (W29,000 for 2 pieces), short rib that has not been marinated in any sauce, meaning that the meat quality has to be topnotch, as reflected in the price (marinated Kalbi only costs W25,000 for 2 pieces). As we all prefer it a little bit raw on the inside, we started snatching the pieces off the hotplate while the waitress was busy at work. We were not disappointed i nthe least bit - tender and juicy and full of flavour- the charcoal fire definitely gave the short rib a distinct character that puts it miles better than the ones we have tried before using gas fire. While some of us were busy wrapping the pieces in lettuce and adding garlic and chili sauce, others were just enjoying it plain. We each quickly finished two pieces.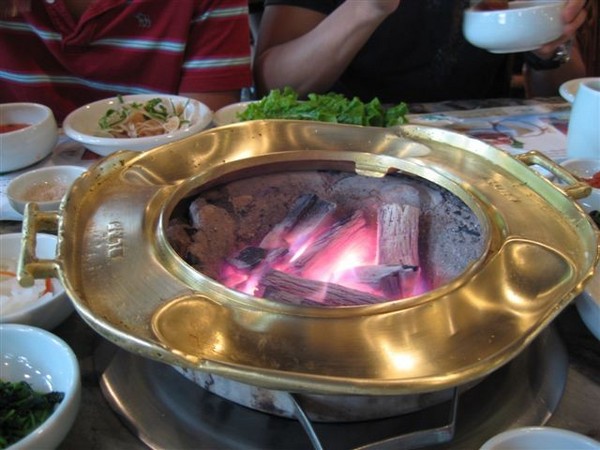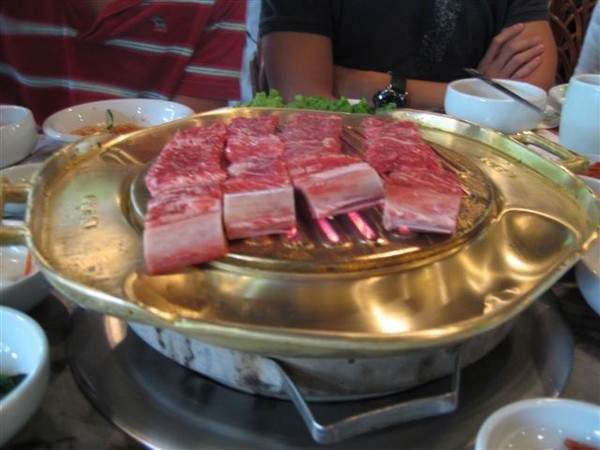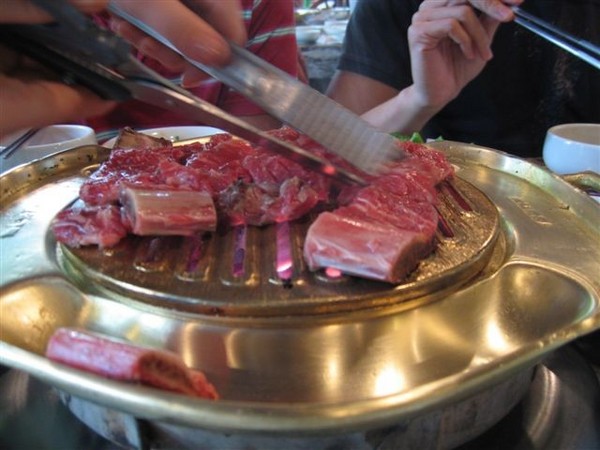 Samwon Garden @ Decadent livin'

For comparison purposes (and also cost), we also tried the marinated version (see below), which because of the marinade, was a bit sweet, and apparently more popular with children in general. Being 100% canivores, we then enjoyed Yukhoi (raw beef mixed with raw egg and sauce, W36,000), which as some of you know, is my absolute favourite Korean dish. Similar to steak tartare in the Western world, most people are reluctant to try it at first~ I have yet to discover, however, one person that doesn't like it once they are brave enough to give it a try. The addition of refreshing pear slices balances the more heavy raw beef mixture extremely well.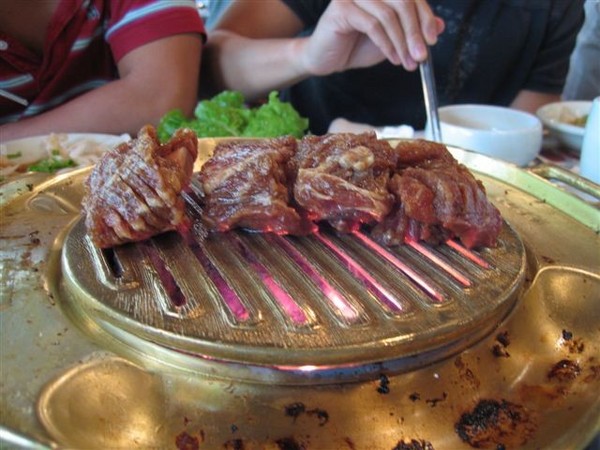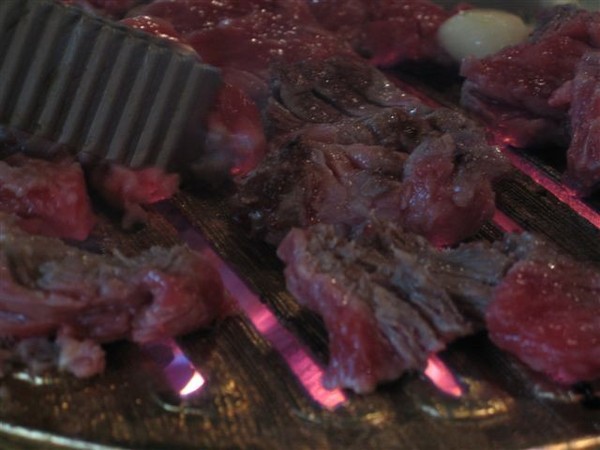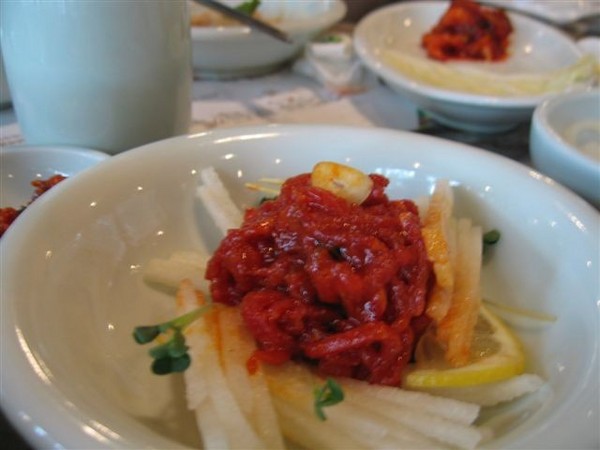 Samwon Garden @ Decadent livin'

Unsurprisingly, the next dish was also beef - Bulgogi, which literally, translates to "fire beef". Top quality beef slices were marinated in soy sauce, sesame oil, garlic and chili pepper and then cooked on a hotplate at your table. To us, it felt more like steaming/ broiling the beef slices instead of grilling, as a couple lettuce slices were placed under the beef to avoid the meat getting burnt. Very different in taste to the Kalbi, the meat was nonetheless delicious. Checkout the difference between this hotplate and the one you see above. The shape is vastly different~ and we discovered why after polishing off every single slice. A coil of boiled noodles (Sari) was then brought to the table, and placed at the rim of the hotplate to reheat. The noodles tasted fantastic after soaking up all the gravy and the meat juices, and served as another highlight of our meal.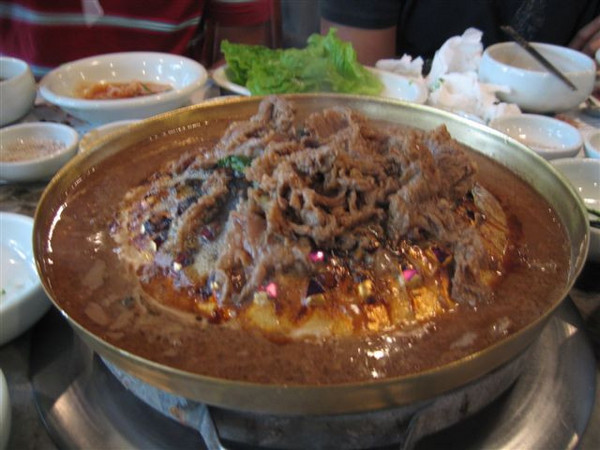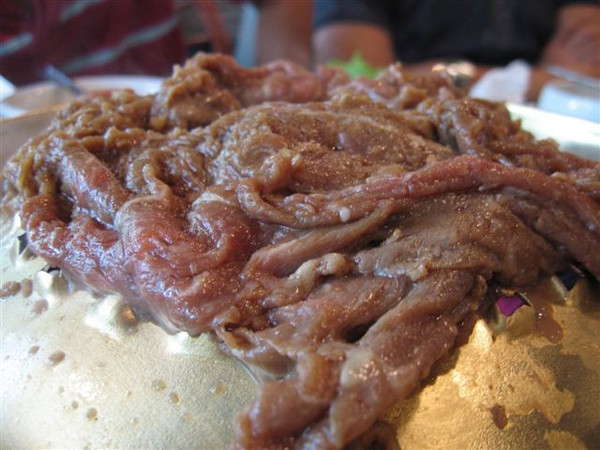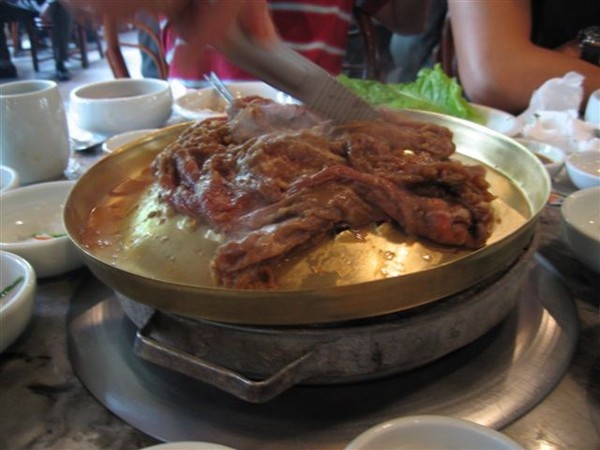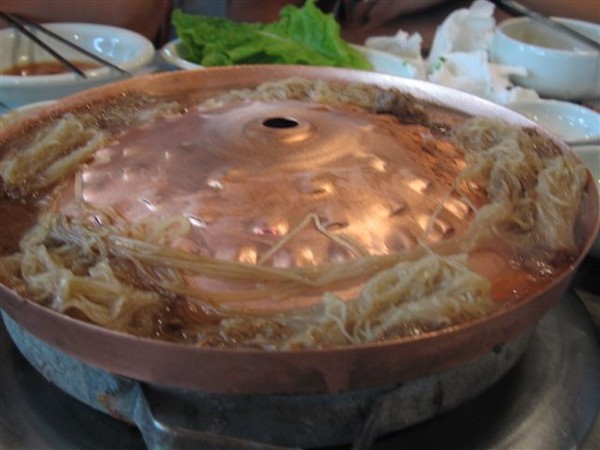 Samwon Garden @ Decadent livin'

Just when I was tempted to get my friend to order more sari for the bulgogi in spite of a bulging belly, he promptly asked us whether we'd prefer hot noodles, cold noodles, or soup as the last course of our meal. This is what the Koreans do normally towards the end of the meal. We ordered both the Naengmyun (cold noodle, W8,500) and Doenjangjjige (beanpaste pot stew, W6,500), with the latter served with rice. The cold noodle was an spicy explosion of taste, serving as a perfect finale for a great meal. I couldn't resist having a few spoonful of the spciy beanpaste soup, which, when mixed with rice, got me having a few more spoonfuls!!!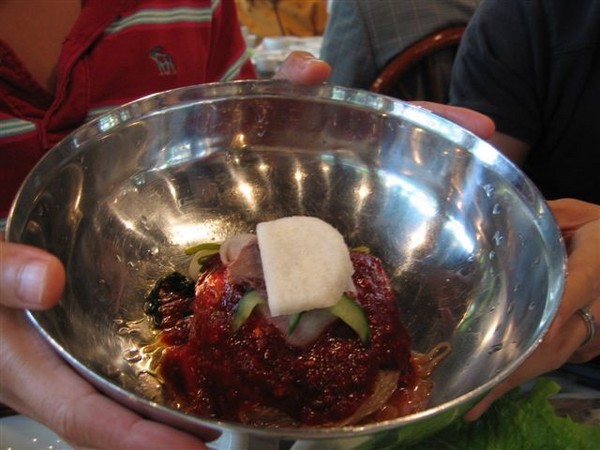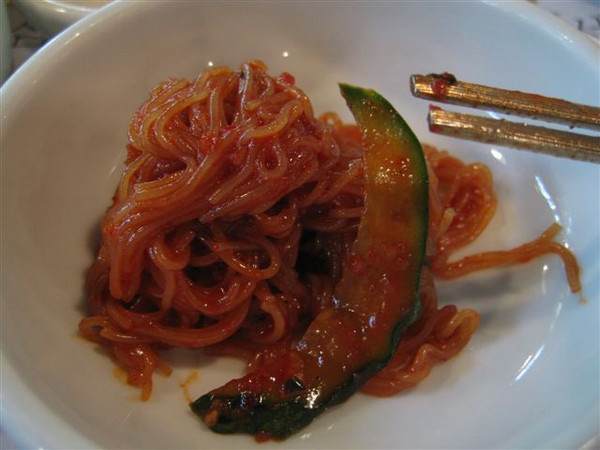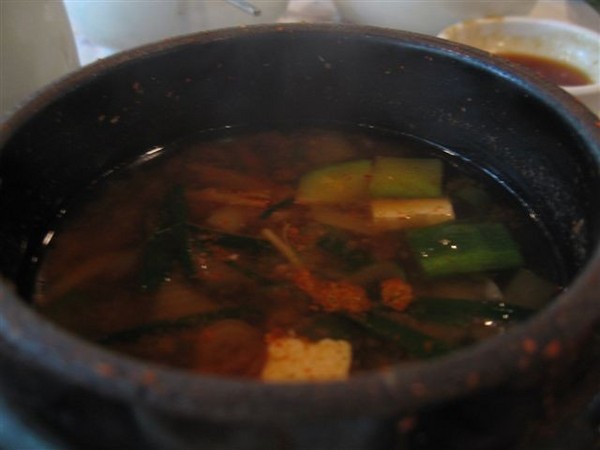 Samwon Garden @ Decadent livin'

We left
Samwon Garden
100% satisfied, after downing the obligatory fermented rice dessert drink. The vast landscaped Korean garden provided a great picture opportunity as we bid farewell to the gorgeous couple, before they headed off to Hawaii for a romantic honeymoon.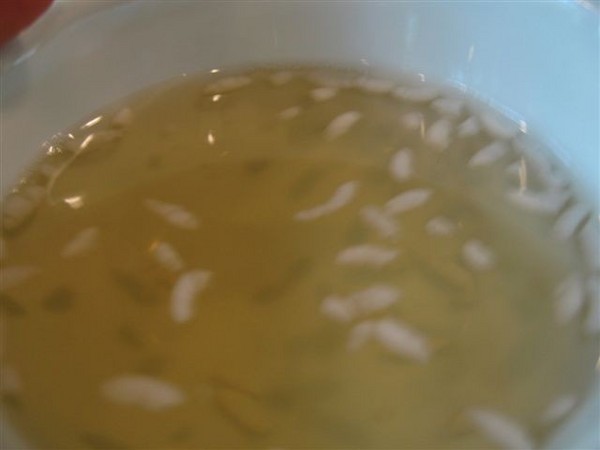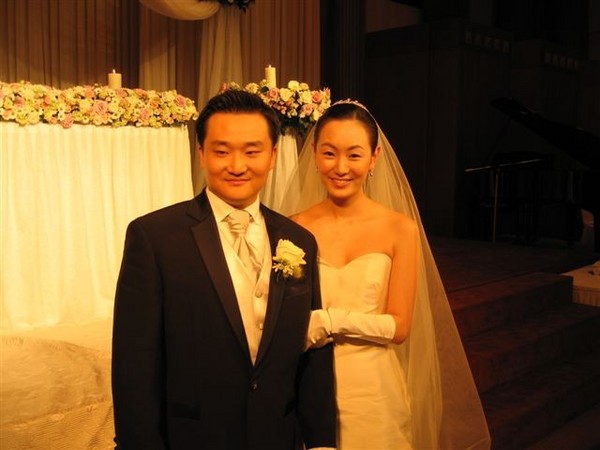 Samwon Garden @ Decadent livin'

T & Sojin stocked up on Korean style beef jerky and snacks before heading off for Hawaii.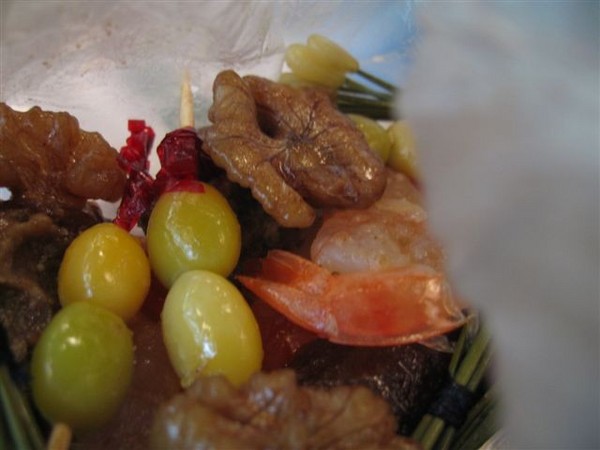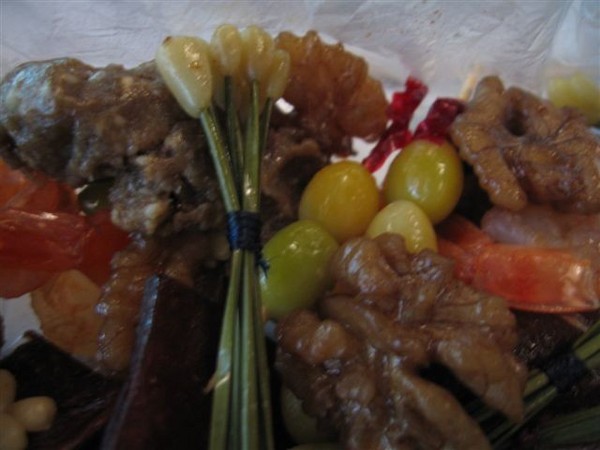 Samwon Garden @ Decadent livin'

Huge (& costly) takeaway packs are also available for you to bring home...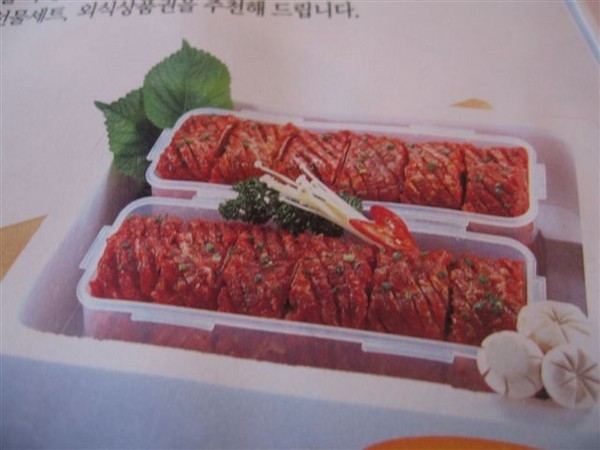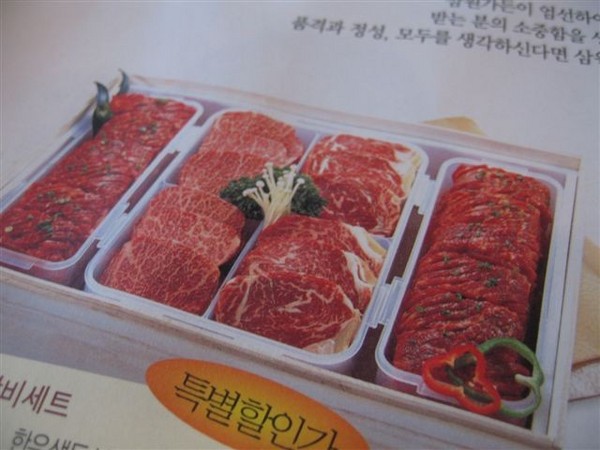 Samwon Garden @ Decadent livin'

Samwon Garden
, 623-5Sinsa-dong, Gangnum-gu, Seoul