After our eye-opening stroll at the night market, we made our way to the Grand Hyatt, where we have reservations for dinner at Made In China, its Chinese cuisine which has been getting rave reviews from everyone I know. Expectations were high...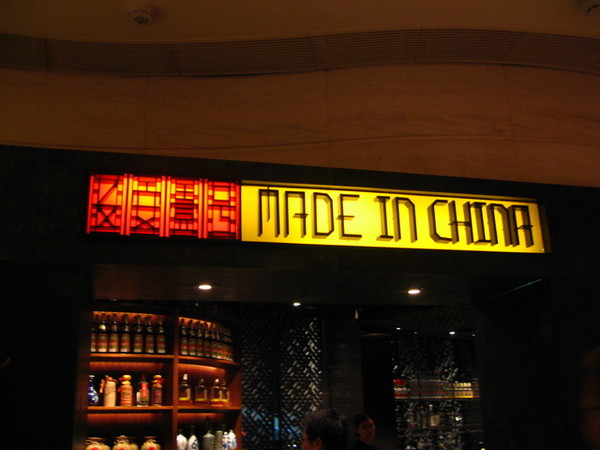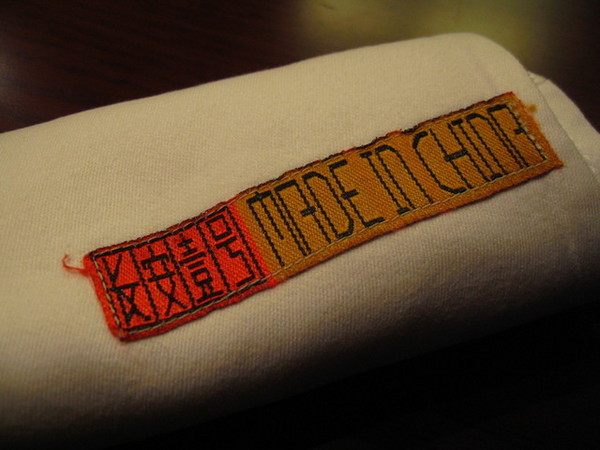 We walked into a modern and sophisticatedly decked out dining room, with some Chinese touches here and there. My first thought was that this place looks very similar to Mezza at the Grand Hyatt in Singapore - not sure if it's the same designer. Anyway, we were starving by now (it's 9pm) so everyone was eagerly waiting for the food to arrive.
The trusted stir-fried string beans - I tend to stereotype food quite a bit, and for me, this is a classic fave of all foreigners - we always order this dish when there are foreigners, and they almost always enjoy it very much. This time it was no exception.
M's dear friend, K, had thoughtfully reserved a beggar chicken and peking duck in advance for the meal. The beggar chicken arrived first - since this was the first time in China for E and R, they both stared at this dish curiously. We asked E to help break the outter shell to reveal what's inside for us. Perhaps because it was all so new to him, E didn't manage to break it open even after a few strikes (or maybe he was just too hungry)~ so the waiter kindly stepped in to help...
... once broken, we immediately got a strong swift of the aroma from the tender, melt-in-the-mouth chicken pieces. The goodness of all the stuffing - including mushroom, pork, veggie - were blended completely with the chicken - making this perfect comfort food.
Next to arrive was the much looked forward to peking duck - the chef expertly showed off his skills at slicing off extremely thin pieces of the crispy duck skin and also the duck meat separately. This was quite a show for us.
The way they do it here is different to the HK way, and I actually prefer the HK way (even if it might not be authentic). At restaurants in HK, the slices would have a balance between the skin and the meat, making it less greasy. But here, they actually separate it out, so if you only take the skin bits, it is very oily.
Here's my delectable balance - I like it with plenty of cucumber and spring onion slices, with just a dollop of the sauce. Normally, I could down four to five pieces in one go, in spite of it being so fattening. Am not used to the peking way, so only managed two slices...
Our servings of pork and veggie dumplings - while they don't really look that attractive, especially when compared to those I enjoyed at the airport - they were decent. I didn't think the skin was that well-made.
The pan fried lamb pancakes that M insisted on ordering was mind-blowingly good - the pancakes were fried to a golden crispy finish, and worked extremely well with piping hot flavorful lamb fillings inside. Even though I was quite stuffed by this stage, I still managed to down a whole piece.
We were all filled to the brim by the time the fried noodles arrived, so regrettably we left most of the dish untouched. Having said that I try it out and must say one can hardly go wrong with a noodle dish in China.
Just when we decided we really couldn't eat anymore, K told us the desserts here are absolutely heavenly ~ so what did we do? Of course, we had to order a couple to share! The green tea tiramisu was K's favorite - and was totally scrumptious, light and airy, with a hint of green tea flavour.
I chose the green apple and champagne sorbet, because it sounded less heavy - and it turned out to be a perfect choice. The slightly acidic taste of apple sorbet was very refreshing, and was a good finale for the meal. It was so degood that R, who told us she just couldn't eat anymore half way through the meal, was scooping out all the melted sorbet to drink!
Made In China got a lot of the elements right - good service, comfortable decor and thoughtful surrounding. But somehow I wasn't all that impressed. Perhaps part of it was because of the exorbitant price - our dinner was around Rmb1,800 for 6 people, and for China standard, that was expensive. One of the most expensive item was the sparkling water- which cost over Rmb130 per bottle. So the three bottles we had actually cost Rmb390!!! Outrageous!!! To be fair, both M and K think the place is consistently good in general. So maybe I should come back for a visit next time?