Last year when we came to Hirafu, there was one night when I was stuck in the hotel for work. As food at Prince Hagashiyama, where we stayed, was overpriced and unexciting, A & T kindly brought me back a pizza from the village for dinner. The pizza was sooo good that I managed to finish three quarters, quite an accomplishment for moi, who doesn't really fancy pizza. So this time, we made our way to Pizzeria Niseko Paraiso again.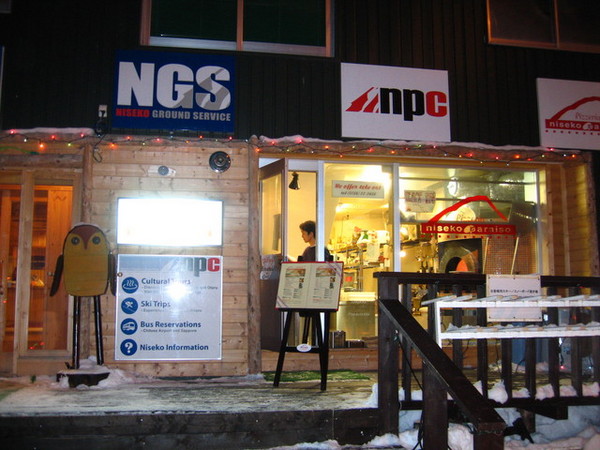 Originally this was only a sports school and serenaded as a pizzeria at night on first trial in 2005. Guess it was proven to be such a hit that this year, the pizzeria has been expanded to a huge area within the complex to accommodate more diners.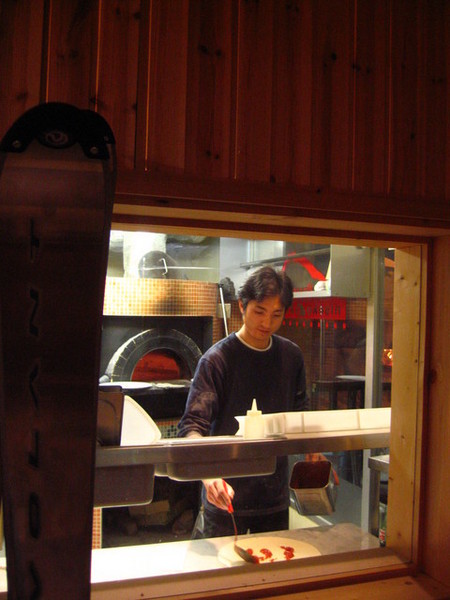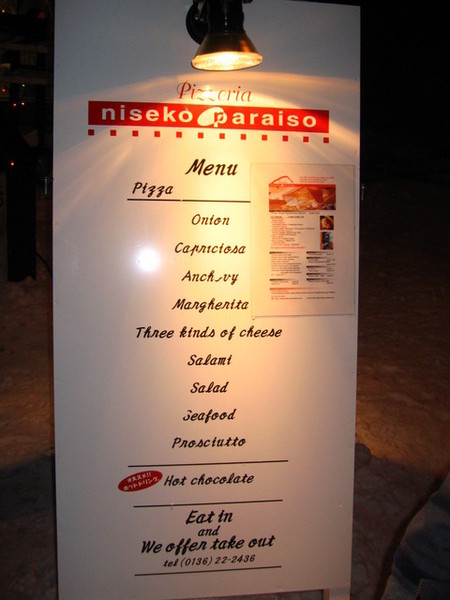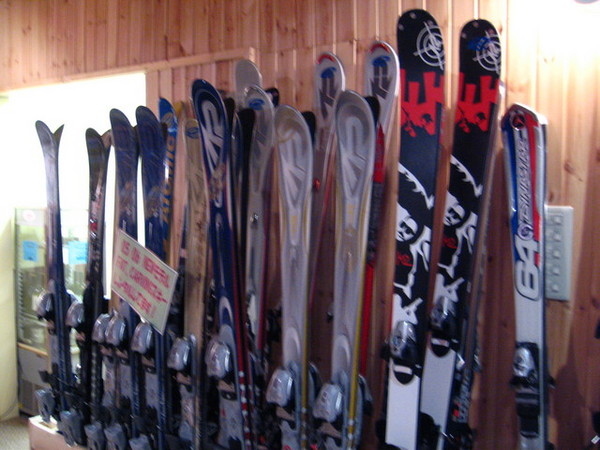 The restaurant was decked out in an intimate and cosy way, with an electronic fireplace on the side and a projector screen playing mellow MTV on the background.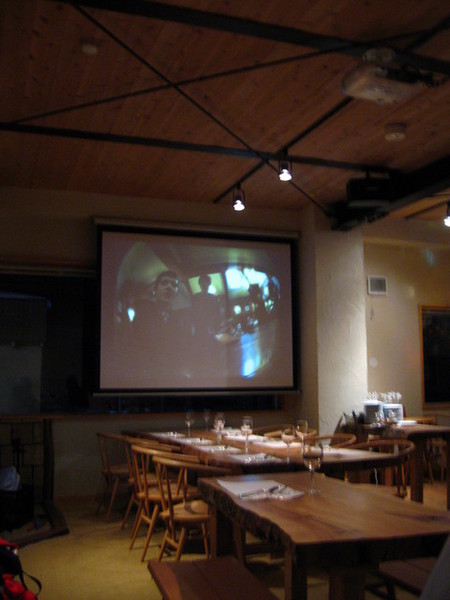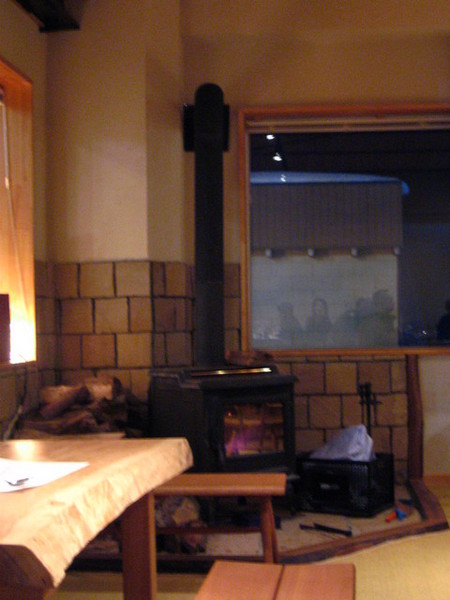 This was a great place for chilling out over a carafe of red - which only cost a bargain Y2,000.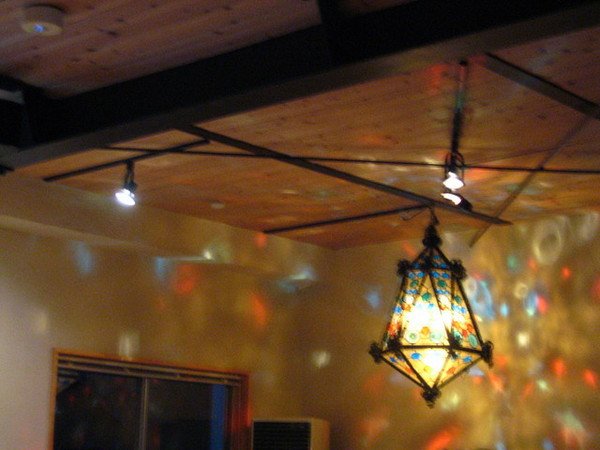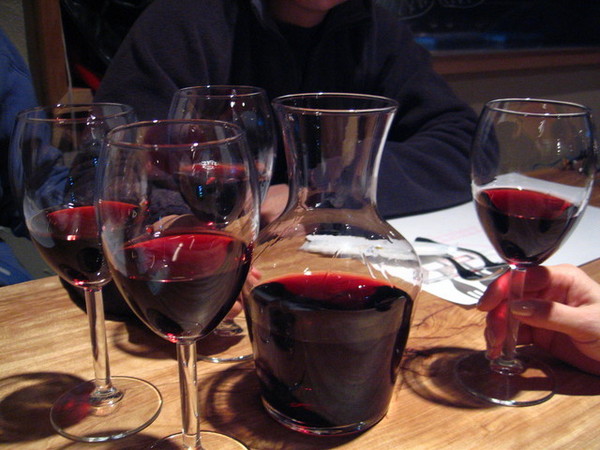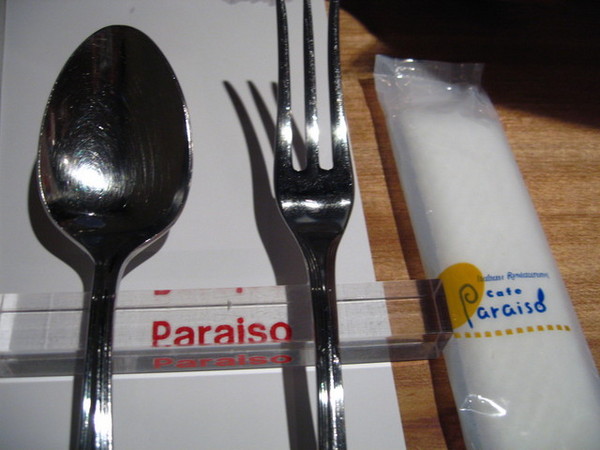 We had garlic toast (Y300 for 2 pieces) to start, a chicken cream stew (Y2,000), To finish, we ordered the daily dessert with coffee (Y800). We also had the salmon salad and potato wedges. For the pizza (Y1,000), we added mozzarella cheese (Y100) and proscuitto ham (Y300) as toppings. For spaghetti, we had tomato sauce with bacon and onion (Y1,100).
The garlic toast arrived in these long narrow strips which looked weird. It seems that instead of cutting it into slices like the normal restaurants, this place has decided to cut a whole baguette the full length to give long pieces. In any case, because the bread and butter and garlic are so yummy, this was great too.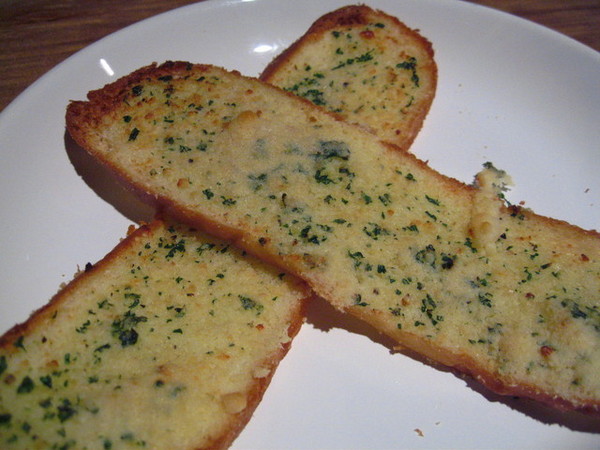 My order of fried potato with tomato sauce was good but a bit oily when fried and was not as special as the rest of the dishes. The salad was good enough, but the chicken stew was the true delight – the chicken pieces again were so tender that one could easily cut it up using a fork. The creamy sauce was just right too – and it came with some delightful tagiatelle.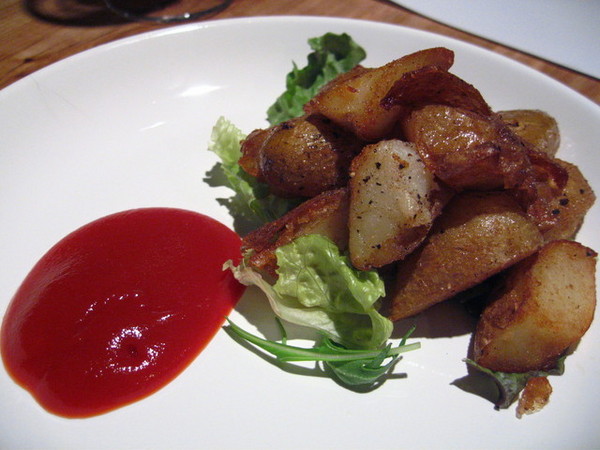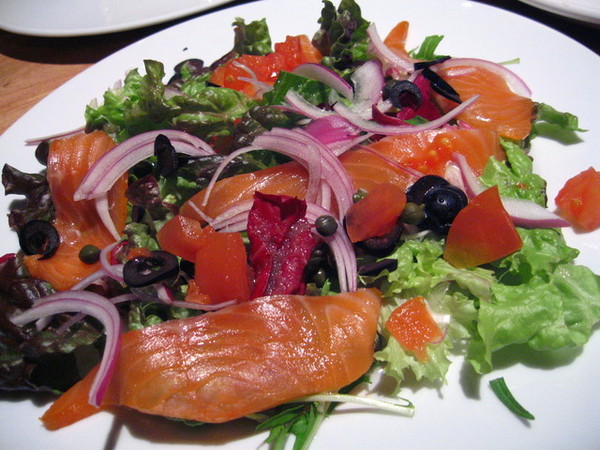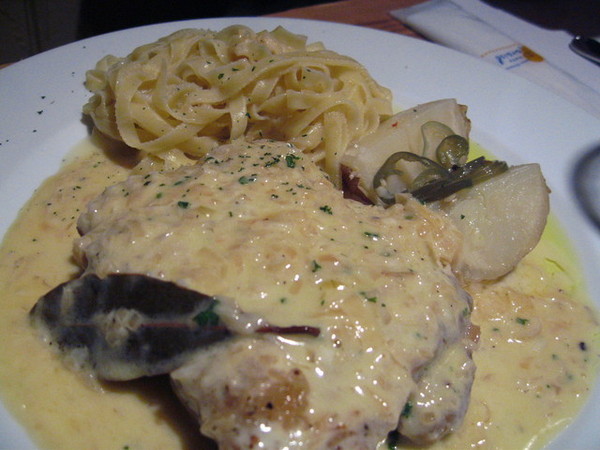 The spaghetti that we ordered was more plain and less special, even though it was well prepared. Even though we have had so much to eat, we easily finished the whole pizza which was crispy and full of tasty melted cheese. T, normally not a big eater, managed to down three slices in one go.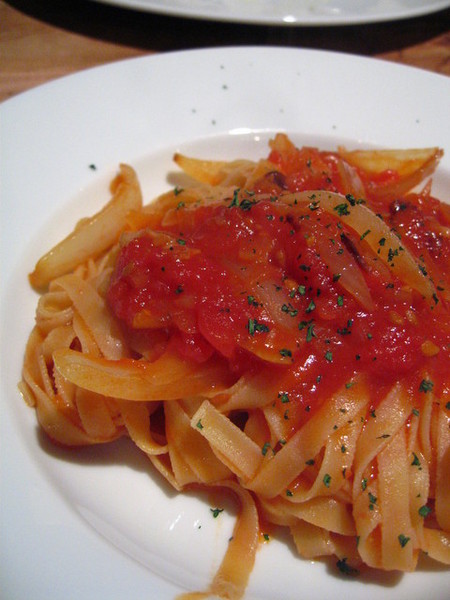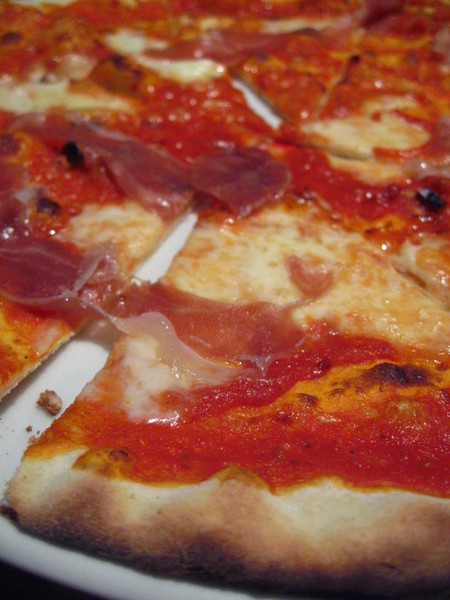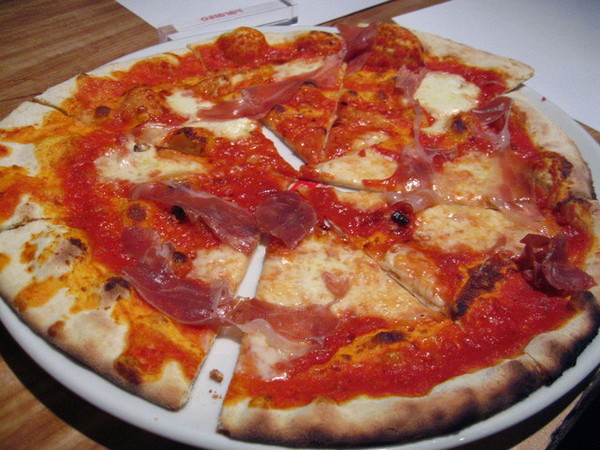 We then started this big debate over how many portions of dessert to order for sharing. The waiter told us it was creme brulee, and A and S immediately said they wanted their own portions, given creme brulee in general is very small in the little ramekin. T and I disagreed, on the basis that every single dish here is rather large. After much heated discussion, we decided to get three in total, T & I sharing one. We found out it was a mistake on our part, as the portions were small and the taste luscious. Creamy and sweet with a nicely torched caramel sugar crunch layer on top.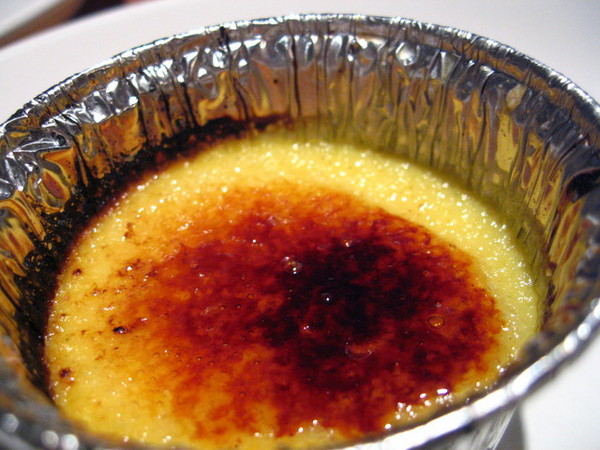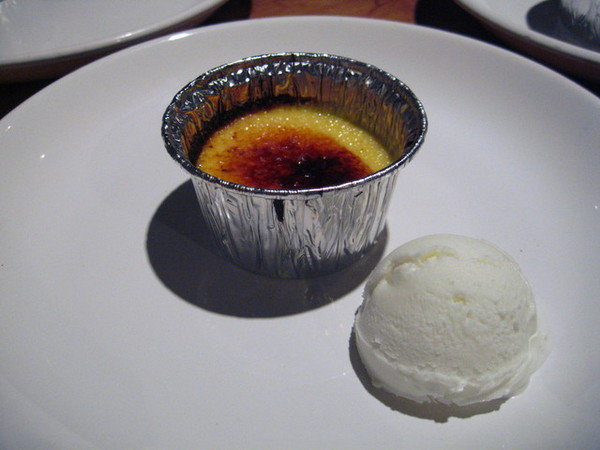 The hot chocolate that accompanied the dessert was hot and warm and rich, preparing us for the long road back to the hotel (yes I exaggerated, it was less than 10 min walk).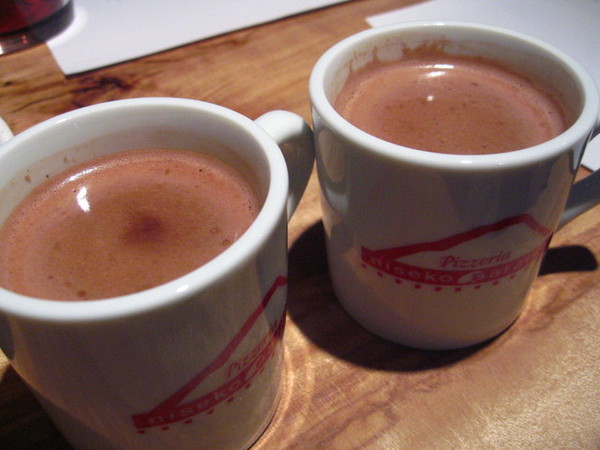 Pizzeria Niseko Paraiso niseko.cafe-paraiso.com 0136 22 2436