When brainstorming for dinner venues, M randomly suggested Chesa. Good memories from my last visit there immediately came to mind so I was totally fixated on the idea. Unfortunately, we failed in our repeated attempts to get a table, be it weekday or weekend, two days in advance or last minute cancellation. Finally, just when I was about to give up hope of ever revisiting Chesa and began contemplating the idea of Cafe de Coral's version of cheese fondue, we finally managed a booking - so Chesa we went.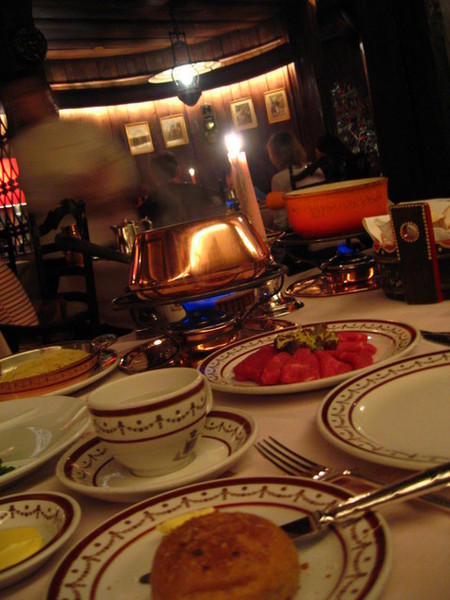 We arrived at the cosy little wooden hut like restaurant and noticed that a few tables were well into their mains. The place was exactly how I remembered it - inviting, warm, and friendly. We settled comfortably into one of the side tables and were sitting next to one another facing the center of the restaurant. This is considered an odd arrangement in HK but was rather common in London, even at the very high end restaurants. Actually I think this is a rather good idea, as it's easier to chat with one another rather than across the table.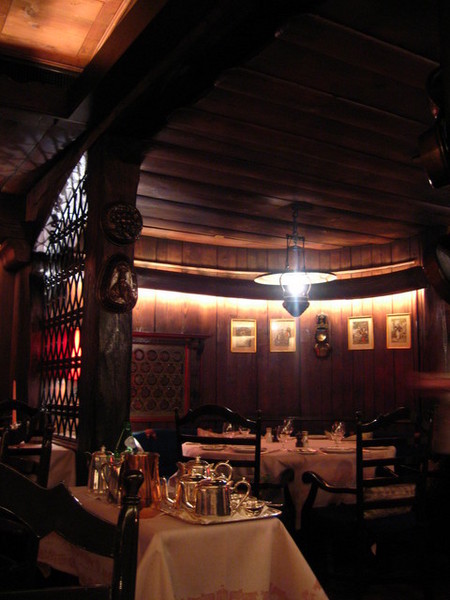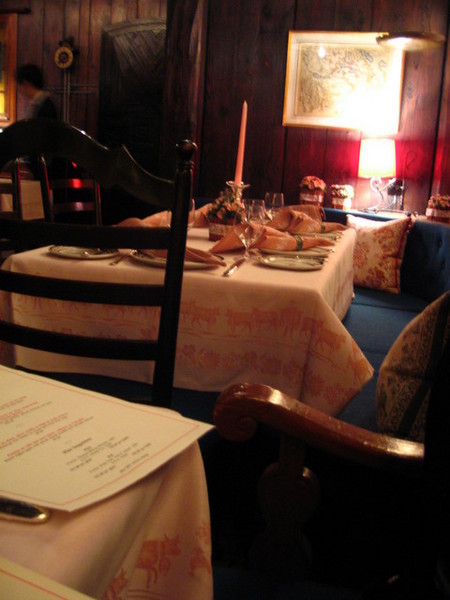 Somehow I could totally picture myself being transported to some wooden hut up on the mountains in Switzerland relaxing in the restaurant with a blizzard brewing outside. Cheese fondue was our key objective, so I actually had been refraining myself from eating loads throughout the day. Perhaps as a result, a hunger pang struck upon arrival, as I started munching on the bread. The pretzel somehow had a very sticky surface, so it kept getting stuck to the top of our jaw. The only way (or excuse) to get rid of this was via eating more bread - needless to say, we wiped ou the bread basket as usual.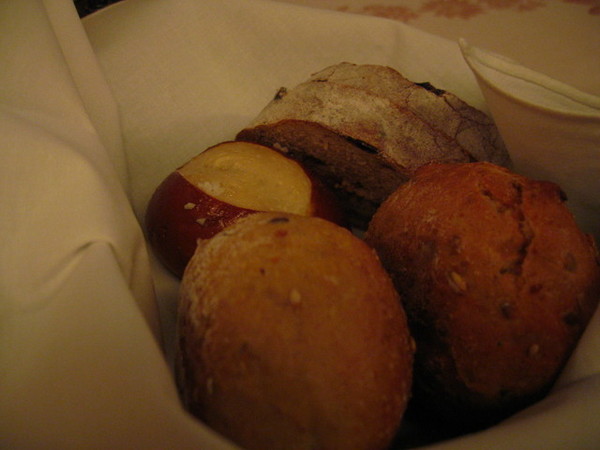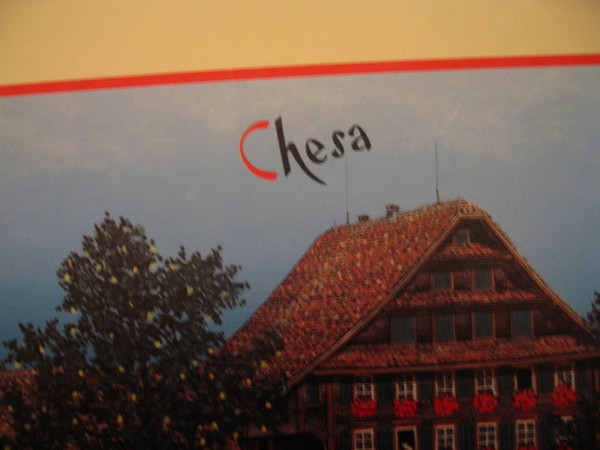 We debated long and hard on the menu - M could see my face lit up when I saw the beef fondue on the menu. However, I was adamant that we would not be able to have both the cheese and beef fondue given there were only the two us. Since we couldn't really reach a conclusion amongst ourselves, I asked the waiter to come over and assist in the decision - he said that we should be fine, given guys normally could eat a lot - hence we went along with it and it turned out to be a perfect decision in hindsight.
We chose a light starter of sausage salad to start, the dish was presented in a simple layout with a large selection of vegetables accompanying the sausage slices in the middle. The sausage on its own didn't feel that special, but when mixed with the cheese we could totally taste its smokiness and richness in flavour. This went down well.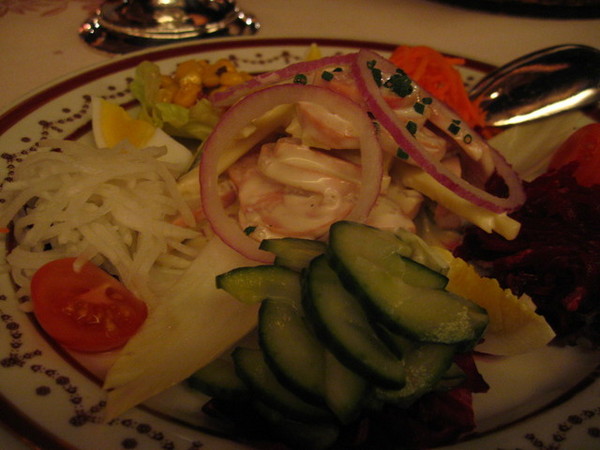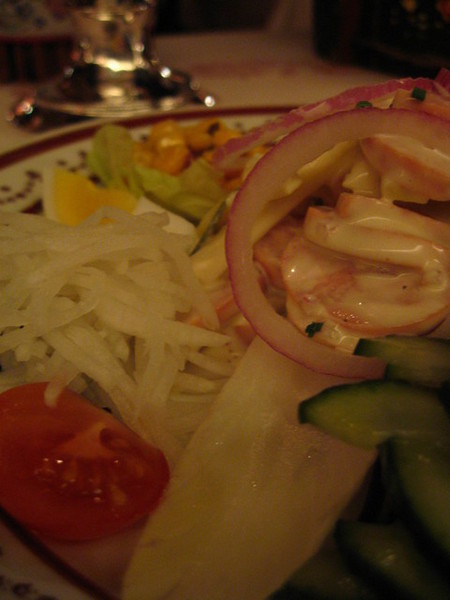 We waited eagerly for the mains - which arrived in tandem. Actually this was the cause of another heated discussion as I wanted to be served both at the same time while M preferred to enjoy one after the other. Luckily the waiter sided with me and said it is better to have two at the same time.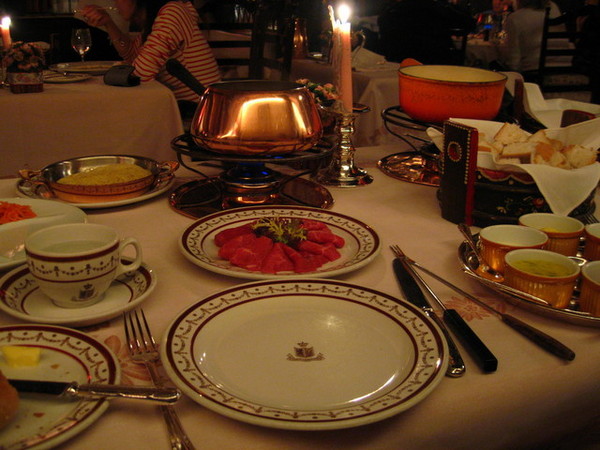 For the cheese fondue, we opted for the traditional style of Gruyere cheese with plain bread. There was an alternative that used new potatoes but we stuck with the original. The cheese was rich and creamy, simmering nicely in the Le Creuset pot, tasting slightly bitter from the heavy dose of wine. The bread was porous enough to soak in loads of cheese when dipped, typical comfort food delight for me.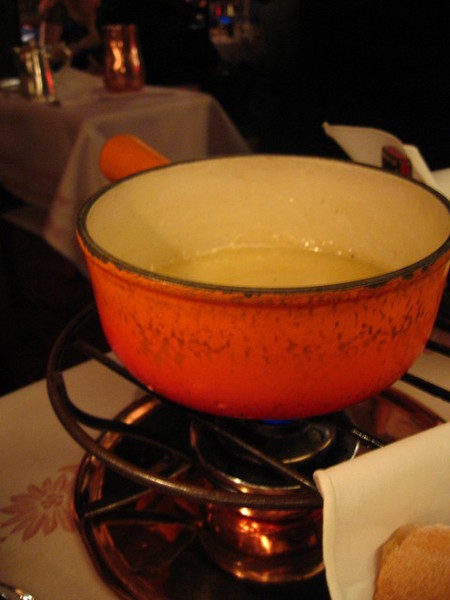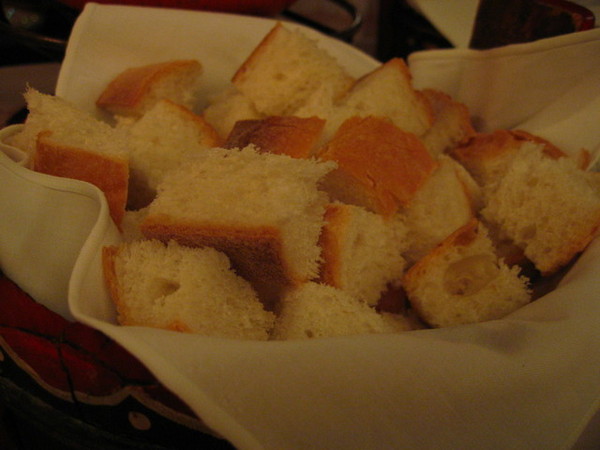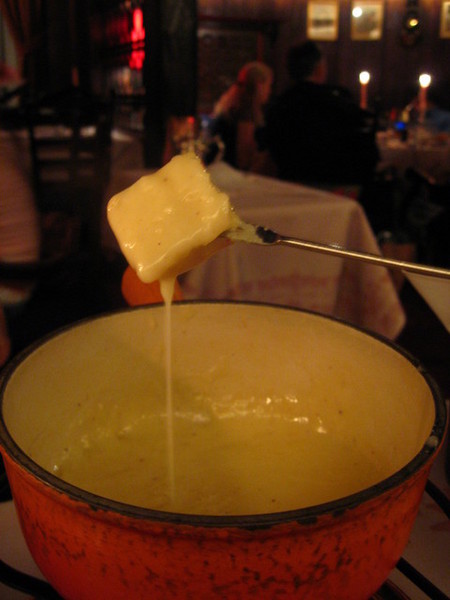 The other fondue was the beef fondue - two options were on offer - either beef slices cooked in broth or beek chunks cooked in oil. I love the latter because that way, the inside of the beef cube would still be pinkish red raw when the outside is slightly crisp from frying in the oil. However, there was a concern that it could get a bit too greasy and unhealthy and in the end I reluctantly agreed to the slices with broth version. At one point I was worried that the slices would be similar to the fatty beef slices on offer at hotpot restaurants but as it turned out, the portions were quite sizeable and the meat was extremely fresh and delicious, tender and meaty after a quick blanching in the broth.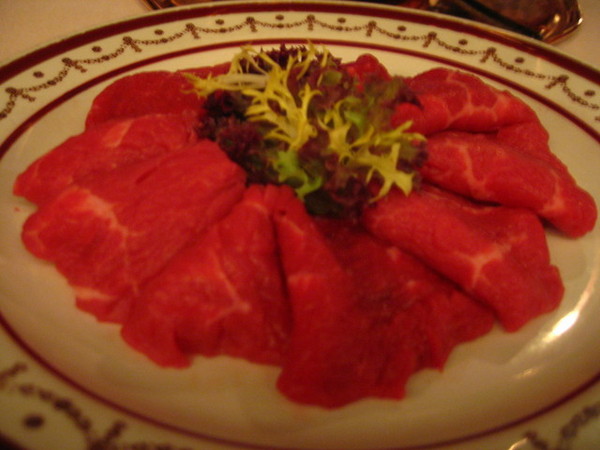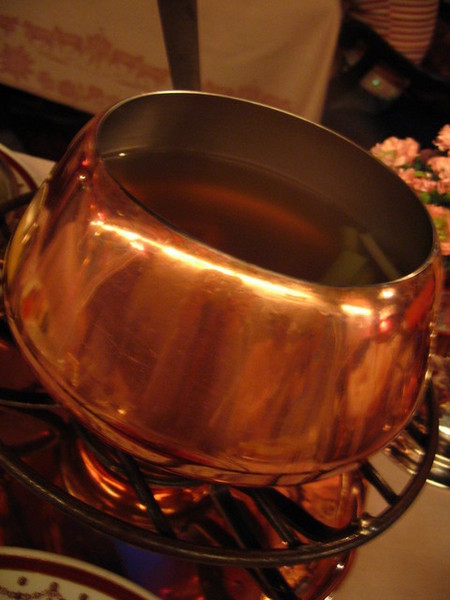 To accompany this dish, there was a portion of angel hair, a selection of pickled vegetables and this huge tray of different sauces for dipping in. We were so busy experimenting with the various items on offer that I didn't take detailed notes on each and every sauce - just trust me when I tell you all were good. As you can see, the table was occupied to the brim with the various utensils and pots and plates and we worked our way slowly but surely through everything. Luckily being the known carnivore, I liked the beef fondue better while M slightly tackled the small mountain of bread chunks with cheese. Yes in case you were wondering we did manage to finish everything on the table, in large part courtesy of M... I thoroughly enjoyed both courses - think a fondue meal is a great occasion for friends to gather round to chat and catch up.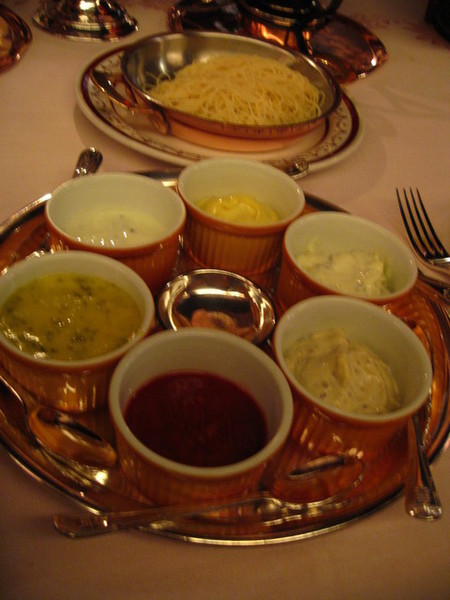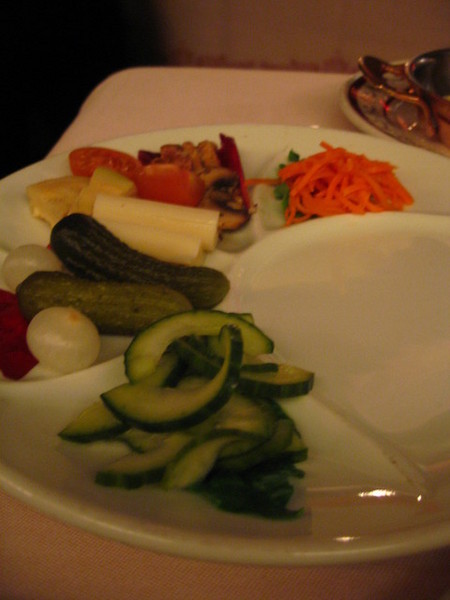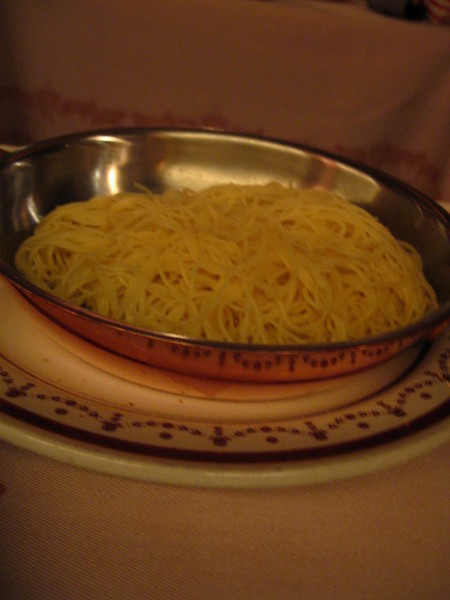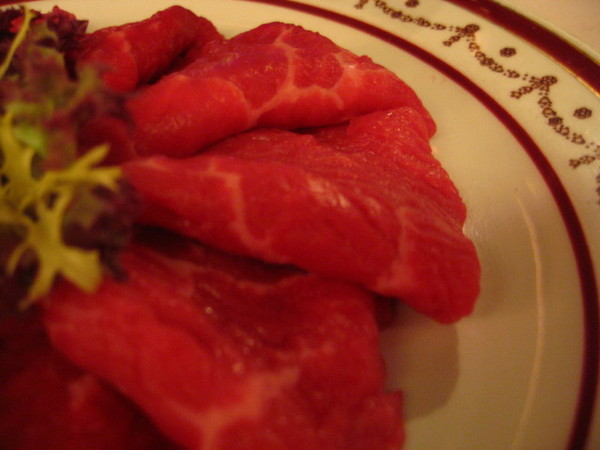 Although I was eyeing the apple crumble already when we first looked at the menu but this stage I was contentedly full and satisfied with little room for dessert. Luckily M always have a spare stomach and he decided to get this citrus tart, which was light and sweet. We had some heavy earl grey tea to round the meal off.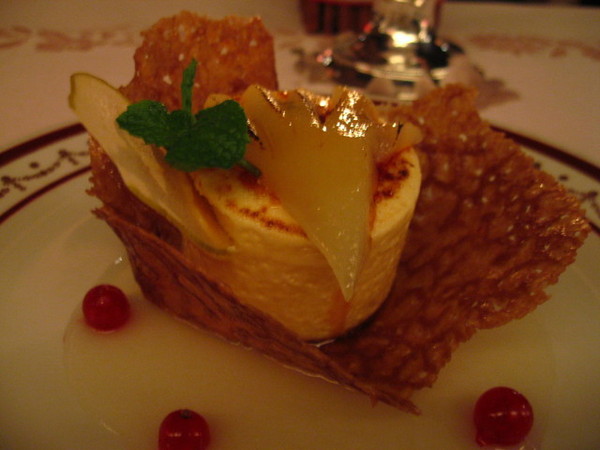 In the middle of the meal the room suddenly erupted into a round of applause. We turned round and saw this guy kneeling in front of his girlfriend proposing with a ring and flowers, nervously awaiting for a response. Everyone was overjoyed to see her saying yes and their embrace afterwards. Noticed a few tables were in celebratory mood - a couple groups were celebrating a birthday while the table next to us was talking about their daughter going abroad for studise on scholarship. Chesa seems to have the magic charm of being a "happy restaurant", where people gather round for happy memories. Such a rare breed of restaurant. 
I do associate Chesa with happy memories - go in a group, that way you can enjoy the many other delicious dishes on offer, like the rachette. Don't expect fine dining just because it's the Peninsula - expect attentive but relaxed service and a great dining experience at a reasonable price.
But don't visit too often, or else I will never be able to get a table in this magic wooden hut!
Chesa
, Peninsula Hotel, TST, Kowloon