B is in town overnight for transit, and S and I arranged to meet her up for lunch in the IFC complex - as expected, all the restaurants were fully booked - Lei Garden actually suggested the alternative time slot of 2:30pm to me! Approaching desperation, I recalled someone mentioning that the hip bar at the new Four Seasons Hotel serves a semi-buffet lunch - so to Blue Bar we go.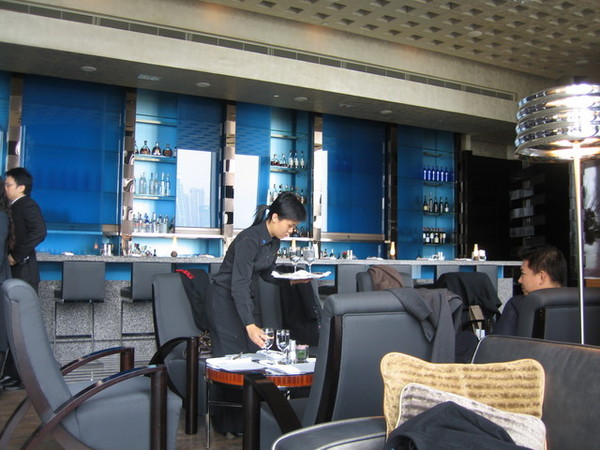 The Blue bar was modern and airy, stylishly decked out - unsurprisingly - in blue with a view of the harbour. Only two other lounge tables were occupied, and we were promptly shown to a corner table next to the window. For lunch, only one set menu was served. At HK$195 per head, the appetizers and mains were served buffet style, whle the dessert was brought to your table, plus you also get a coffee or tea. Appetizers included an onion soup, a bread basket, and an assortment of vegetable salad. For mains, the selection included goa fish curry with rice, and at the carving table, roast turkey and sirloin beef roast. 
There wasn't much to choose from at the appetizer section, apart from some thai-style vermicelli salad and vegetables. The ingredients were fresh but it was nothing special. I preferred the onion soup, which was tasty and flavorsome, and served with an assortment of bread. 
I like how Blue Bar tries to do its carving table properly - serving cranberry sauce, stuffings, and chestnut with its roast turkey, and horseradish and yorkshire pudding with its roast beef. For the mains, I first tried servings of the roast turkey and the goa fish curry. Both turned out to be pretty good.
I headed for the carving table again for my next plate, this time to try out the roast sirloin, which came with my fave - yorkshire pudding. The cut was tasty and well cooked - not too raw and not too much fat. However, I was bitterly disappointed by the yorkshire pudding, which was not light and fluffy at all. In fact, it tasted like bread that's been left on the shelf for too long.
There was a choice of fruit platter or pumpkin pie for dessert, and I opted for the latter, which came with a scoop of vanilla ice cream. The pumpkin pie was rather yummy, though I didn't manage to finish the slice as it was a bit rich.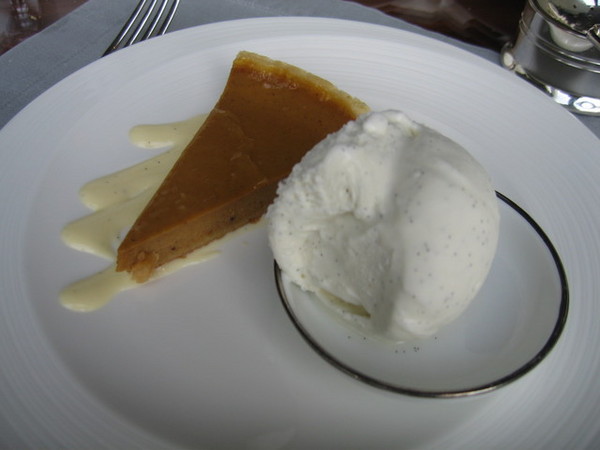 Overall, I found the standard of food quality was average and the selection, especially for appetizer, was too limited to be called a buffet style, even executive style. The dining area is comfortable and relaxing, but because the Blue Bar is actually meant to be a lounge/bar, it is quite awkward to eat at the low level chairs with the chairs leaning back. The pricing is in line with the nearby western restaurants, but the combination of limited choice and average quality means this probably will not feature as one of the top lunch venues for me.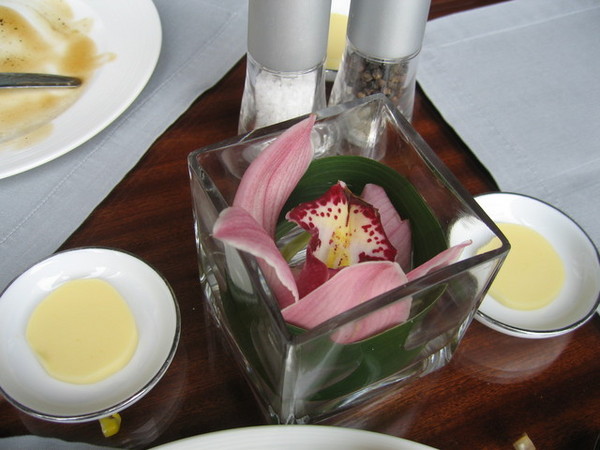 Blue Bar, Four Seasons Hotel, 8 Finance Street, Central, Hong Kong