Thanks to HKFoodie, we managed to secure some tickets to Pavarotti's farewell concert in HK on Dec 2. Not an opera fan (am tone deaf), was enticed by the "farewell" element, although he has been saying that for years. Anyway, we decided to head to Habibi Cafe in Wan Chai for a quick bite before the concert, as it was conveniently located close to the Exhibition Center.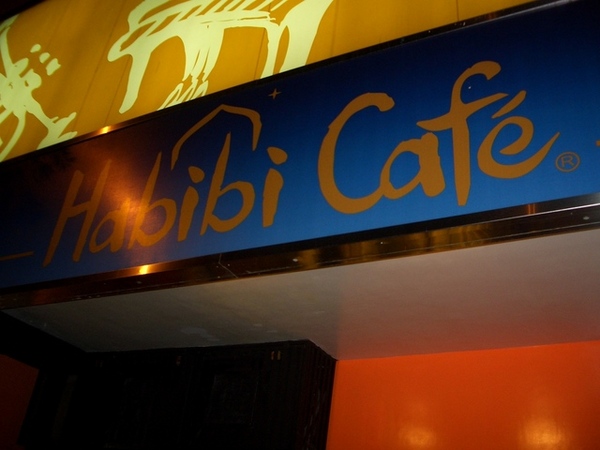 I assume the original Habibi restaurant on Wellington Street must be doing well, as it branches its second koshary cafe out to Wan Chai. Having never been to Egypt, not sure what authentic Egyptian cuisine is, to me, the orignial Habibi is very similar to the Morrocan & Lebanese cuisine, with the kebabs and tangiers. We entered a simple and cheerful small cafe, and found it almost empty with only one table occupied on a Friday evening. I assume Habibi Cafe caters more to the lunch crowd that works in the neighbouring offices. We each had a refreshing mint tea to quench our thirst while deliberating on the menu.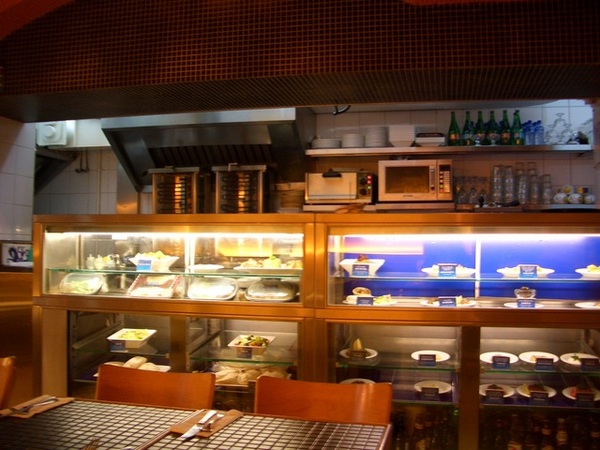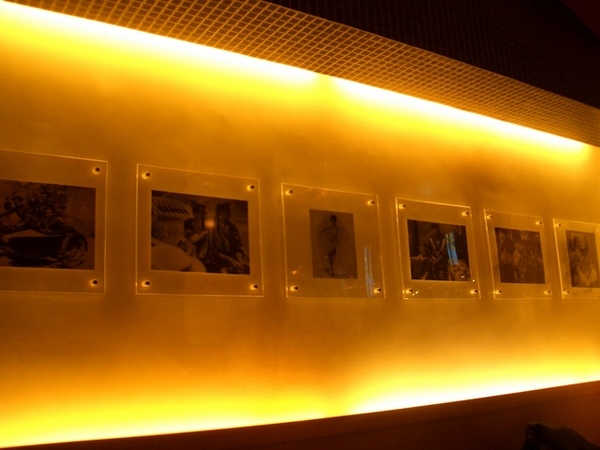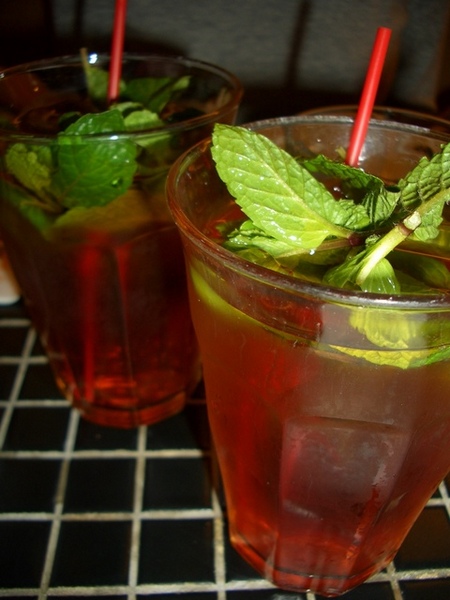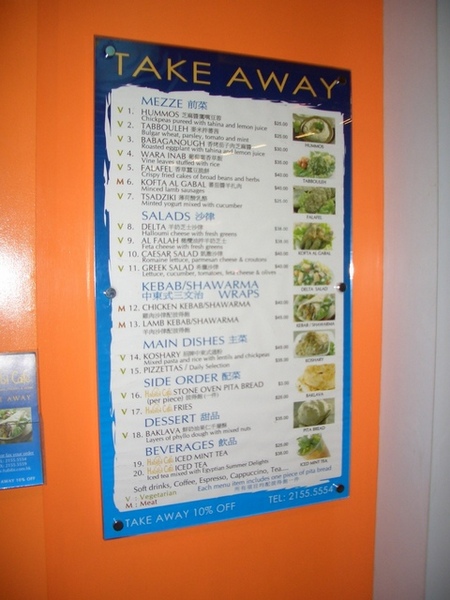 To attract diners, Habibi has put together a set dinner combination, for HK$80, you can choose a mezze (appetizer dish), a mains, and a drink. We thought this was good value for money and both opted for the set dinner, each ordering a different item so that we could share the food. A glance at the menu shows Habibi Cafe prices relatively cheap, in keeping with its cafe style.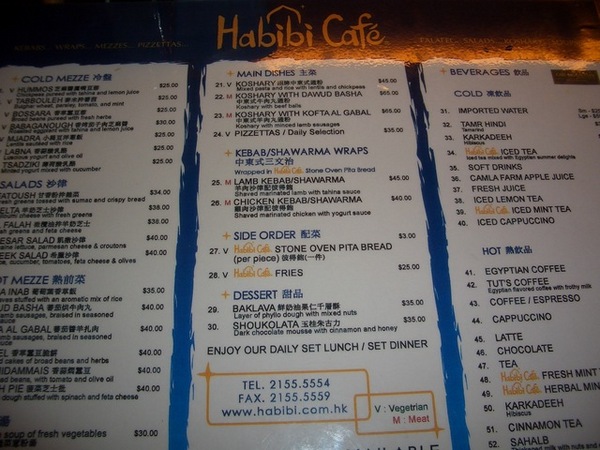 Our mezze quickly arrived as H told the waitress that we were in a hurry for a concert. The hot mezze was a crispy pastry dough stuffed with spinach and cheese. It was quite yummy especially when dipped in the paste. I opted for the Babaganough - roasted eggplant, tahina and lemon juice, which was served with some pitta bread. While I enjoyed the paste, which was full of flavor and had the pleasant aroma of sesame, the pitta bread was a bit too dry and hard to my liking. It felt either store bought, or made way in advance rather than freshly prepared that afternoon. I compensated for this by eating the pitta bread with generous portions of the paste.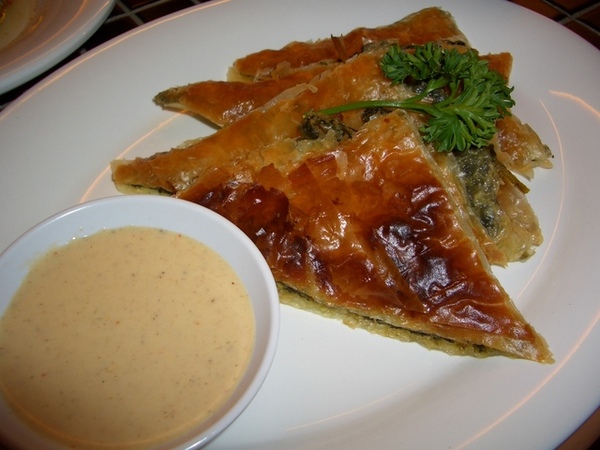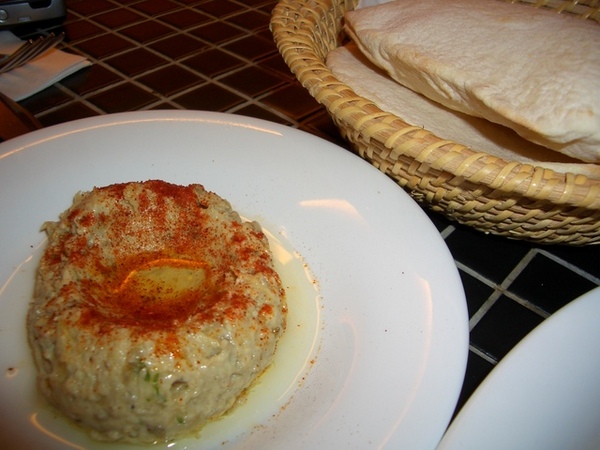 Next to arrive was the ultra colorful koshary with dawud basha. Koshary is "mixed pasta and rice with lentils and chickpeas", and dawud basha is beef balls. We thought the portions were enormous for the price we were paying. While this looked and sounded weird, it was very tasty. The combination of taste worked well, and what's more, the mix of rice and pasta actually worked well. While most of the ingredients were quite heavy like the chickpea and brown lentils, the various forms of carbs in spaghetti, macaroni, and the rice, the fried onion mix and the tomato and garlic light up the tasty dish. I found myself taking more and more of this, in spite of having already eaten afternoon tea before dinner. The salad accompanying the lamb kebab was also fresh and refreshing, although after the koshary, neither of us had any space left for the huge chunks of lamb kebabs. We decided to wrap it up and give to V, the friend that we were meeting up later for the concert, as he hadn't had time to have dinner yet. Accordingly to him, the kebab was good, although he only got a chance to eat it at eleven that night.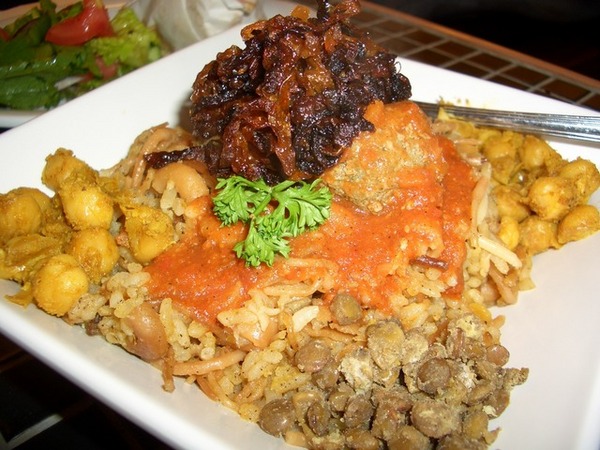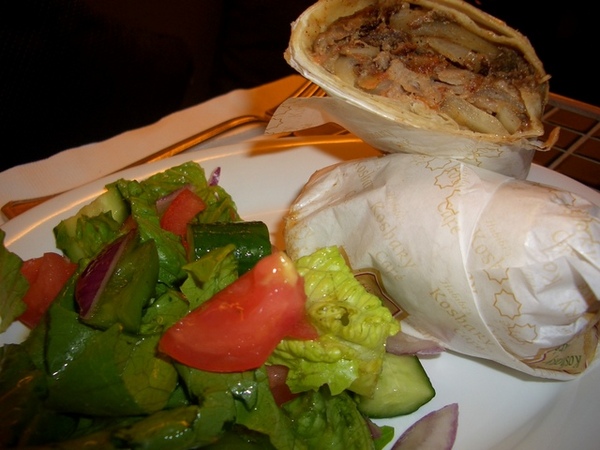 Running out of time, I quickly ordered the Baklawa - my favourite middel eastern/ mediterranean dessert, made with phyllo and mixed nuts, with a dollop of cream served on the side. This did not disappoint, as it was crispy and crunchy, and not too sweet. I hurriedly forced spoonfuls down before asking for the bill.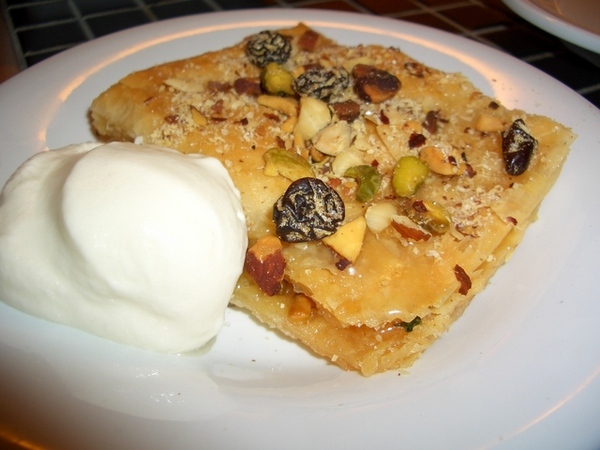 To be fair, we were in such a hurry that we didn't really have time to savour every dish. However, we did find the general standards high, and I actually preferred this lighter, more laid back version of Habibi, rather than the more formal settings of the restaurant. Think Habibi Cafe is best for a leisurely lunch or afternoon snacking location, rather than a dinner getogether. Dinner for two costs HK$200.
Habibi Cafe
GF 144-149 Gloucester Road, Wan Chai, Hong Kong