My friend didn't believe me when I told him that Shangri-la used to name the signature fine dining restaurants within its chain by famous vineyards, like Petrus and Margaux. Well, Shang has gone away from the tradition and is adding an Angelini in a number of its locations. Angelini is the name of its CEO, and we decided to venture to the dark side to try out Kowloon Shang's latest Italian addition. Sadly Margaux is no longer in the picture, I do miss its winter game dishes. We are told that Angelini's chef Massimo Iarossi specialises in using simple, fresh ingredients.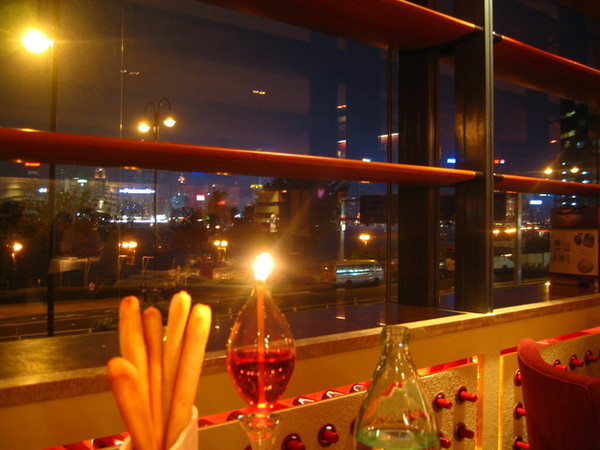 We liked our seat right by the window, with the gorgeous night view of the Victoria Harbour and skyline as our backdrop. The restaurant's decor was simple and modern, and it had an airy, casual, buzzing atmosphere. In fact, I'd say it was noisy outright, think it's probably due to the closely placed tables. Not a place for an intimate dinner, but could for gatherings.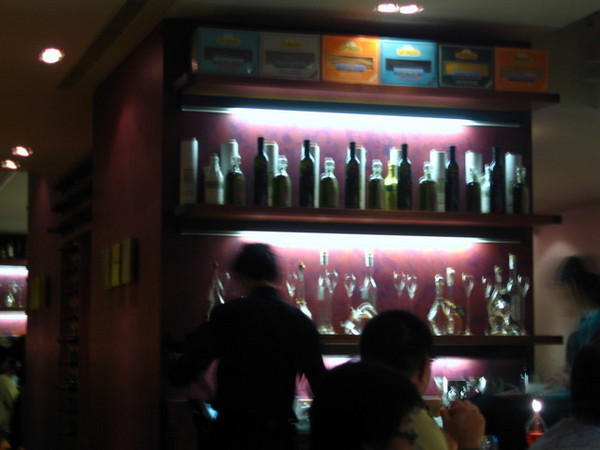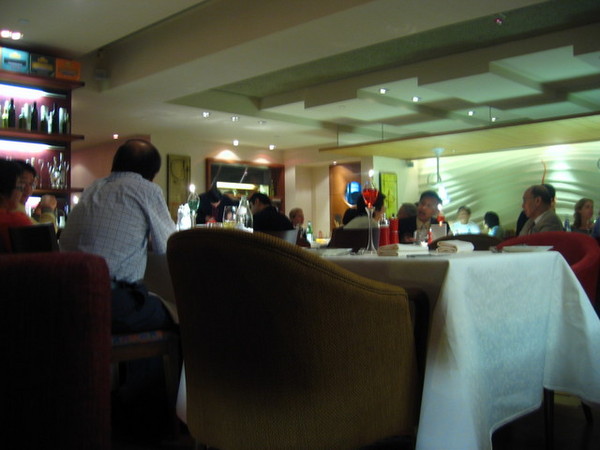 A was totally raving about Angelini's olive oil and balsemic vinegar combo and even though she proclaimed she didn't fancy any bread tonight, she just kept getting more and more of the focaccia loaves just so to dip into the olive oil/balsemic vinegar mix. It was indeed really good, not sour at all and aged extremely well. We preferred this to the herb oil that was also provided. The freshly prepared tomato bruschetta was our little complimentary pre-dinner snack, with chunks of meaty tomatoes generous topping the crisp bread - signifying the chef's love for simple tasty food.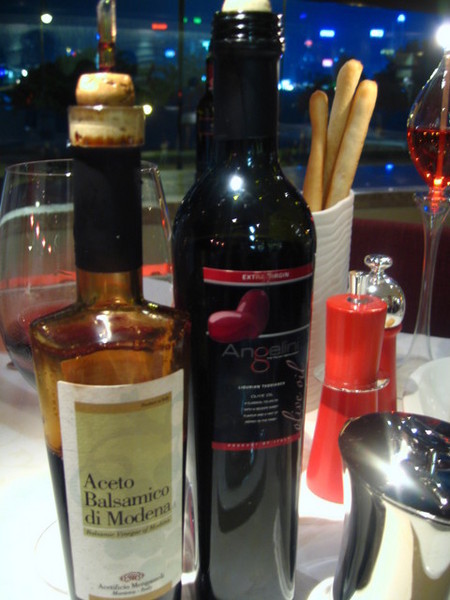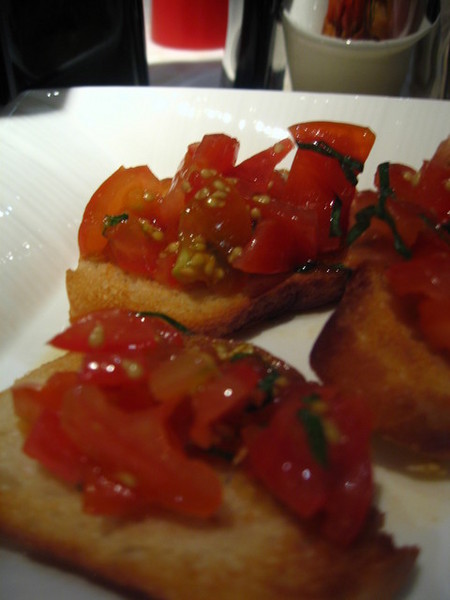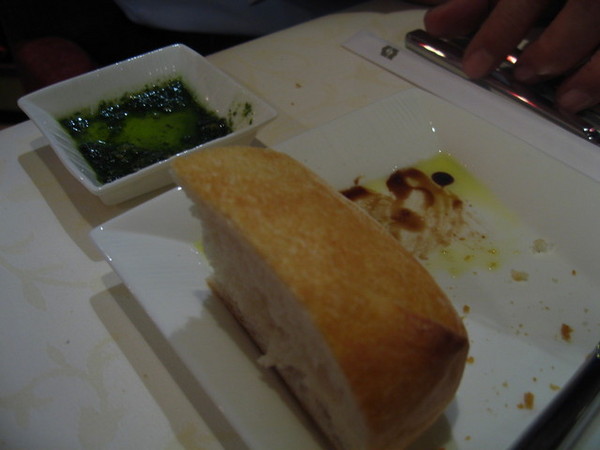 A opted for the four-course set dinner for HK$480, while K and I went a la carte. The restaurant is informal enough to accomodate that. We ordered a bottle of wine, so A forgone the option of paying an extra HK$160 to get 2 glasses of wine to accompany the set course. She liked her squid salad, which was refreshing and light. K had the goose salami and warm goat cheese flan with thyme marinated olives (HK$165) which he said was good but the cheese flan was too heavy in the combination. I enjoyed my selection of Italian cold cuts with vegetable "Sott' Olio" (HK$138) very much, as all the cuts were flavourful and of top quality.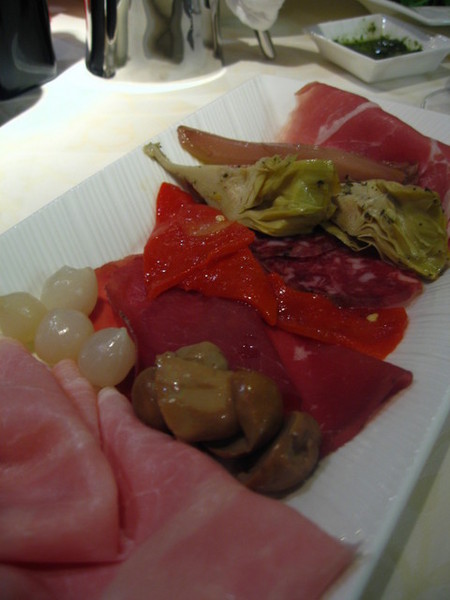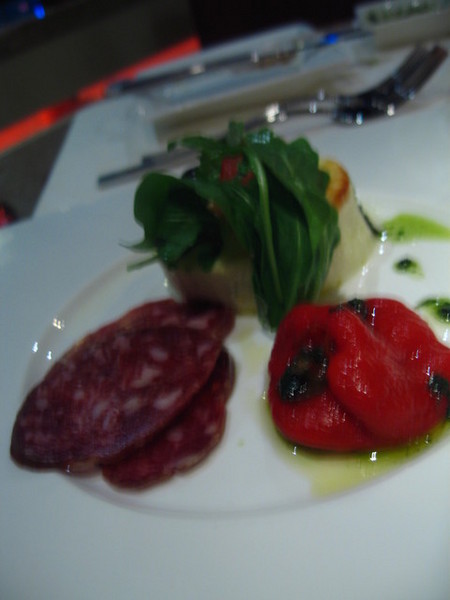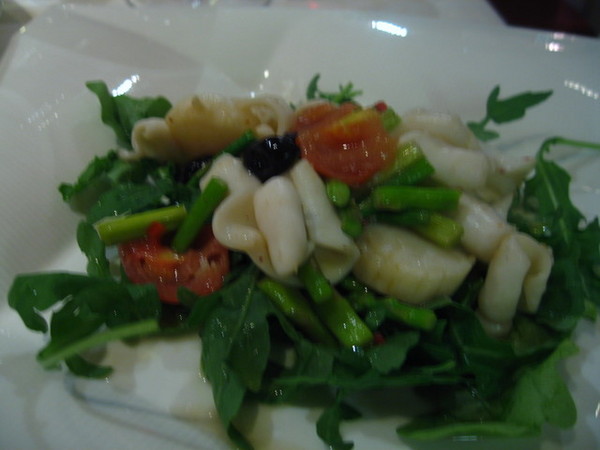 A's pasta dish arrived next - the pasta was tossed in some tomato and ham sauce. We were slightly disappointed with the dish, as the tomato sauce was only average, although the pasta had an al dente texture.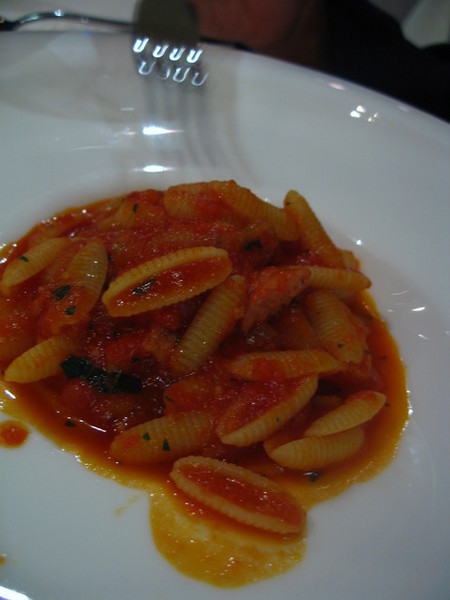 This was the star of the show, and why I wanted to go to Angelini's this late autumn evening - white truffle, or tuber magnatum. Hailing from Piedmont (black) and Umbria (white), these are only available in late autumn and winter. The strong aroma and unsual taste are unforgettably amazing, in my view. Even a drop of truffle oil totally lifts a dish, let alone such generous shavings... personally I prefer the more precious white truffle than black, as I think the former has a more refined taste while the latter is more pungent with an earthy smell. Truffles are located using female pigs or truffle dogs, which can detect the strong smell of mature truffles hidden deep in the ground. A more detailed account could be found in Peter Mayle's book on how one has to fight with the pigs once the location has been identified to snatch the valuable but ugly looking truffles. Truffle shavings on omelette are excellent!
I ordered the cannelloni with white truffles (HK$440). To be honest was originally quite worried that the heavy cheesy taste of the pasta would surpass that of the delicate truffle aroma. Normally one would serve the shavings on very simply cooked pasta, like the one I had at Toscana last year. However, I was wrong and these complement each other perfectly and this was a powerfully amazing dish that was deeply satisfying for me.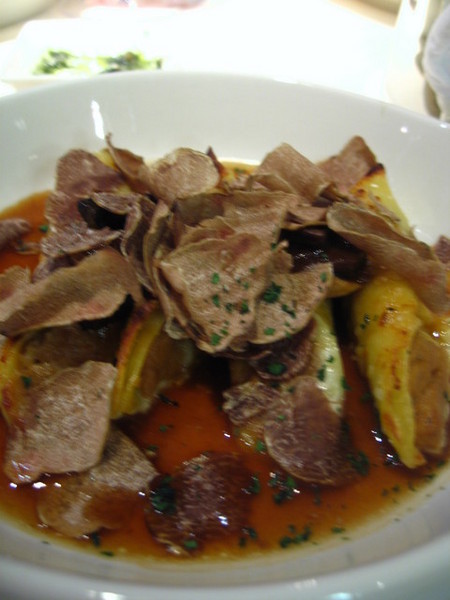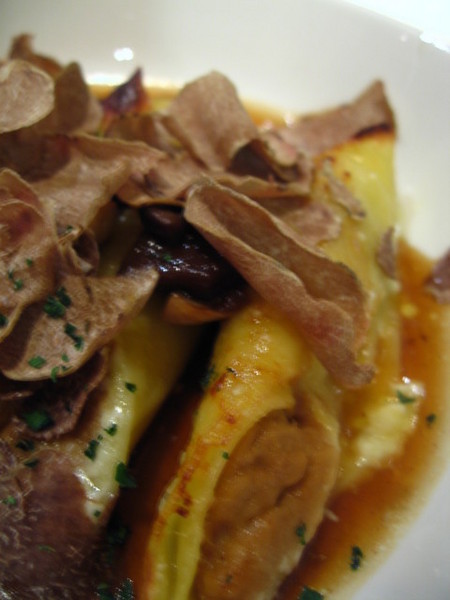 The grill-roasted sirloin was well executed to the medium rare that K wanted, but then the meat itself was not very impressive and lacking in flavour. A's crusted seared tuna was a surprise hit with everyone, light and extremely well cooked.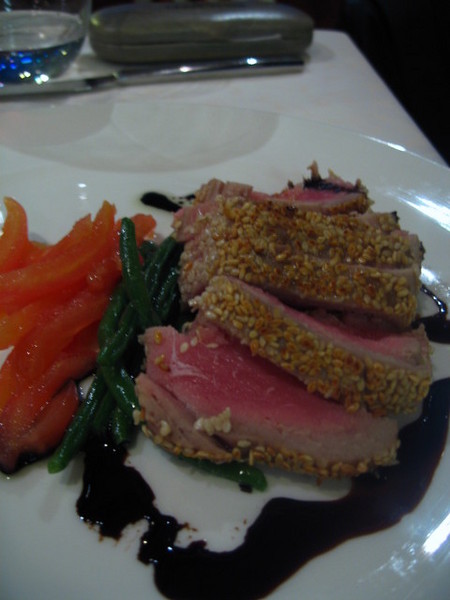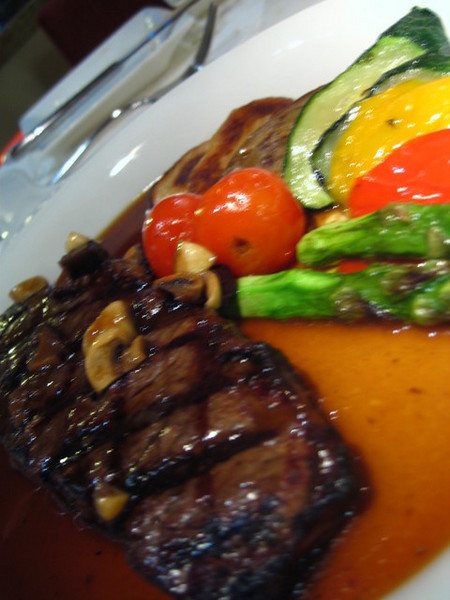 After the extremely gratifying truffle cannelloni, I was too stuffed for dessert, so just ordered a cup of cappuccino to round of the meal.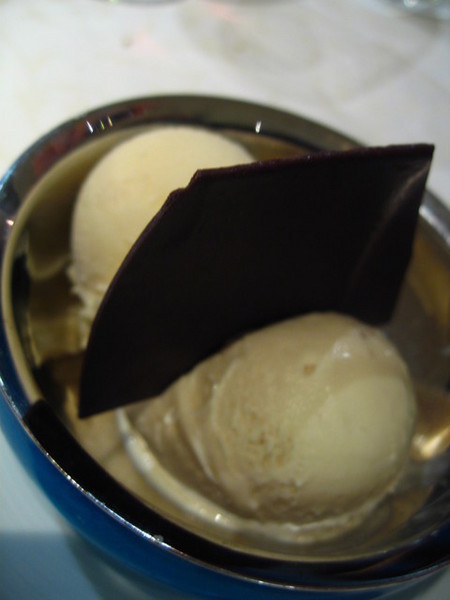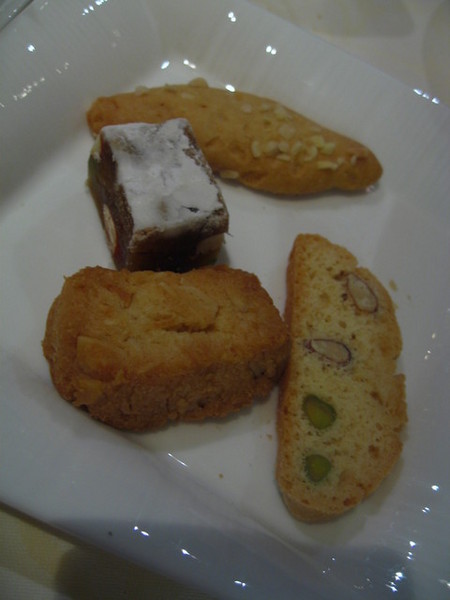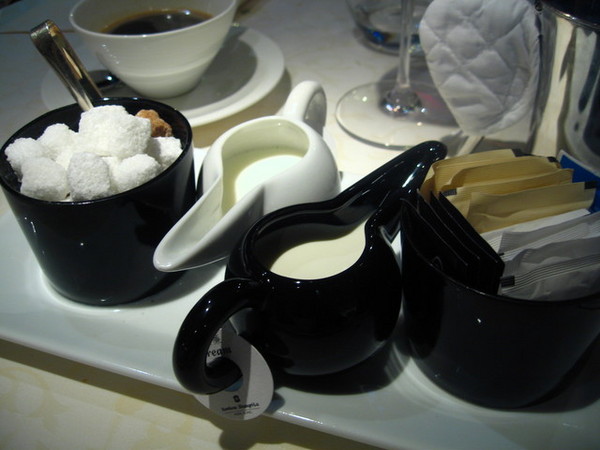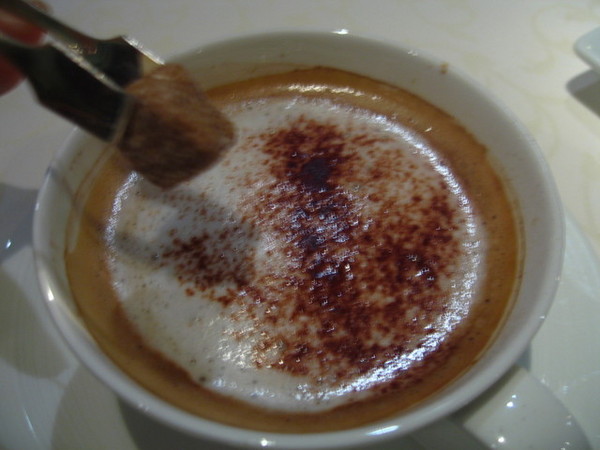 While Angelini is billed as one of the big four restaurants that recently opened - (the others being
Amber
, Caprice,
4F at HN
), it definitely is the most casual and down-to-earth of the four, probably the most affordable as well. The food is in general of a high standard while service was a bit chaotic on the night. With so many good Italian around town, Angelini will have to keep up with its act to keep the diners coming back - think its simple and good formula could work well in HK.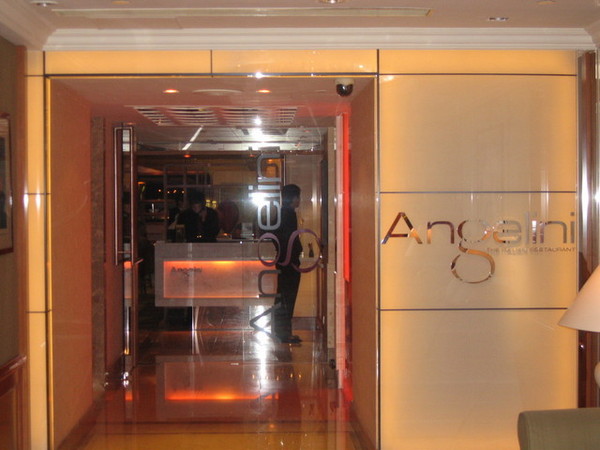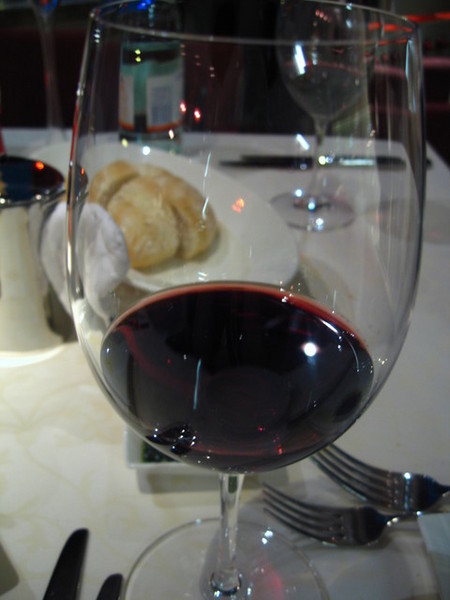 Angelini, Mezzanine Level, Kowloon Shangri-la Hotel, 64 Mody Road, Tsimshatsui East, Kowloon