Am going into Chapter 11 from all the fine dining this month - I had high expectations for Amber, given it is part of the Mandarin Oriental group. Billed as "serving the finest cuisine from world-renowned chef with an emphasis on innovation and presentation" and "a spectacular canvas of modern culinary art", we very much looked forward to our dinner gathering.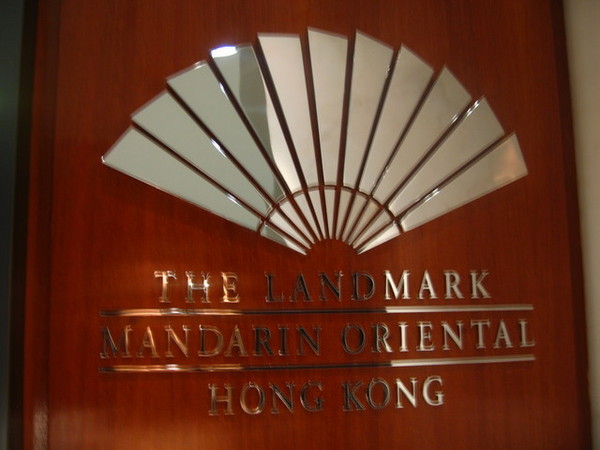 We walked into a long rectangular shaped, mahogaony-pannelled dining room, with a high ceiling that had gazillion gold long rods piercing down. V said this was too pressurising, as if the ceiling was about to come falling down on us any second. Apparently this was meant to be a huge chandelier. We felt it odd that at such a posh sophisticated dining room, there were many children diners - wonder whether they'd appreciate the fine food?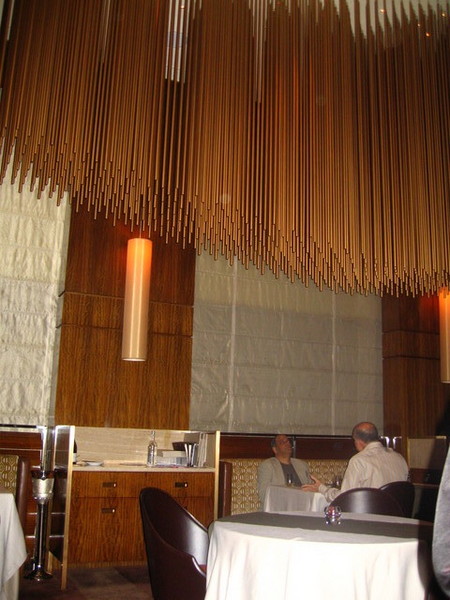 Sipping on my warm water, we perused the menu and were blown away by how much everything cost. In general, an appetizer was priced at HK$180-350 and a mains at HK$300-700. To me, this was a bit much even for an extremely high end dining establishment in HK. A tomato and mozarella salad was HK$180 - and when I asked the waiter what was so special about this, she told me it has tomato and mozarella. ?!!!? She did the same with other dishes - "the seabass dish has seabass and..." Thank you very much for reading to me the ingredients of each dish, which I could see for myself...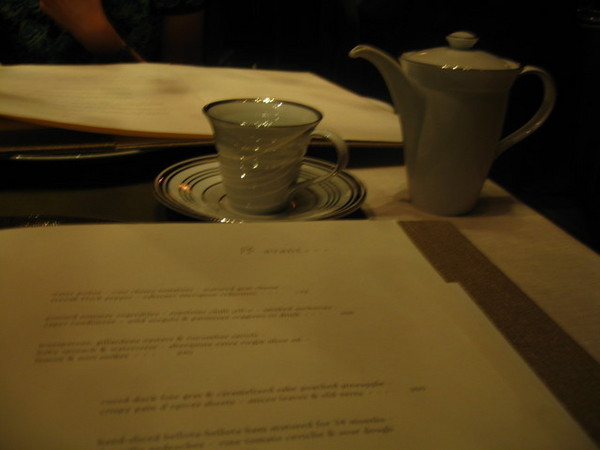 As V had a function to attend we waited for her while nibbling on the excellent bread basket - in fact, I'd go as far to say that this was the highlight of our meal. We all adored the crisp flatbread which was tasty and crunchy.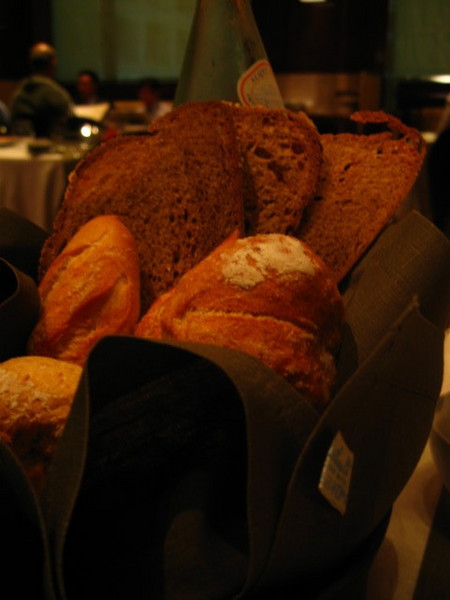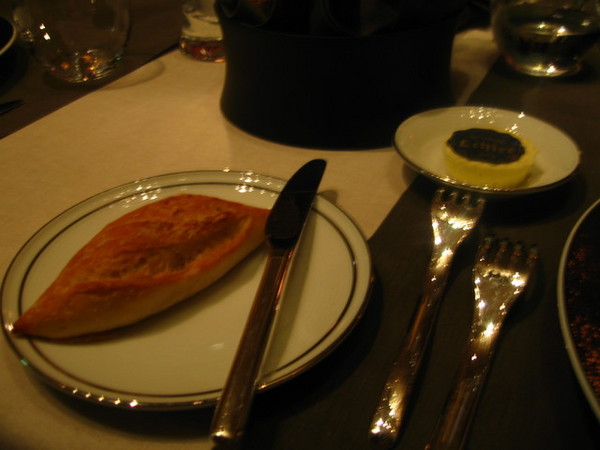 Amuse bouche was a serving of tomato gazpacho that was a tad too sour for our taste.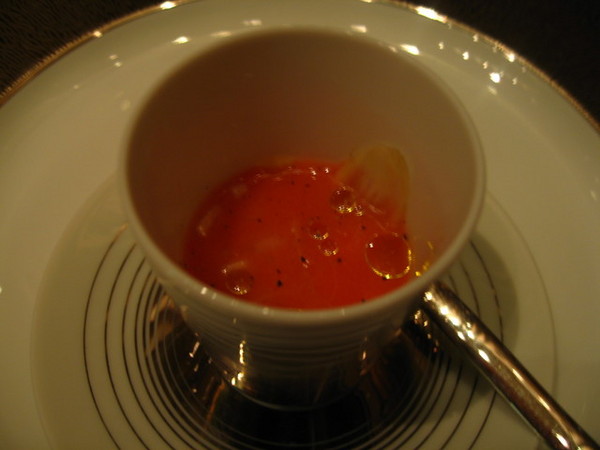 While waiting for V to arrive, A and I decided to order an appetizer to share. We consulte with the waiter on what's good and when we opted for the Cured duck foie gras & caramelized sake poached pinapple, crispy pain d'epices sheets, micro leaves and old xeres (HK$300) and told him it is for sharing, he looked at us with an incredulous disbelief. He said the servings are so small that one biteful would empty the plate, and that we should at least order two. We were both shocked at the fact that the HK$200-400 priced appetizers would only be enough for "one biteful". We decided to ignore his advice and ordered just one appetizer, although we did feel slightly looked down upon by him. Luckily, when the cured foie gras arrived, there was enough for the two of us. Aesthetically pleasing, the foie gras also tasted rich and creamy, although we were not particularly excited by it. Perhaps the attractive sounding name of the dish set our expectation level too high.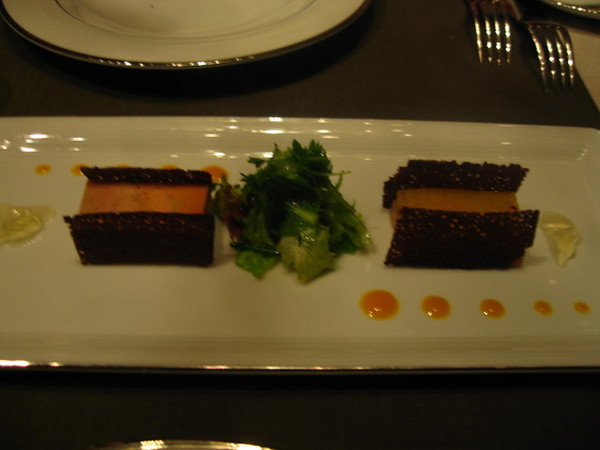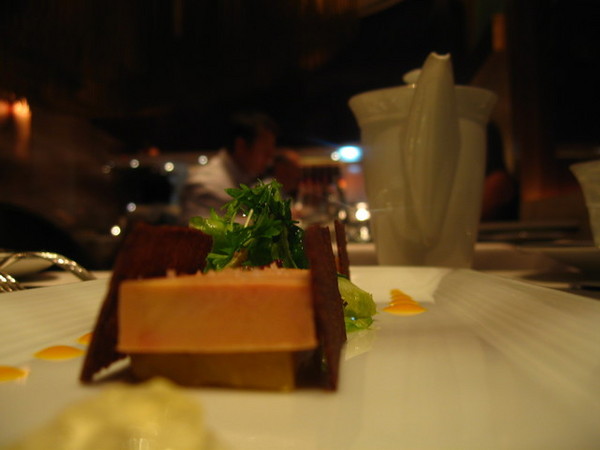 The waiters and waitresses here were all eager to assist, unlike at the 4th Floor at HN, however, the quality was rather appalling. My friend ordered a Gibson with Grey Goose upon arrival and after 45 minutes, there was still no sign of the cocktail. We enquired time and again and were always told that the drink would arrive shortly by the various people. After 90 minutes of fruitless waiting and exasperation, we became a lot sterner with the staff - and viola, the truth be told - they were out of onions, and were looking for some in the neighbourhood. We found this piece of information shocking as

1. It took them 90 minutes to come back with a silly answer of why the cocktail has not arrived yet. If the waiter told V immediately that there's no onions and there could be a wait, V'd happily swap for one using olives. Any information would have been better than no information.

2. I almost laughed out loud considering that the Landmark MO supposedly has one of the trendiest bars in town right now, the MO bar, which surely should have a supply for those that opt for this drink. Even if they don't, surely the kitchen would have some - I mean, it is onion, for goodness sake, not some rare ingredients that they'd have to pre-order.

3. I had read beforehand that the Landmark MO takes pride in the training it provides its staff and the high standards maintined. In fact, it sends the female staff to Chanel for makeup lesson and some high-end hair salon for hairdos to ensure that everyone looks great. From both our displeasing experience when ordering food and also now this shows us that the service quality is defintiely not up to par with their good-looking appearance.

Granted, they didn't charge us for the drink, but it set an extremely bad aftertaste for us, and hence I may come across as rather critical of the place. Our mood was ruined in part by this incident and we decided against ordering wine. However, I did notice the sommelier carrying a tablet PC around to those that ordered wine. It seems that the diners could choose the wine glasses that they'd like to use for their wine from the selection as seen on the table PC - interesting concept, similar to choosing sake glasses in a Jap restaurant.

The mains were not spectacular and there's not much to write about. The most disappointing dish of the night must be the Signature LM steak sauce glazed red garoupa (HK$300). We were puzzled by the "LM sauce" and were told that this actually stood for Landmark Mandarin and was one of the highly recommended dishes. Presented in a nice simple style, we found the steak sauce very much akin to the BBQ sauce one uses on baby back ribs. We really do not understand how putting some BBQ sauce onto a grilled garoupa fillet could be considered haute cuisine. My red partridge (HK$530) was was a bit tough and dry to taste, while A's Angou pigeon (HK$420) was well executed I thought, although I did not enjoy the minced leg samossa.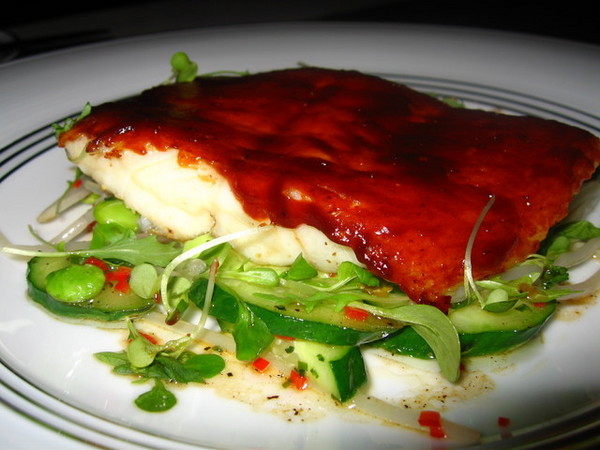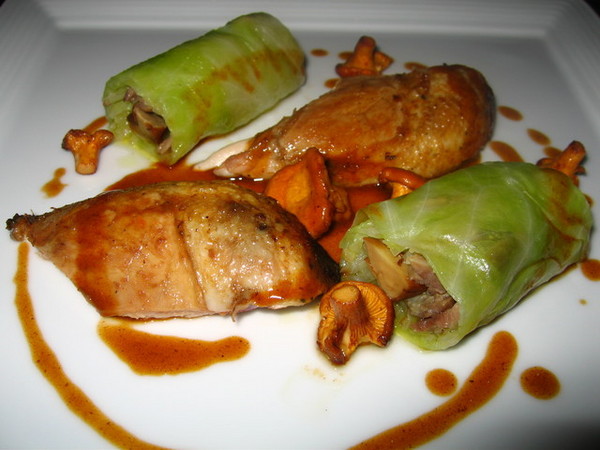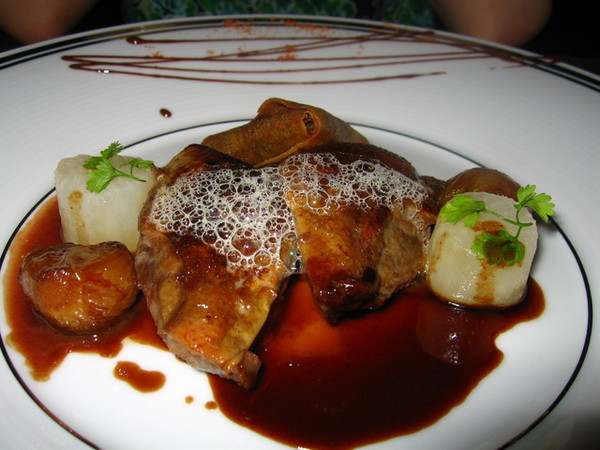 We were going to skip dessert and head somewhere else, but the waiter assured us that this marinated strawberry dessert (HK$135) is a must-eat. While the strawberries were sweet and refreshing, this was little more than pavlova with strawberries - we didn't even manage to finish the dish amongst the three of us.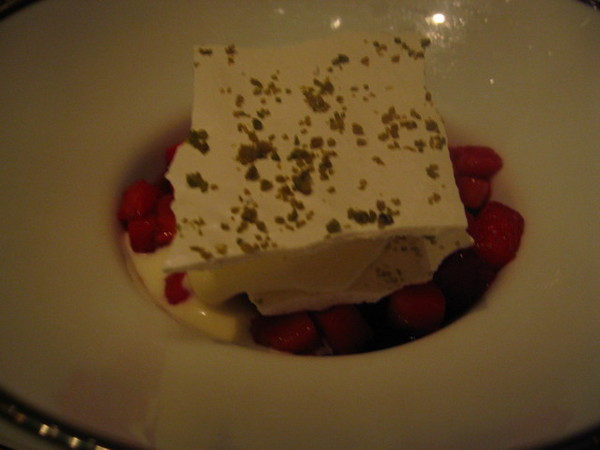 Our meal for three worked out to around HK$700 per head excluding wine. Mind you, we ordered very little, and if we each had a regular three-course dinner, am sure the cost would climb up to over HK$1,200. My lack of enthusiasm for Amber stems from the place's inability in getting any element of a great dining experience right - from the food, to the decor, to the service, and last but not least, the pricing. Was surprised that Richard Ekkebus' menu was so below-par, given he used to work at The Sandy Lane, which is raved by Michael Winner, one of the most hard to pleased restaurant critics in UK. Frankly, it is beyond me why someone would want to spend so much on such an average meal. If the teething problems are sorted out and it does turn out to be a fabulous place, let me know.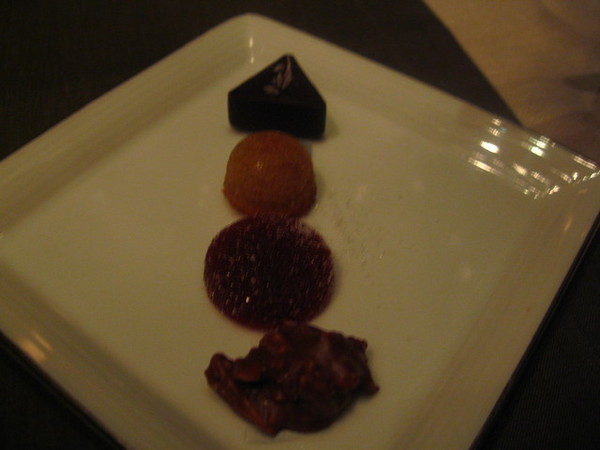 Amber, The Landmark Mandarin Oriental, 15 Queen's Road Central
http://www.mandarinoriental.com/hotel/556000005.asp