Whenever I visit the Harvey Nics in London, I always drop by the posh 5F Food Court and the GF accessories section, and could spend absolutely ages wandering round aimlessly. Sadly, for the recently opened HK store, management decided to do away with the food court. It still kept the restaurant though, and the tradition of naming this restaurant by the floor it is located on – which in our case, is the Fourth Floor restaurant and bar. Went with J for birthday celebrations there last week.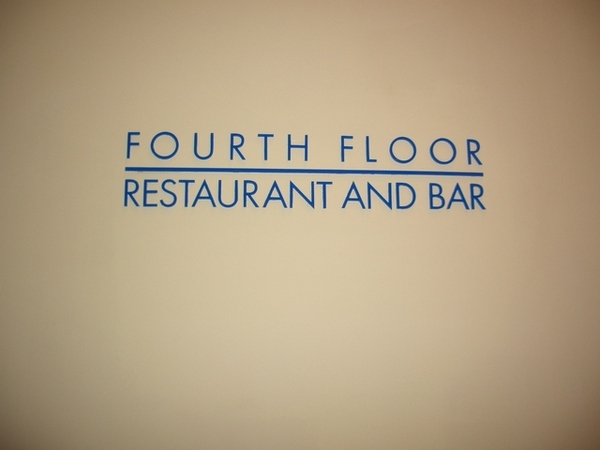 Was not particularly impressed with the decoration. The bar was located near the entrance, and extended into an awkwardly long and narrow dining room. Our first feeling was how uncomfortably low the ceiling was, and how multi-color the the floor and the ceiling were. In fact, as you can see, the neon color bulbs would, at an interval, changed from purplish to pinkish, and then back again. For a minute there, we thought we had gone into a lounge bar that was trying to be cool and hip. Perhaps we are too old-fashioned, but we felt a bit dizzy after a while sitting in this ever-changing twilight zone.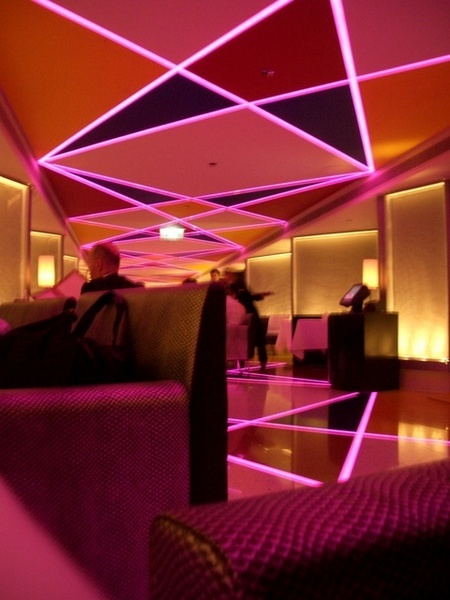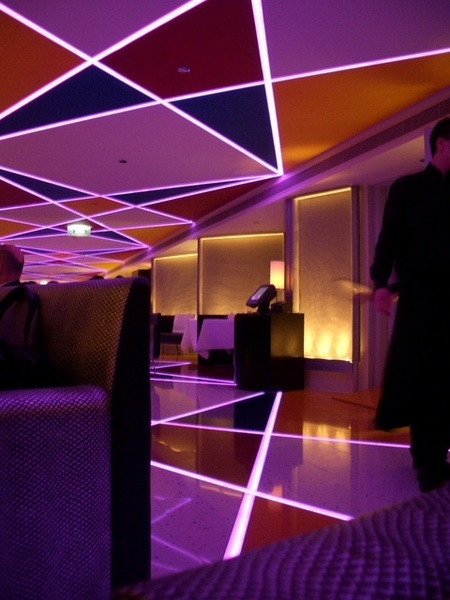 It is probably not a sentiment shared by our fellow diners, which read like a Tatler's Who's Who on the night of our visit - right next to us, the wife of Harvey Nic's owner was hosting a dinner party for her girl friends, and further in, a round table sat some of the most prominent socialites in HK. Faces at other tables were extremely familiar too (including a girl from some rich conglomerate family that recently got married and got her wedding pics plastered across most HK mags and an up and coming movie starlet ), and no, not because of our social circle, but because we have seen most of them in the newspaper or magazine. Not sure if it were because this is the new to-go-to scene, or because this was a really good restaurant.
After ordering our wine, we began browsing through the menu while munching on the warm declicious bread. The waiters did not seem very knowledgeable, on the wine list (we did not spot a sommelier around us) or on the food, and their attitude gave us the impression that their nose points upward into the air. I thought poor service has vanished in HK, this seems to prove I am wrong.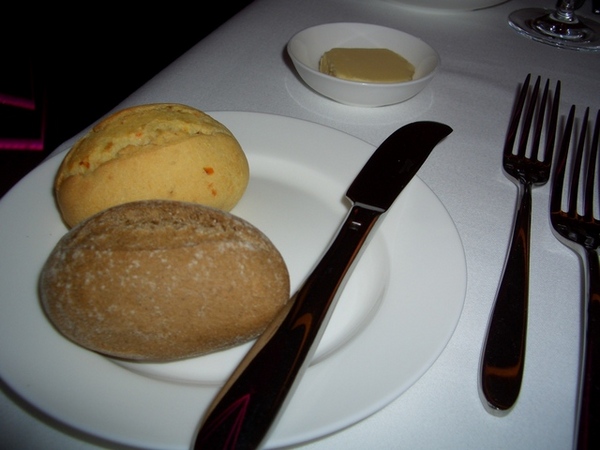 Our appetizers appeared within ten minutes of ordering, surprisingly quick but also looking extremely tempting. Mine was the Breaded frog's legs and sautéed garlic escargots, poached egg, served with celeriac emulsion and walnut praline (HK$175). I thought the breaded frog's legs and sauteed garlic escargots were extremely good and tasty. However, I did not get the poached egg at all, even though there was a celeriac emulsion that was poured over it, the poached egg was tasteless, bland with no seasoning at all. Somehow, I'd already be satisfied with just the frog's legs and escargots, with a side salad with some balsamic vineagar. An odd dish, I'd say.
J's Pan-fried duck liver served with sherry vinegar reduction and fresh herb salad, quenelle of smoked foie gras and Muscat jelly (HK$185) both looked and tasted rich. I enjoyed the smoked foie gras very much, as the smoking process introduced a new dimension to the dish and made it less heavy. The pan-fried duck liver was executed well, with the outside lightly brown from the frying, and inside still moist and soft.The muscat jelly sounded great in theory but was less complementary.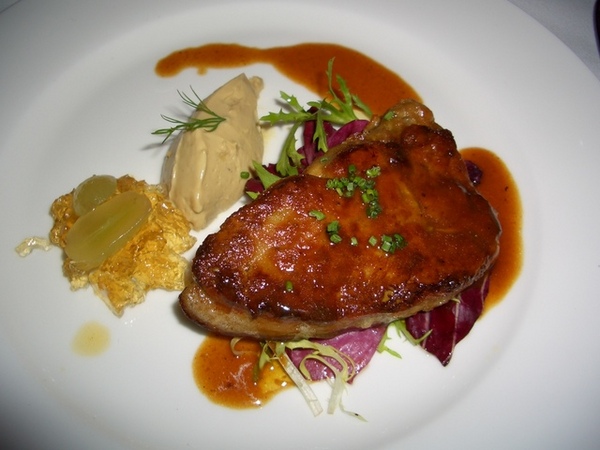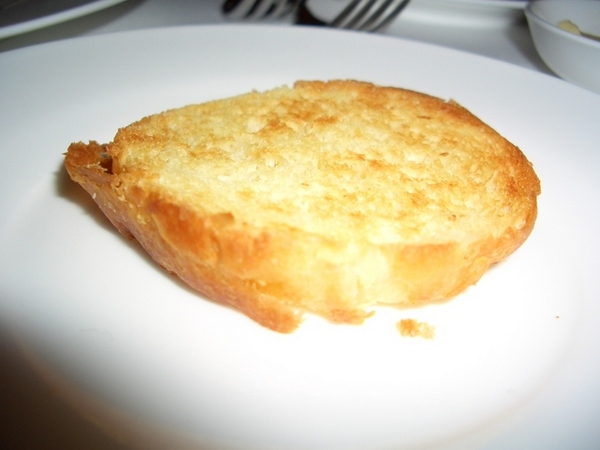 I had the Roasted rabbit saddle served with braised leek and asparagus, parmesan cheese emulsion, garnished with crispy belly cracklings (HK$280) for mains - and yes I know a lot of people consider this a cruel dish. Was pleasantly surprised by the meaty rabbit meat, which was juicy and full of flavour, without any weird taste. I asked for medium, and it was served exactly that, with no pinkish bits inside, which I like. The crispy pork cracklings were a good contrast to the sauce.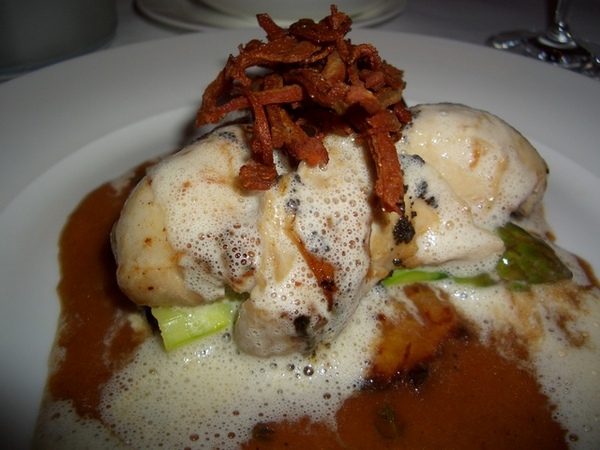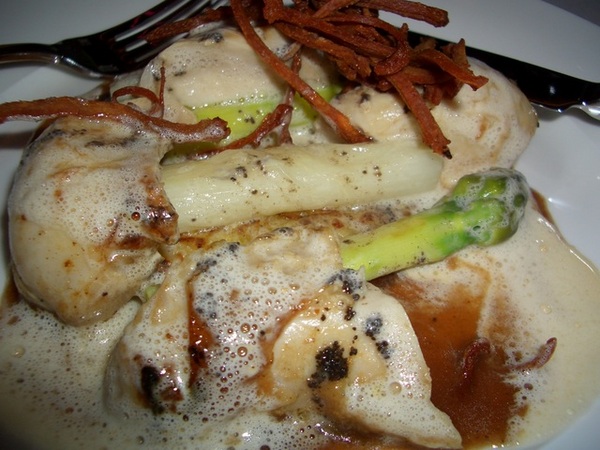 J's Steamed pigeon breast wrapped with carrot mousse, braised pigeon leg served with mushroom shiitake mushroom juice, truffle egg custard and a quenelle of spinach puree (HK$ 295), while with a much longer name, was much less successful. On the second picture below, you can notice the dark brown pigeon meat being warpped in a light orange-y mousse, which we could detect absolutely no carrot flavour. In fact, I almost thought it was salmon, because it tasted a bit fishy. The meat was coarse and overcooked, and we could not recognise the truflle in the tempting sounding truffle egg custard at all.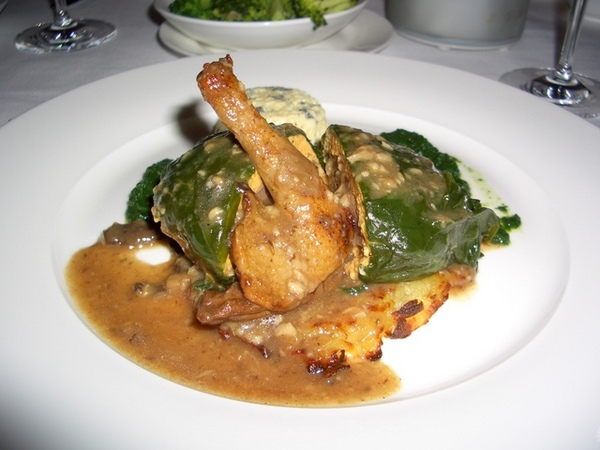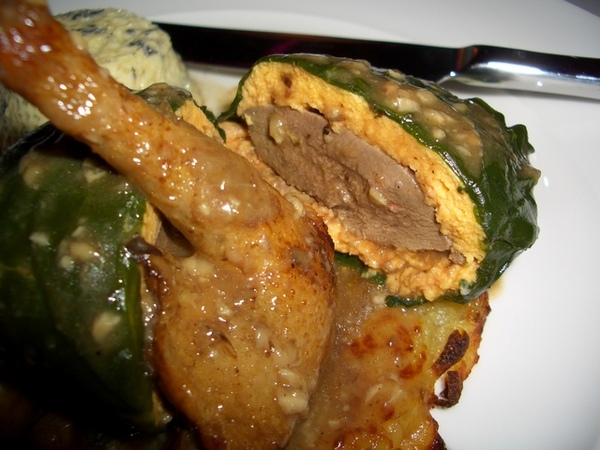 Instead of the mains, J decided to munch on the Broccoli cooked in Almond Butter instead. We would have preferred it to be less overcooked though, and retain some crunchiness.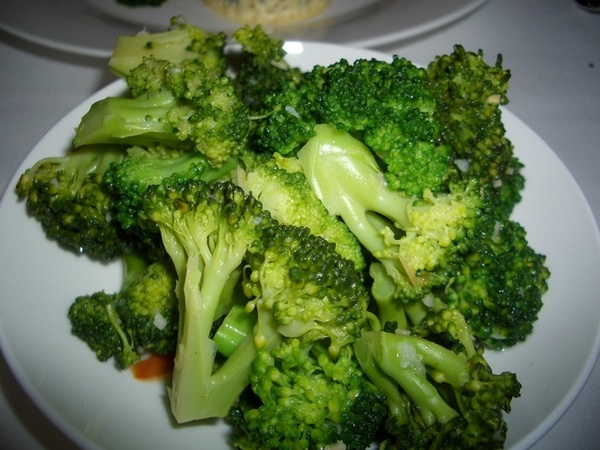 We opted for the Baked apple strudel served with prune and armagnac compote and caramel balsamic ice-cream to share as a dessert. Anticipating the traditional German strudel, was disappointed to find that it was basically, a de-cored and de-skinned apple wrapped in filo pastry. Luckily, even though it was so simple, this was yummy, especially when eaten with the caramel ice cream (no taste of balsamic luckily). We both steered away from the prune and armagnac compote, as it was too strong tasting.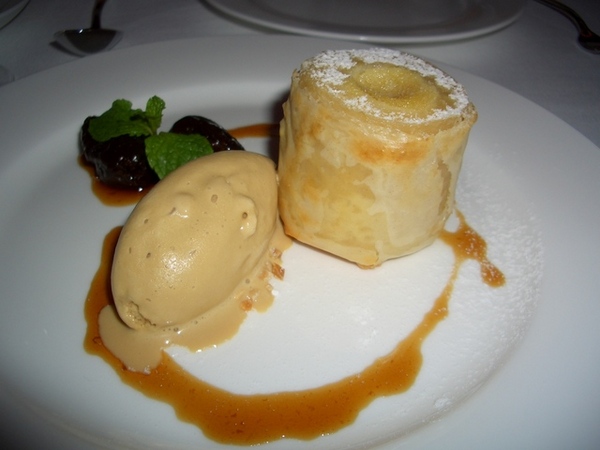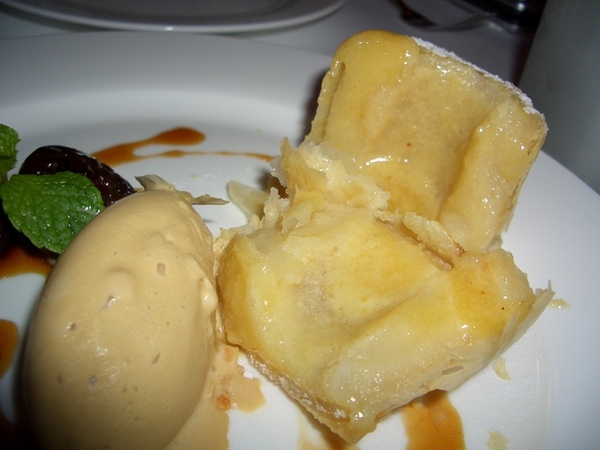 I liked the pistachio choux but less so the brownies, while J prefers otherwise.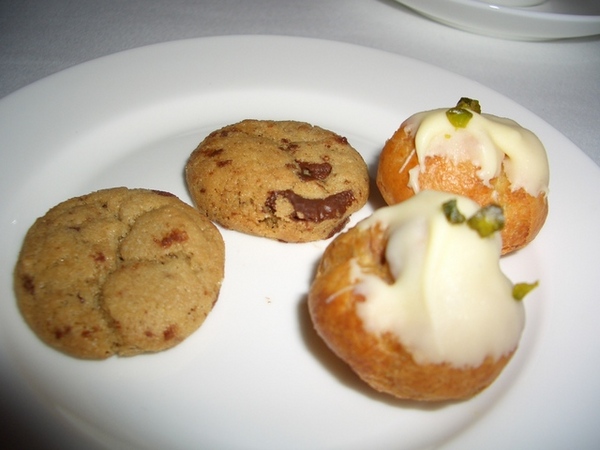 The price worked out to HK$1,284 for two, including a glass of wine each and coffee and tea after dinner. Think Harvey Nics scored top marks for presentation, but food taste is probably at a low six out of ten at its initial opening stage. I'd give the decor and ambience a lowly four, because the thin long shape felt somewhat oppressive to us. Found the service appalling for a restaurant that charges at such prices and of such standard. Perhaps my complaints are all teething problems for a newly opened restaurant that is still trying to iron out all the kinks. But the service definitely needs a lot of ramping up before I'd feel welcome again. And a restaurant does need repeat regular customers, not just relying on the "to see and to be seen" star gazing crowd.

Separately, have noticed that many more western restaurants in HK are now doing what overseas restaurants do - charging excessantly on the appetizers and desserts, while the mains are staying at a similar price. This would at least double your overall cost for the meal... I mean HK$200 for an appetizer, I could have at least 20 milk teas with that!!! ;p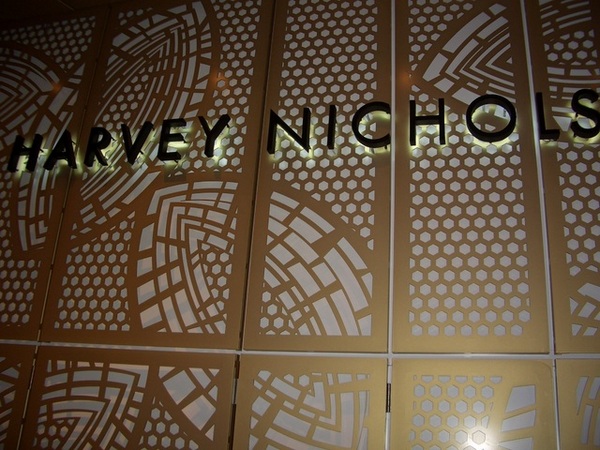 Fourth Floor Restaurant & Bar
Harvey Nichols, The Landmark, 15 Queen's Road Central, Hong Kong