Ordering afternoon tea has become a daily ritual for our office these days, probably as a way to re-energize our tired ol' selves for the long nights ahead. Everyday at around three thirty, people would start gathering round and begin a heated discussion on what and where to order from, flipping through the huge stack of delivery forms that we have compiled over the years. The choice normally narrows down to two – Honeymoon dessert and Honolulu.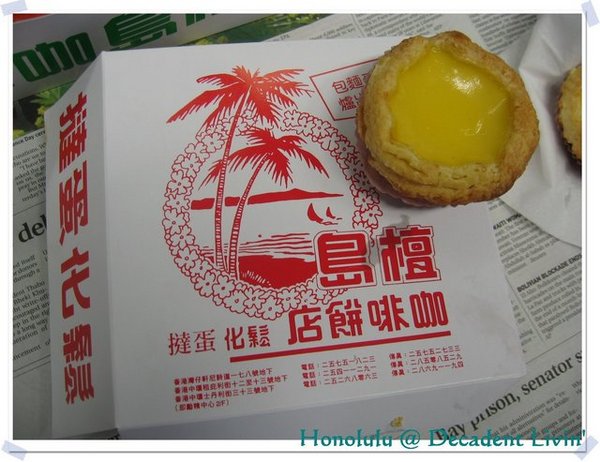 Honolulu is a Hong-Kong style chachanteng also renowned for its egg tarts. This is of the flaky, layered puff pastry variety, and differs from the Tai Cheong Bakery ones. (For those eager Tai Cheong fans, no, it hasn't re-opened yet, but you can bet that HKFoodie will be amongst the first to visit its new store when it does!) Must admit the glazed golden yellow custard and the slightly browned multi-layer pastry looks extremely tempting and inviting, especially as I am a fan of all custard based dessert. Sadly, somehow, my stomach is always a bit unsettled after consuming a flaky egg tart like this, and I'd feel greasy and lethargic for the rest of the day (nope, am not exaggerating). Not sure if this is because of the extra fat that the bakers used to make the flaky bits. For Chinese egg tart, I prefer the Tai Cheong style one for crust.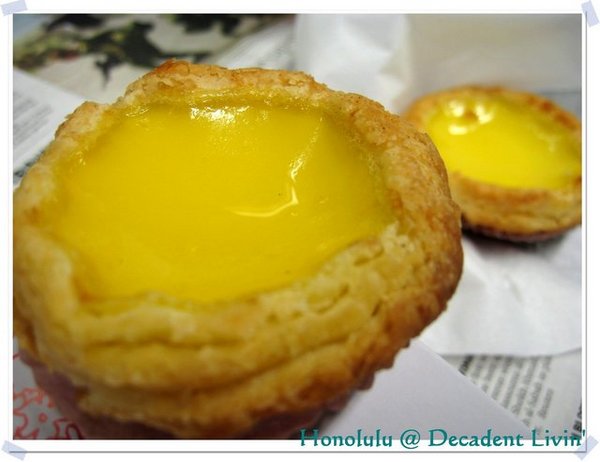 As an alternative, I normally order the pineapple bun with a slab of butter, called "Bo Lo You", which literally translated as "pineapple bun oil". Best served with the pineapple bun still warm and the top layer crusty, and the big fat blob of butter beginning to melt into the bun~ my gosh, am starting to drool already. I have noticed that the bun is normally less fresh when you order this on delivery rather than eat-in.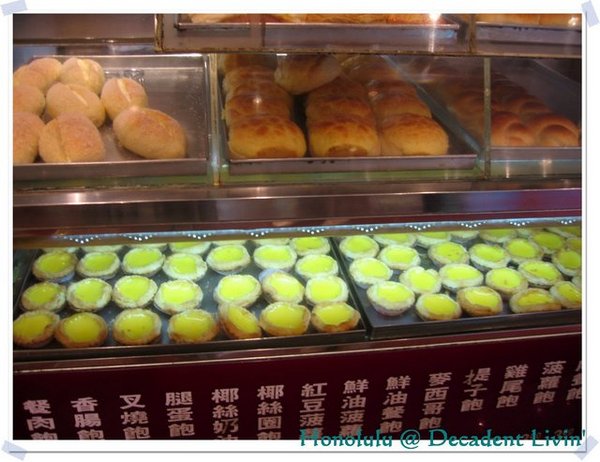 Another afternoon fave of mine is the french toast - although I have been told repeatedly that it is extremely bad for one's health, considering the bread has been soaked in oil that has been re-used for gazillion years. In addition, some places prepare their french toast well in advance, by frying it half-way first, and then quickly giving it another go in the pan when ordered to heat it up. While this saves on time for the kitchen, it is very dangerous given easy contamination and breeding grounds for bacteria and germs on lukewarm food. Not sure what Honolulu's way is, but I cannot resist the inviting golden finish of its french toast...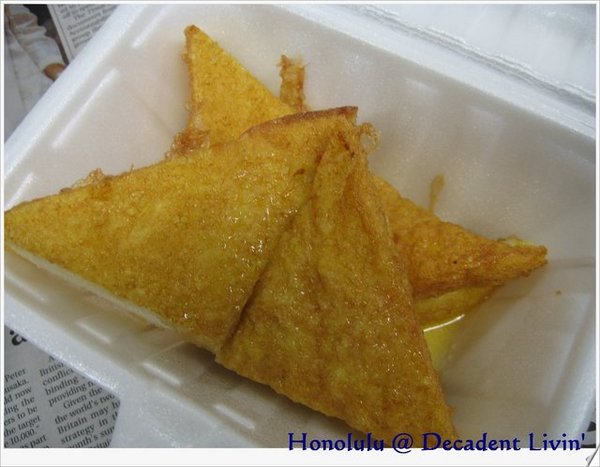 Milk tea is my favourite drink and I could down three to four chachanteng milk tea daily and still sleep like a log at night. Honolulu's version of iced milk tea is delicious and smooth, while I find the hot variety a bit too bitter to my taste. By the way, there are two varieties of hot milk tea, either the already sweetened one made with condensed milk, or the version that is not sweet and made with evaoporated milk. I find the best is a mix between the two~ called "Chai Juo", or "Tea Go" literally in Cantonese. In fact, am sipping on my "Chai Juo" as I type this out!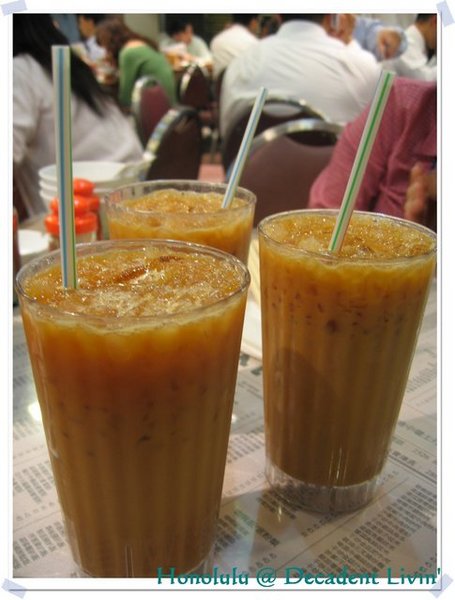 In addition to it being our tea-time favourite, we would also head all the way to its Central branch for lunch, ordering a few dishes to share. I'd particularly recommend the fried thick rice noodle with pork ribs and pepper and the curried seafood rice. Both extremely tasty and one good thing about Honolulu is that it is generous with its ingredients. Sometimes I found dishes come with very little ingredients and plenty of noodles/ rice when ordering from other chachanteng or even fastfood joints... I'd consider that a rip-off.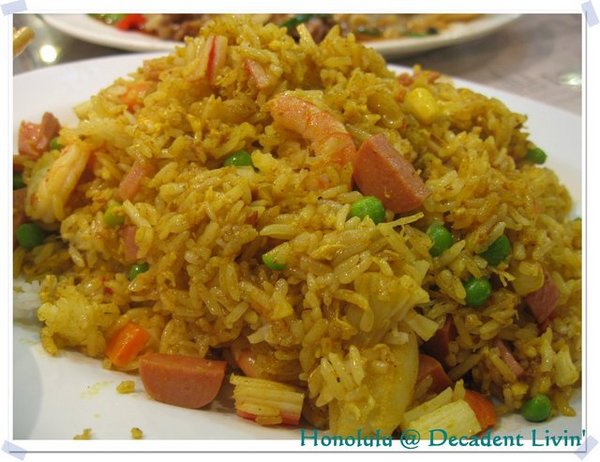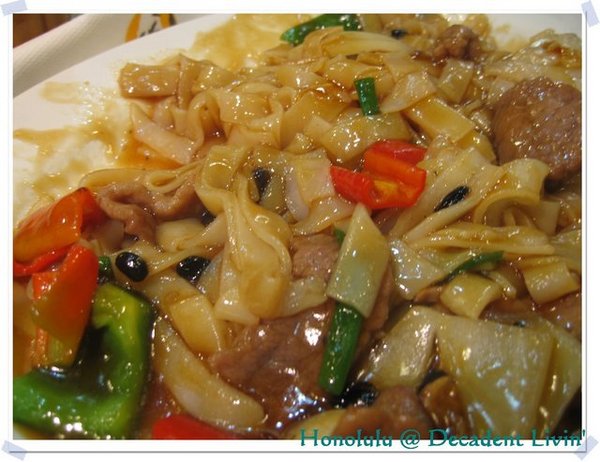 I'd probably not pick Honolulu as one of my top three chachantengs, although I'd definitely put it above Tsui Wah in terms of food quality for snack and also the plate dishes, and way better than Canteen (which I passionately dislike now although am still visiting regularly due to a lack of choice around my office). In general, I still find Honolulu's cooking verges on the overly greasy and oily side. Would be great if someone could open a chachanteng that specialises in healthy cooking.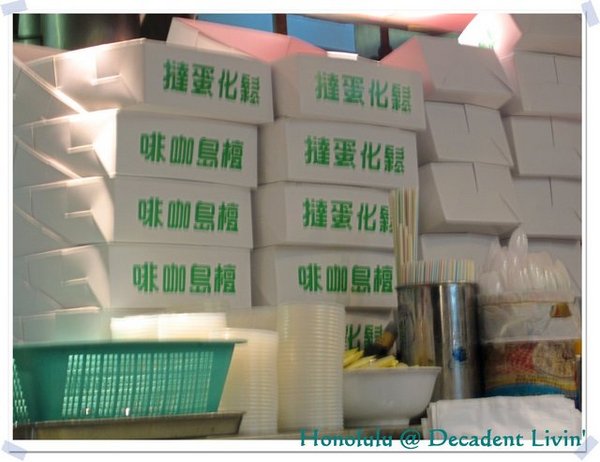 Honolulu Coffee Shop, 33 Elgin Street, Central 2526 8063
Branches also at Wan Chai, Tsing Yi, and Olympic City~ business must be good!