Was in Taipei recently for work, and when we heard how awful the catering was at the hotel, we decided to sneak out for lunch in between the all day meetings. Knowing how much my overseas colleagues love wonton and dumpling, we hailed a taxi for Din Tai Fung.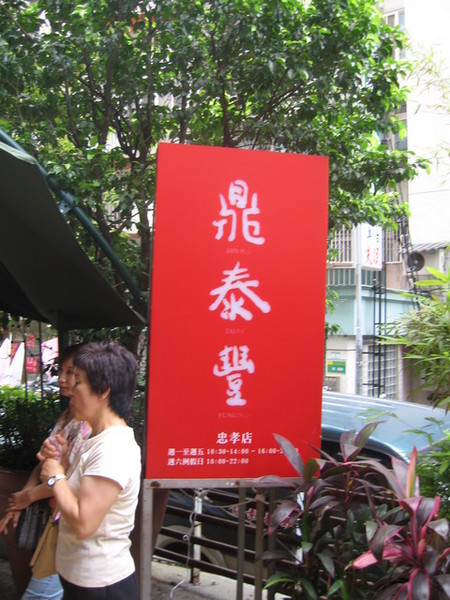 With its immense success with both locals and foreigners, Din Tai Fung has expanded to two branches within Taipei, and many more overseas, including Singapore, HK, and Japan. Having only ever visited the original store, we headed for the new one on the busy Zhongxiao East Road. Arriving at twelve thirty on a weekday, we saw a queue of office workers forming outside the place already. There were more than fifteen tables ahead of us, but because of the quick turnaround, the hostess mentioned the wait would only be twenty minutes. We began ordering while waiting, making efficient use of our time.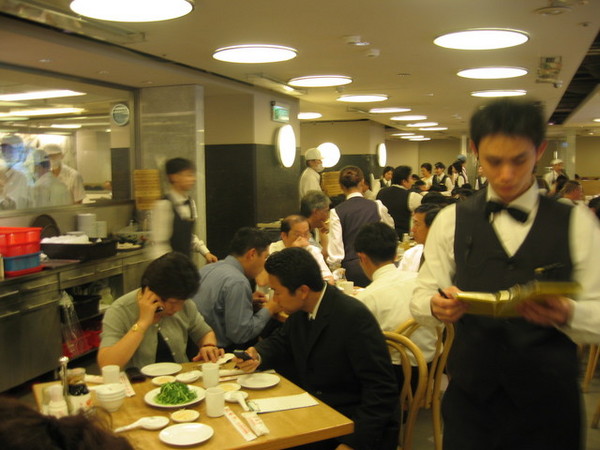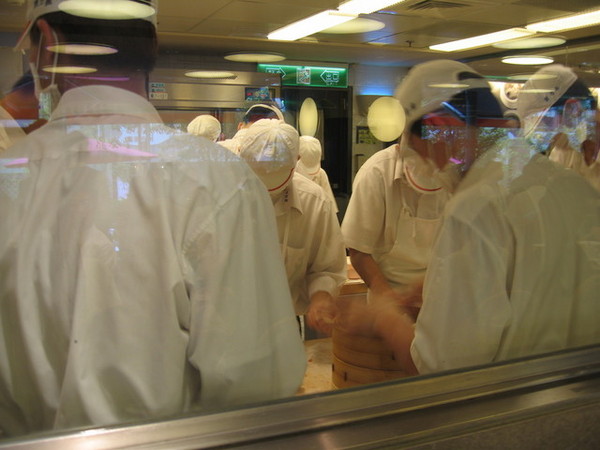 As promised after 15 minutes, it was finally our turn. Upon entering the restaurant, one is greeted by the amazing sight of thirty-odd people cladded all in white busy making Din Tai Fung's renowned dumplings behind a huge glass window. Some were in charge of rolling out the dough, while others were busy filling up the steamers. Personally I prefer the original store where one actually walk directly pass the kitchen area, brushing shoulders with the chefs busy at work, with an up close and personal view of the whole process, before heading upstairs to the seat down area. Guess this is the less hygienic version.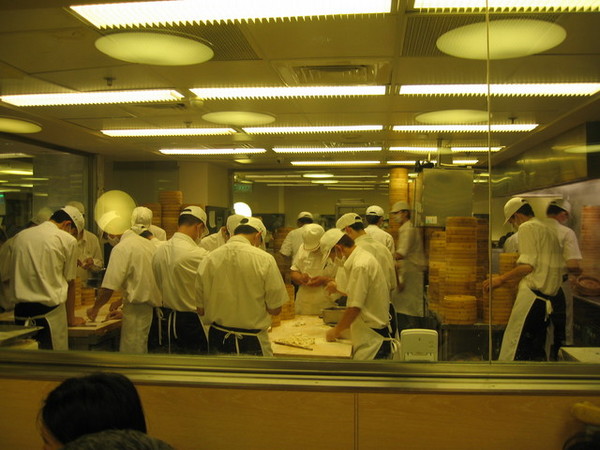 My colleagues wasted no time in taking a couple of the cold appetizer dishes from the waitresses that were walking past. The seaweed with pork slices was crunchy and tasty, while the cabbage in vinegar sauce was more average.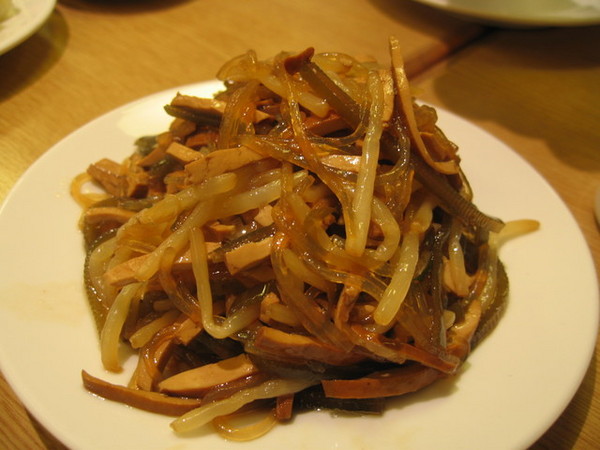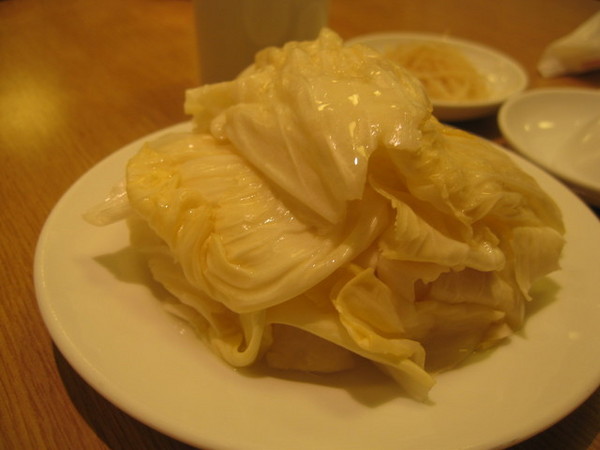 The dumplings were as good as ever, steaming hot upon served, am always amazed by how the thin dumpling skin manages to hold its shape and ensure that the juicy broth held within does not escape and spill out. Interesting to see how each incorporates his individual style in enjoying the dish. Brought up on dumplings and xiaolongbaos, I like adding plenty of ginger shreds to my vinegar mix. My Korean colleagues with their fiery sense of taste mixed plenty of chili oil into their vinegar. Of the normal and pricier version with shredded crabmeat I definitely prefer the latter, although not everyone agrees. To me the plain old pork mixed with cabbage one resembles shuijiao too much. And I love the melt in your mouth sensational of good quality crabmeat. Discreetly I kept shoving the plain variety to everyone else's dish so that I could have more of the real thing when it arrives... Hehe...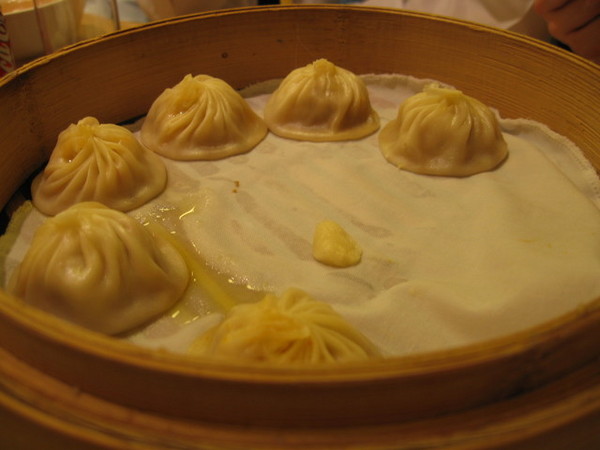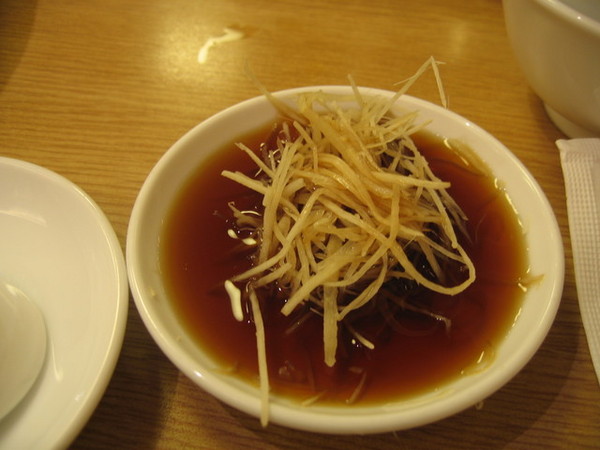 Fearing that they get bored with just a xiaolongbao selection, I ordered a selection of noodles including stewed beef noodles, pork chop noodles, and wonton noodles for everyone, which was received well. My dan dan noodle's sauce was too thick a consistency having been a bit heavy handed on the peanut sauce.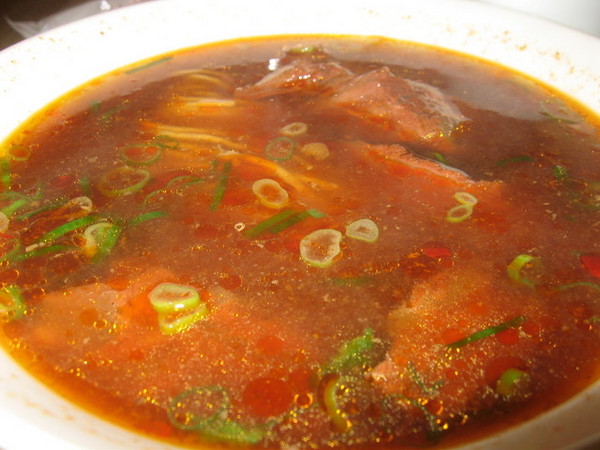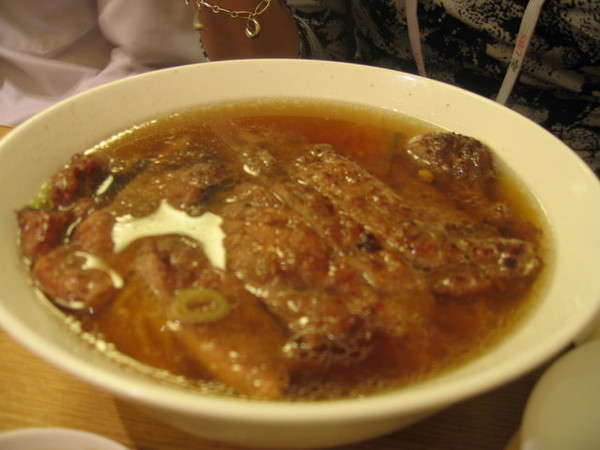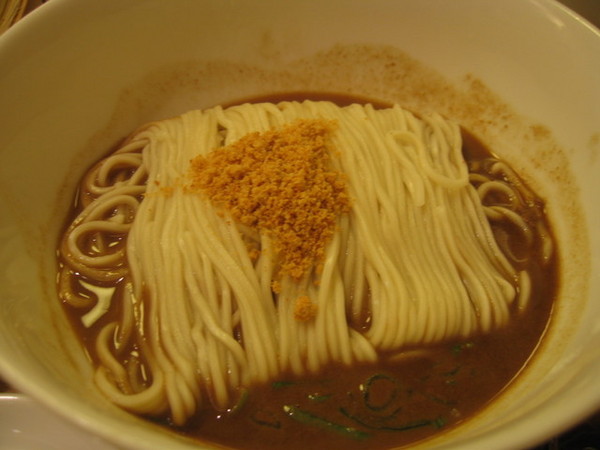 I also ordered a couple of pork and vegetable buns in case they were not fulfilled. As it turned out everyone was stuffed by the time the buns arrived freshly out of the steamers. Looking too tempting to waste the guys each took one for a couple of bitefuls- was told that this was excellent. In fact one of them thought this was the best dish of the meal! He looked it for its healthy steamed nature, not to mention delicious to taste too.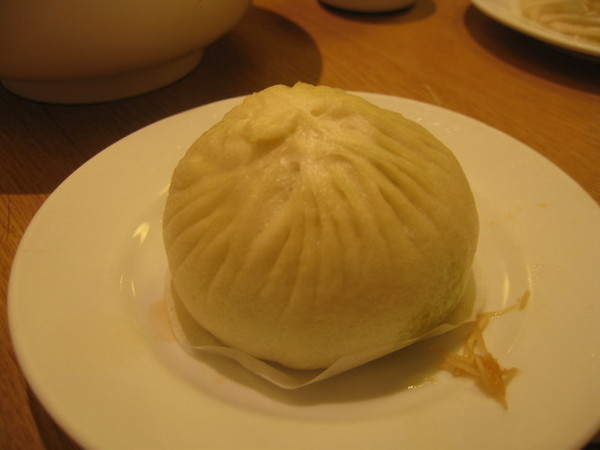 The meal worked out just less than HK500 for 5 which was well worth it. Even though many have told me it's not as good as it used to be, I still found the quality good and trustworthy. While of a high standard cannot say this was the best xiaolongbao I have ever tasted (so many to choose from!!!), but it is a trustworthy destination for when you are in Taipei next.

Din Tai Fung
Xinyi Branch - 194 (corner of Yunkang Street), Xinyi Road Sec. 2, Taipei
Zhongxiao Branch - 218 (Alley 216), Zhongxiao East Road Sec. 4, Taipei