Ever since Eating Plus was forced out of IFC from the high rent, we have been eagerly awaiting for its replacement -
Union Bar and Grille
of the Dan Ryan's Group - to begin operations. Was disappointed on my recent visits (both lunch & dinner) - and to summarise as my friend appropriately put it - a total replica of Dan Ryan's, coupled with a lack of character and much reduced menu. Because there wasn't much to try out, this is just a brief quickie review...
While Dan Ryan's takes its inspiration from a 1940's Chicago bar and Grille, with lots of memorabilia reminiscent of the "vintage Chicago night life (whatever that is), we couldn't really decipher what
Union
is meant to depict - The Union Square? Apparently - it's trying to recreate the MPD of New York - yup, the Meat Packing District! I could never have guessed in a million years~ although I do adore the candle lamps hanging low from the ceiling and the comfy leather chairs.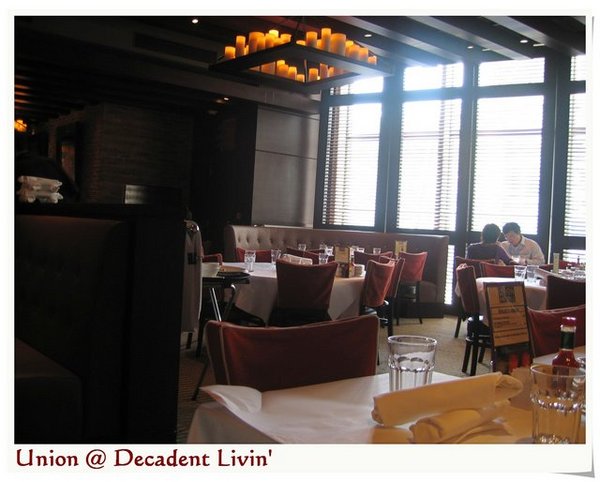 To be fair, the menu will likely expand in the next few months of operations~ but so far, consists of the bare minimal - salads and burgers, pasta (which was not available on the day of our visit) and ribs. To add in the NY touch supposedly,
Union
added items such as flat bread wraps and also Lamb Lollipops, which is a snack that looks like little chicken drumstick but using lamb instead~ am not a New Yorker so no clue as to how representative these are of the Big Apple.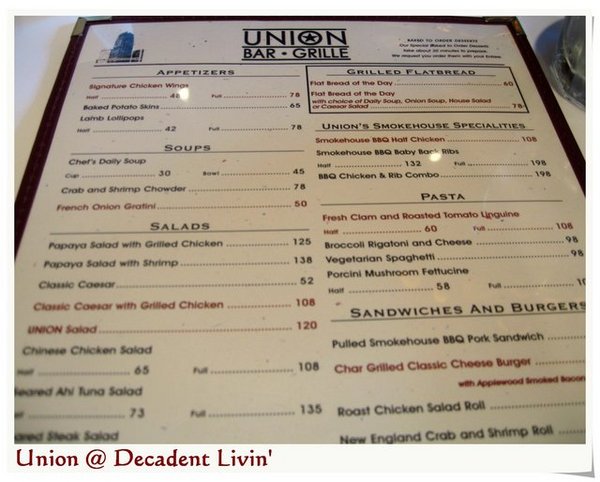 After much deliberation we all opted for the burgers on the lunch visit as frankly the choice was very limited. We ordered the Puffed Smokehouse PPQ Pork Sandwich, CharGrilleed Classic Cheese Burger, and Beef Burger - all were decent and tasty, with a generous portion of fries and coleslaw. The following day I went back for dinner, and tried the potato skins, clam chowder (a bit too thick but not creamy enough to my taste), and also ahi tuna salad, which were all of pretty good standard too - but nothing too exciting.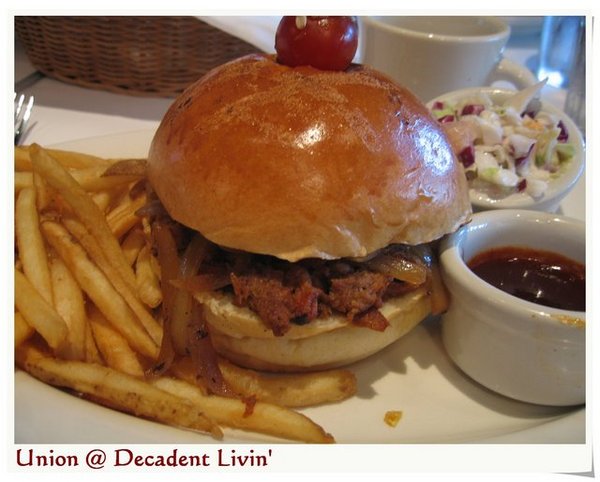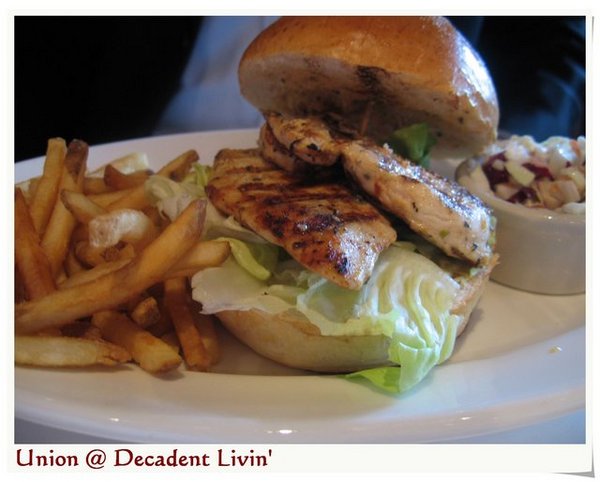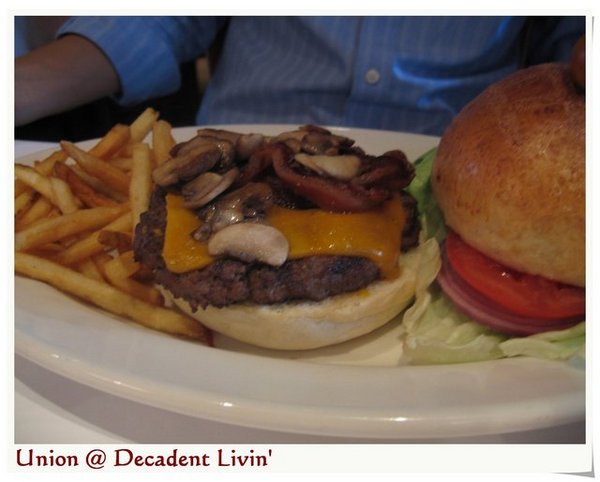 I noticed another IFC phenomenon- at around 7.30-8.30 the place was vibrant with ppl, both in the bar areas and also in the proper restaurant section, but the crowds quickly faded away after 9.30, and the place became eerily quiet... versus the other IFC outlets which still had noisy queues outside. For an American style restaurant, the ambience is probably one of the key elements for success, and an area that
Union
needs more work on. One problem I think stems from its identity crisis- trying to be a smooth NY joint yet retaining some degree of the Dan Ryan's style - this has led to a very mixed clientele, with some families sitting next to us with huge suitcases hurrying with their meals and the bankers on the other side downing loads of beer... To be fair, it's still early days so we'll be on the lookout for how Union blends in with the IFC crowd.
Union Bar and Grille
, IFC Mall, Central, Hong Kong