It is notoriously difficult to get a booking for Lei Garden's IFC branch- weekdays weekend lunch or dinner. I know someone who actually block-booked a table for lunch for a whole week two months in advance in order to secure seats. In spite of the complaints that one hear about the place - saying the service was rude, the quality fluctuates tremendously day by day, and that it always run out of food listed on the menu (Once I went for dinner and of the 10 boiled soup, only 1 was available) - the masses just keep revisiting. Went there recently for lunch (two days in a row actually~ see how thorough we are!!!) to check it out to see if it is worth all the fuss.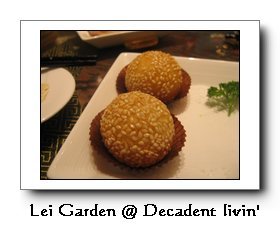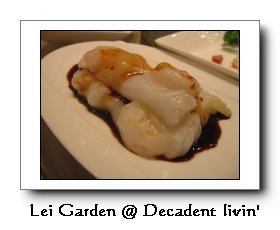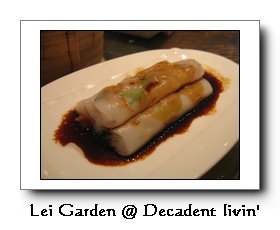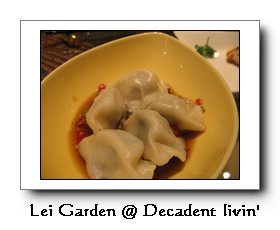 As there were 8 of us, we ordered a wide variety of dishes from the dim sum sheet, in addition to a rice and a noodle dish to share. In general, we were impressed with the quality, as the food tasted as if it was freshly prepared rather than re-heated. I particularly enjoyed the pan-fried turnip cakes, which not only was fried to perfection, but was full of bits and pieces of fillings, which is becoming a rarity these days.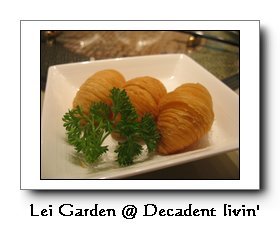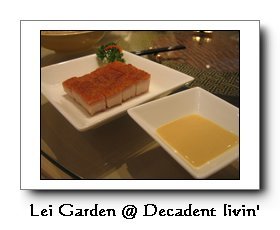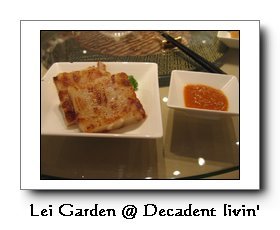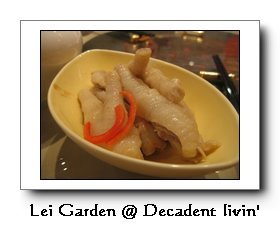 The biggest negative of the place is the small portions in general. The char siu baos (BBQ pork buns) were amongst the smallest we have seen at any dim sum place, almost bite-size portion, and the har gao (prawn dumplings) and siu my (pork dumplings) were so tiny that they occupied less than half the tray, as you can see here!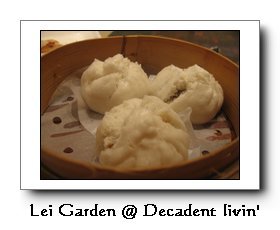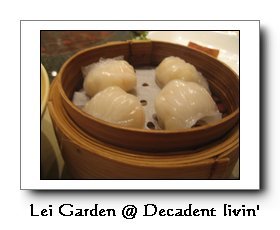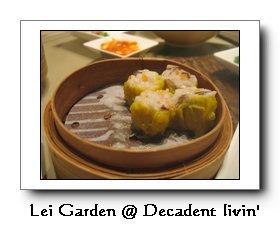 One rather special dish was the water panfried dumplings (shown below), which involves pan-frying the pork dumplings in a shallow pan, and upon adding water, turn up the heat to create a crispy later that fills out the whole pan, so that all the dumplings stick to the base when served (upside down).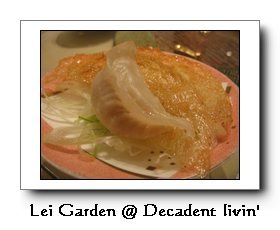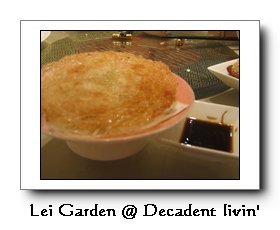 Compared to the more exquisite dim sum dishes, the staple rice & noodles were less stellar. Noodles braised with eggplant was disappointingly greasy while the rice just not very appetizing. To be fair, the rice was fried well, as there was very little oil present, but I guess that contributed to it being too dry.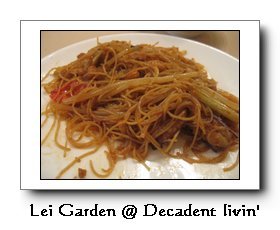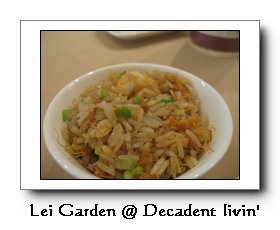 Overall, we had a very enjoyable meal and chatty discussions. Cost wise, this was extremely affordable, as we only had to pay roughly HK$90 per head for the meal. However, the guys probably weren't very satisfied with the small portions, as evident by their ordering of Honeymoon's desserts rather quickly once we got back to the office. I'd definitely come back for the good quality dim sum~ to be honest, around the IFC/Exchange Sq area, the choices are extremely limited~ as long as someone else does the booking!




Lei Garden, IFC Mall, Central, Hong Kong