When we first heard
Illy
opened a restaurant outlet in Lan Kwai Fong Tower, the latest foodie building in Central, we thought this was going to be a styled like a cafe, serving mainly cakes & snacks with coffee, like the ones we have tried abroad.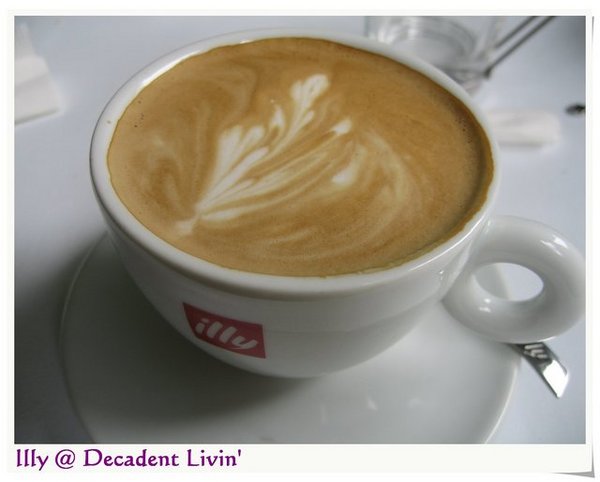 We quickly realised how wrong the assumption was when stepping into the restaurant for the first time - the place was set out in three distinct zones, a loung area with comfy sofas next to the windows, the sleek bar section with racks of alcohol placed behind it, and an enclaved proper sit-down area. Weather permitting, we were seated in the small balconey that overlooks the busy streets of LKF. Must say that while appreciating the rare outdoor experience in LKF, I'd very much prefer the terrace at FINDS, the Scandinavian restaurant a floor above, which was much more open and comfy. Here, it felt a bit awkward being right on top of the staircase leading down from Wyndham Street.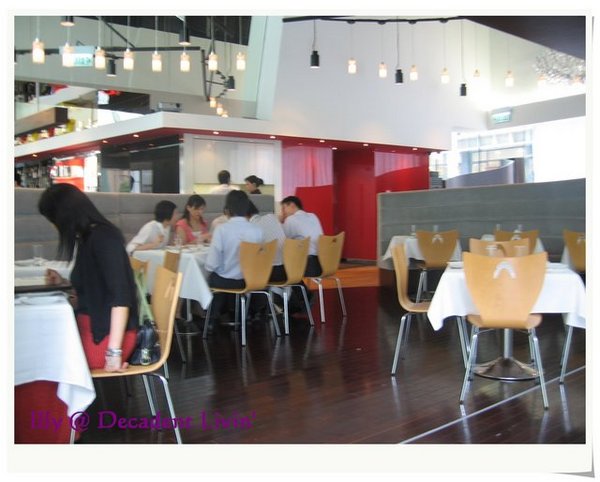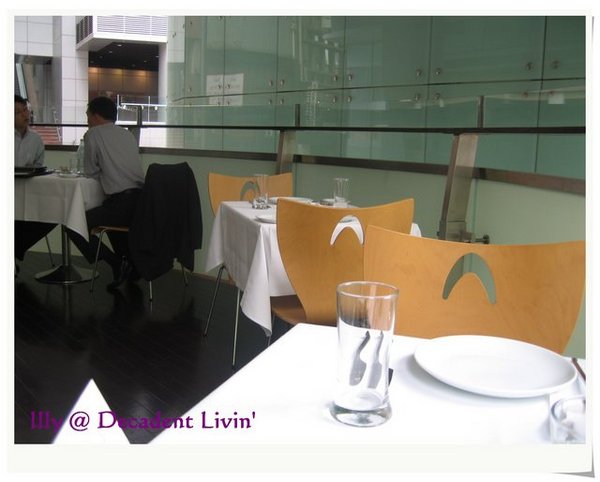 While opted for the reasonably priced set lunch menu (HK$105 for 2 courses, HK$120 including dessert), must say I was intrigued by
Illy
's signature dish of Farfalle Con Salsa All' illycaffe, described as "
Using illy expresso to adjust the seasoning of the sauce, then dress the al dente butterfly-shaped pasta together with generous sprinkling of Parmesan and pasley".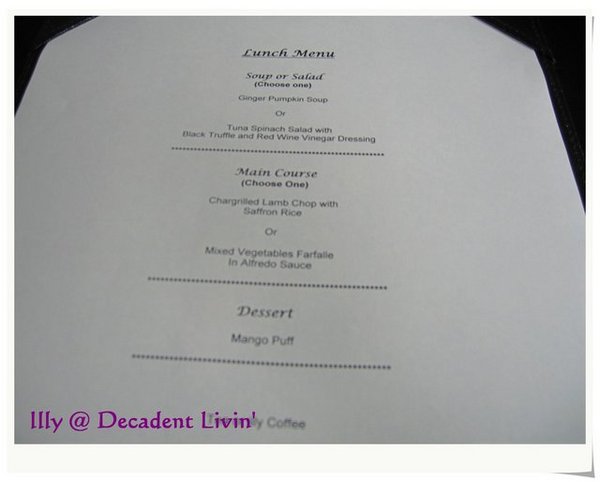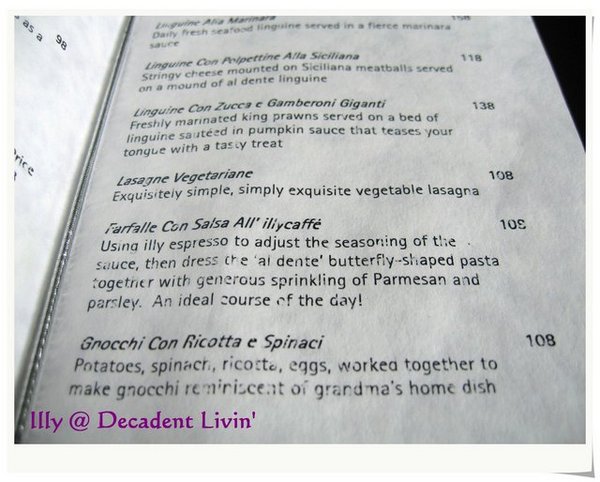 Was pleasantly surprised by the roasted whole clove of garlic that was brought to the table with the bread and olive oil, as I always add points for such thoughtful small touches. The mellowy soft and aromatic garlic helped compensated for the unexciting bread loaves.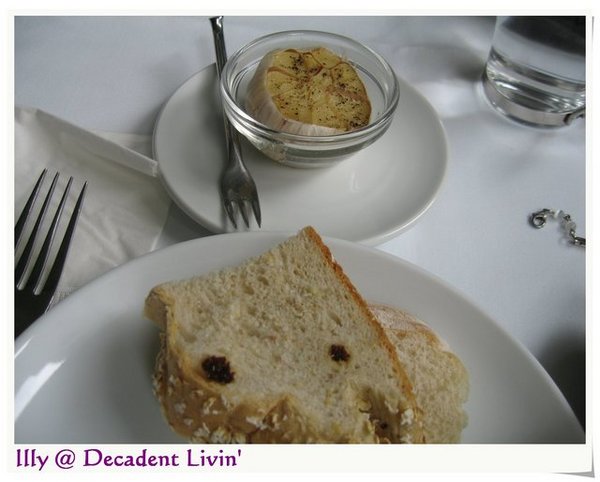 We both chose the Tuna Spinach Salad with Black Truffle and Red Wine Vinegar Dressing as our appetizer, which was fresh and tasty, although I couldn't really taste any black truffle in the mix, which is surprisingly given its domineering character. Nonetheless, this went down well with us on the hot summer day.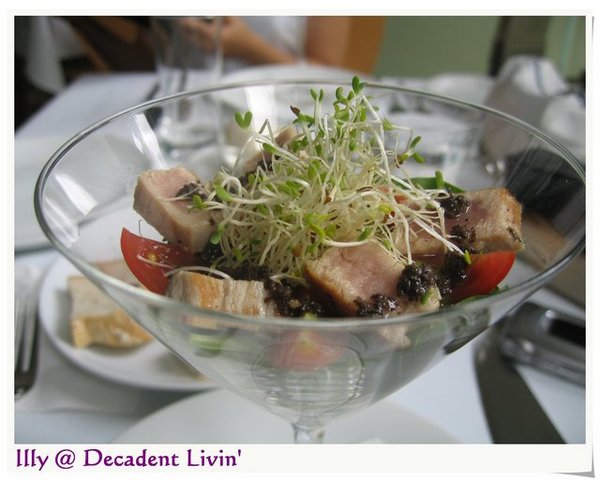 My friend had the Chargrilled Lamb Chop with Saffron Rice, which was appetizing looking. Although she didn't really comment on how it tasted, she did finish the whole dish rather quickly~ so I could safely assume it was not bad.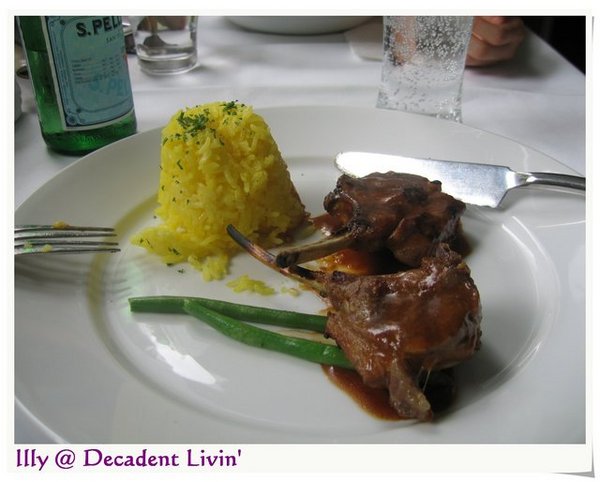 Must say that in general, I tend to avoid ordering farfalle at restaurants, as the unqiue shape of this type of pasta means more often than not, the twist in the middle would be undercooked, while the flat ribbon on the side would be too well done. However,
Illy
surprised me with an al dente texture in this Mixed Vegetables Farfalle in Alfredo Sauce, with the sauce being not too rich for summer, and not too bland that it becomes dull.

As my friend is on a "wheat" diet and couldn't take the pastry in mango puff, we passed for dessert and opted for a signature cup of coffee, ending our meal on a high note.
It's hard to judge the success of
Illy
in its early days, as I still reckon it has not positioned itself well by trying to move upmarket and become a high-end restaurant, while staying to its roots with the coffee & cafe culture. Hopefully if the kitchen keeps churning out a pretty high standard of food like we had today, this place could pull in some of the LKF crowd.

Illy Bar & Restaurant
, 1/F, Lan Kwai Fong Tower, 33 Wyndham Street, Central