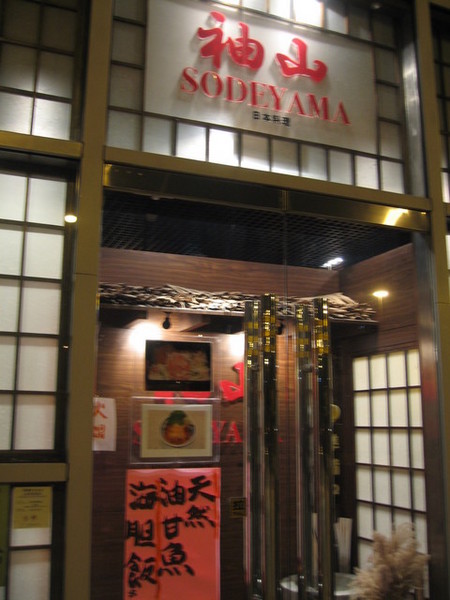 The WTO Ministerial Conference was held in HK a couple of weeks ago, traffic was choatic over the period, as a lot of the roads in Wan Chai and Causeway Bay were blocked. What's more, many were worried about riot potential, given the many protestors that had flown in from various countries. We were initially hopeful that the companies would tell their staff to stay at home the conference period, but were disappointed to only be given a "stay alert" warning. Anyway, promised to catchup with J on the first day of the conference, and she was adamant to stay close to home, ie Tai Koo Shing area, no matter how many times I reassured her that the Causeway Bay area would be more than safe with all the policemen and the lack of people (which turned out to be true). Exasperated after much failed persuasion, I caved in and hailed a taxi for Quarry Bay. I made J promise that the food had better be good.
Our destination was Sodeyama - in Chinese, it meant "Sleeve Mountain" - a Japanese diner hidden amongst the tall office buildings near the Taikoo Place business complex. We walked into a very tiny restaurant that had only six tables and a sushi bar, all the tables (bar ours) were occupied and the majority were Japanese - normally a good sign. On her recommendation, we ordered a deluxe sushi set and a crab congee set. Thinking that this might not be enough, I also got a tomato salad side order.
The first to arrive was the appetizer for the set - chawan-mushi - steamed egg served in a bowl. Not a dish that I particularly fancy normally, and I offered mine to J as well, who insisted that I tried some first. As it turns out, this was a very nice dish, with the egg silky smooth and lots of tasty ingredients added. Needless to say, we finished every last spoonful.